January 17, 2007
Headin' To the Big Easy (And I'm Not Talking About Getting In Britney's Pants)
--
Cameron Diaz
is not over
Justin Timberlake
just yet, and things got heated when she saw her ex chatting up
Jessica Biel
in L.A. after the Golden Globes. Sources say the temperamental star "blew up" at Biel after she saw Timberlake flirting with her. Diaz followed Timberlake to the
In Style
party at the Hilton Oasis, where "they had an awkward conversation." The "Charlie's Angels" star then trailed Timberlake to the Beverly Hilton rooftop for the Universal party, where she found him chatting up Biel - and screamed at the "Illusionist" star. "If that's how she wants to get him back, it won't work," said our insider. "She's desperate." (
She certainly wasn't going to woo him with that awful dress she had on
...)
--TMZ.com is coming to a television near you. A new entertainment show based on the celebrity gossip website will begin airing this fall on Fox-owned stations nationwide, Warner Bros. Domestic Television Distribution announced Monday.
Financial terms of the multiyear deal were not released. The show, titled, TMZ, will have a half-hour format on weekdays with a one-hour weekend version. It will expand on the website's format as a constantly updated tabloid providing "a fresh, unvarnished look at celebrities and the world of entertainment," the show's co-executive producer, Jim Paratore, said in a statement. (Awesome!)

--Donald Trump got a star on the Hollywood Walk of Fame Tuesday. (Zzzz...)
--Angelina Jolie and Brad Pitt have moved their family to New Orleans, Louisiana to escape the constant media attention they are subjected to in Hollywood. Pitt is currently filming The Curious Case Of Benjamin Button in Louisiana and the celebrity couple have recently purchased a home in the city's historic French Quarter. Jolie confirms the movie to Us Weekly, saying, "We love it there. The kids are going to go to school there. We're really looking forward to it."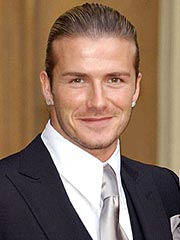 --Of the 13 teams in Major League Soccer, Giorgio Armani thinks he knows why David Beckham chose the Los Angeles Galaxy: because Hollywood is a stone's throw away. "If (reports that Beckham's deal is worth $250 million) are true, then he has done the right thing. And I think he wants to be an actor, not a footballer," Armani told reporters at Milan's fashion shows on Monday, Reuters reports. (Just what Hollywood needs: another bad actor).
--LoFran.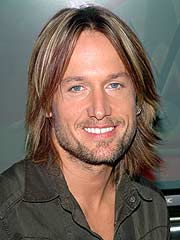 --Keith Urban has been officially released from the rehabilitation facility where he was being treated for an alcohol addiction. The country singer and his wife, actress Nicole Kidman, were spotted out Monday night at the private CAA Golden Globes afterparty in Los Angeles.

--Is time up for "TRL"? An insider says MTV could soon bring the ax down on its signature countdown show because nobody watches it. "The ratings are at an all-time low, around 300,000 viewers," says the source. "The show is going to be canceled and rebranded."
--Miss Congeniality 2: Armed & Fabulous star Regina King and her husband Ian Alexander are divorcing after splitting up last year. The actress filed for divorce in November, citing "irreconcilable differences," and tells the new issue of urban magazine Sister 2 Sister that she isn't ruling out a future marriage, but accepts "it's not an easy thing." King wed Alexander in 1997. The couple has one child, Ian Jr. (I love her new character on 24!)

--Rumor has it that The Piv and Melrose from America's Next Top Model were seen making out after the Golden Globes. A lot. (Guess he sent his mom home...)

--"I haven't seen it yet," she said. "I hear they use my image and likeness. Maybe I should go see it with my lawyer." --Diana Ross, on whether or not she's seen Dreamgirls.

--Brazilian supermodel Gisele Bundchen has apparently sacked New England Patriots quarterback Tom Brady. The stunner, dressed down "in jeans and a T-shirt," was spotted Sunday standing outside his locker room, "just kind of leaning against the wall," a source told the Boston Herald's Inside Track column. (Good! I hope she comes to Indy this weekend, distracts the hell out of him, and he throws 10 interceptions!)
--Unless you're at a bachelorette party, and you're the bachelorette, this is a no-no. Ok, it's not really OK if you're a bachelorette, either.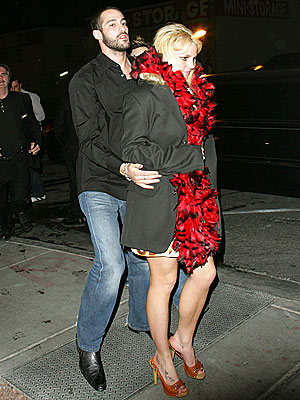 Posted by: Lawrenkm at 06:47 AM | Comments (9) | Add Comment
Post contains 731 words, total size 6 kb.
Posted by: Adrienne at January 17, 2007 09:29 AM (2rF6g)
Posted by: Tracy at January 17, 2007 09:44 AM (g8k+c)
Posted by: just one guy's opinion at January 17, 2007 12:22 PM (r9UWR)
Posted by: Iceman at January 18, 2007 10:43 AM (JHKKE)
Posted by: CR at January 18, 2007 11:57 AM (fOkXC)
Posted by: Helmut at February 16, 2007 08:05 AM (Mky7g)
Posted by: Rimmie at March 23, 2007 05:51 AM (FMxxU)
Posted by: Alexutqnz at April 05, 2007 10:33 PM (kAO3V)
Posted by: Alexuyhcl at April 06, 2007 12:58 AM (kAO3V)
Comments are disabled. Post is locked.
23kb generated in CPU 0.02, elapsed 0.2421 seconds.
35 queries taking 0.2209 seconds, 137 records returned.
Powered by Minx 1.1.6c-pink.