January 29, 2007
It's a Sunshine Day
--Click
here
for all the info on last night's SAG award winners. (
My favorite moment was the lifetime achievement award presentation to Julie Andrews. They just don't make 'em like her anymore
).
--The searing immigrant saga "Padre Nuestro," about a Mexican teen's heartbreaking search for his father in America, won the grand-jury prize for best U.S. drama Saturday at the Sundance Film Festival.

--Newlywed Katie Holmes has reportedly turned down a nearly $2 million deal to star in The Dark Knight, the sequel to Batman Begins. "Katie was offered [the film] but was unable to accept the role because of scheduling conflicts," said a rep for the Dawson's Creek alum. "She was in the process of negotiating for another project. In addition, when she returns to work, she would like to tackle a new character." The move can only been seen as bizarre, considering the project Holmes is said to be considering instead: a role next to Queen Latifah in Mad Money, a comedy about three female Federal Reserve workers - for which Holmes would only receive a reported $250,000. (She can kiss her career goodbye).
--Nathan Lane and Matthew Broderick have been approached to reprise their roles in The Producers on Broadway before the curtain comes down on the production. According to the New York Post, the two actors, who recreated their roles for the movie adaptation of the Mel Brooks comedy musical, are in negotiations for a swansong performance this summer. Producers have reportedly asked the pair to close the show's run in June 2007, when the production will make way for another Brooks classic, Young Frankestein. With Lane and Broderick as the leads, The Producers became the recipient of the most Tony Awards in New York theatre history. Tony Danza and Hunter Foster currently play the leads, Max Bialystock and Leo Bloom, on Broadway.

--Marcheline Bertrand, actress and mother of Angelina Jolie, has died of cancer, her daughter said Sunday. Bertrand died Saturday afternoon at Cedars-Sinai Medical Center, Jolie said in a news release. No age was provided. Jolie, her older brother, James Haven, and her boyfriend, Brad Pitt, were at the hospital Saturday, according to the news release.
--Soccer ace David Beckham has signed up to portray Disney hunk Prince Charming in a new star-studded campaign to promote Disneyland and Disney World. The Real Madrid star, who hit the headlines earlier this month when he announced plans to sign for Major League Soccer team the LA Galaxy in California, jumped at the chance to play Sleeping Beauty's Prince. Celebrity photographer Annie Leibovitz, who is masterminding the campaign, asked Beckham personally to pose for her and when he agreed she flew to his adopted Spain to capture Prince David on horseback near a lake just outside Madrid. (Oh, give me a break...)

--Scott Storch is a hot record producer, but some of his lady friends are cold. Storch had a birthday party for himself last month in Miami at the nightclub Mansion. A friend said, "He's upset that none of his famous female friends - Paris Hilton, Lindsay Lohan or Britney Spears - bothered to show up. And he even gave Lindsay $1 million in diamonds over New Year's! Kelly Rowland was supposed to come and sing a special 'Happy Birthday' to him and she was a no-show, too." A rep for Storch said, "Scott was not upset at all - he had Derek Jeter and Ludacris there, and a naked girl even popped out of the cake."
--Click here to cast your vote for the 2007 Bloggies. Sadly, MP&S was once again overlooked for Best Entertainment Blog.

--Where is Miss Brazil? (And why am I just now hearing about her disappearance?)
--Fashion bosses from Paris, Milan, New York and London have agreed to take part in a debate on how to address eating disorders after some countries took measures to ban ultra-skinny models from their catwalks, according to French fashion's governing body. "It is a serious problem to which one cannot be insensitive," the Chambre Syndicale said in a statement Friday. "All the bodies concerned have to participate in terms of information." Leaders from the Chambre Syndicale, Italy's Camera Nazionale della Moda, the Council of Fashion Designers of America and the British Fashion Council met this week on the sidelines of Paris couture week to discuss their 2008 calendar and the health debate.
--Mary-Kate Olsen's publicist has responded to claims that the star is too skinny. The actress sparked fears for her health when she appeared at the Golden Globe Awards this month, with tabloids picking up on her thin appearance and one magazine claiming that she now weighs just 80 pounds. Her publicist insisted: "The blonde hair she has now makes her look skinny."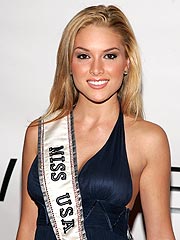 --"I'm an alcoholic." --Miss USA Tara Connor
Posted by: Lawrenkm at 06:51 AM | Comments (10) | Add Comment
Post contains 802 words, total size 6 kb.
January 26, 2007
Where are Rose, Blanche, and Dorothy When You Need Them?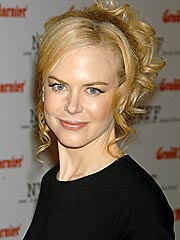 --
Nicole Kidman
was briefly hospitalized
in L.A. early Thursday after a stunt car crashed into a light pole on the set of her movie
The Invasion
, police said. She suffered no serious injuries and was scheduled to return to the set later Thursday.
--David Beckham and Victoria Beckham are reportedly considering an offer to star in their own reality TV show in the US. The series is being modeled on The Osbournes, which featured rocker Ozzy Osbourne and his family, and could help the couple become more well-known in America. The pair, who are due to move to Los Angeles later this year, are said to be considering the offer from US network Fox. David recently signed a multi-million dollar deal with the Los Angeles Galaxy soccer team and the show would follow the couple as they adjust to their life in the US. A source said that the show, tentatively titled Living With The Beckhams, would give the couple a big publicity boost. The source explains, "At the moment, neither David nor Victoria are very famous in the States, but starring in their own show on one of America's biggest channels would catapult them to instant stardom." (I won't lie...I'd watch it).

--Figure skater Johnny Weir plays Jesus?
--Check out this hilarious series of unfortunate events that took place on Today, where action news guy David Gregory is trying to fill Matt Lauer's shoes while he takes a few days away from the tube. It's a smorgasborg of TV talk show awkwardness. (My favorite is at the end, when he says, "on a lighter note," and segways into a murder story).

--According to the National Enquirer, Jennifer Aniston is mighty pissed with her BFF, Courteney Cox, for being friendly with Brad Pitt on the red carpet. At the Jan. 15 Golden Globes, Courteney and husband David Arquette bumped into Brad and Angelina during a break in the awards show "Jen is insulted that Courteney took the initiative and went straight up to Brad when he was there with Angelina," disclosed an insider. "In Jen's mind, Courteney could have easily avoided them. It's like Courteney went out of her way to be super nice to Brad." (Oh, snap!)
--On her hit show America's Next Top Model, Tyra Banks has always stressed the importance of body confidence – but it still hurt when tabloids ran an unflattering photo of her in a bathing suit under headlines that screamed, "America's Next Top Waddle" and "Tyra Porkchop." Now, for the first time, Banks, 33, is publicly discussing her much-buzzed-about weight gain. "I get so much mail from young girls who say, 'I look up to you, you're not as skinny as everyone else, I think you're beautiful,' " she says. "So when they say that my body is 'ugly' and 'disgusting,' what does that make those girls feel like?" As for how Banks feels about her own 5'10" body – which she says is at 161 lbs. these days, about 30 lbs. heavier than when she landed on the cover of Sports Illustrated's swimsuit issue in 1997 – she says: "I still feel hot, but every day is different. It's when I put on the jeans that used to fit a year ago and don't fit now and give me the muffin top, that's when I say, 'Damn!' "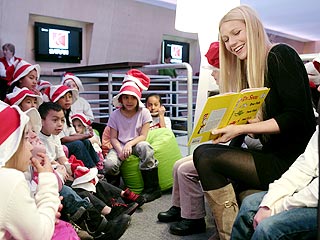 --Gwyneth Paltrow faced an unexpectedly tough audience at the Sundance Film Festival on Wednesday – a room full of children in Saturn's Read Across America tent. As Paltrow was being introduced as a very special guest, one of the kids piped up: "Is it Britney Spears?" Taking the comment in stride, Paltrow laughed and said, "I'm sorry I'm not Britney Spears, but I'll work on my dance routine." (I don't know why, but this reminded me of the part in Jerry Maguire when Tod Tidwell is asked, "Are you Hootie?")
--I'm still not totally sure what this is, but it involves Estelle Getty working out to "Check on It" by Beyonce...so it's quality entertainment.

--Van Halen may be giving their fans a reason to jump. RollingStone.com reports that the veteran rock band is in talks to reunite with David Lee Roth for a 40-date summer tour. This past December Roth joined the group for rehearsal at Eddie Van Halen's home studio, and the band got along just fine at the time.

--R&B sensation Brandy was involved in a fatal accident last month, and it appears to be her fault. In a conversation with the man driving directly behind Brandy at the time of her fateful crash, the singer repeatedly blamed herself at the scene of the accident. "She got upset, talking about how it was all her fault ... she didn't stop, kept saying how she hit the lady," says the witness. Click here to listen to the 911 calls.
--Kirsten Dunst is on a massive dating spree, being seen with Adam Brody, Fabrizio Moretti (who just split with Drew Barrymore), and none other than Vincent Chase himself, Adrien Grenier.
Posted by: Lawrenkm at 06:53 AM | Comments (2) | Add Comment
Post contains 856 words, total size 7 kb.
January 24, 2007
Smackin' That At Sundance
--
Kirk Douglas
is 90 years old -
but time hasn't dulled
his memory when it comes to some of his more colorful sexual experiences. In his new memoir, "Let's Face It - 90 Years of Living, Loving and Learning," due in April from Wiley, the cleft-chinned Oscar-winning star of such pictures as "Spartacus" and "Gunfight at the O.K. Corral" recalls a fling with a "big, tall blond" German airline stewardess who liked to be disciplined in bed. During their enthusiastic sex sessions, "she would scream, 'I'm a Nazi!' -
which was his cue to slap her
, which he did, Douglas writes. (
If someone said that to me, I'd slap them, too
!)
--Canadian singer Nelly Furtado is desperate for another child after successfully balancing motherhood with her chart-topping pop career. The Maneater star's three-year-old daughter Nevis is looked after by her extended family when Furtado is busy promoting her records. And the arrangement works so well, Furtado is keen to add to her brood right away. (Ok, I know it's not spelled the same, but why would you name your kid something that means "mole?")

-- It looks like it's over between Derek Jeter and Jessica Biel. Last weekend, Biel flirted with Justin Timberlake while Jeter was at Atlantis in the Bahamas for the Michael Jordan Golf Tournament, where Biel seemed to be the last thing on his mind. Saturday night, Jeter was "flirting madly" with Gabrielle Union , a source said. When DJ Cassidy played "Put It in Your Mouth" by Akinyle, Jeter and Union dirty-danced before leaving together. A rep for Union said, "They are friends, but they did not hook up." (Sure they didn't...)
--Tori Spelling insists her new reality show with husband Dean Mcdermott will be better than Nick Lachey and Jessica Simpson's MTV show Newlyweds: Nick & Jessica. Although they are starring in the reality series Tori & Dean: Inn Love, where they run a real bed and breakfast, she says they won't be copying Simpson and Lachey's infamous antics. Spelling explains, "We think of it as Newlyweds at the next level.

--Scientologist Tom Cruise has been told he has been "chosen" to spread the word of his faith throughout the world. And leader David Miscavige believes that in future, Cruise, 44, will be worshiped like Jesus for his work to raise awareness of the religion. A source close to the actor, who has risen to one of the church's top levels, said: "Tom has been told he is Scientology's Christ-like figure. "Like Christ, he's been criticised for his views. But future generations will realise he was right."
--Actor Nick Cannon has been hired by Will Smith to play late tennis ace Arthur Ashe in a new biographical motion picture. Smith will produce the project, and Bobby star Cannon can't wait to start taking tennis lessons so he can play the African-American sports legend authentically. (Hmmm...I'm not sure I think he's (Cannon) talented. Someone sway my opinion...)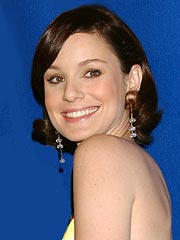 --Sarah Wayne Callies, who plays Dr. Sara Tancredi on FOX's Prison Break, is expecting her first child with her husband, Josh Winterhalt. The baby is due in late summer, according to her publicist Jodi Gottlieb. TV Guide first reported the news on Tuesday.
--Wondering which celebs will don their dancing shoes during the upcoming Dancing with the Stars season? TMZ is reporting some of that country crooner/Hannah Montana star Billy Ray Cyrus, Ian Ziering of 90210 fame and Laila Ali, Muhammed Ali's daughter, will join former 'N Sync-er Joey Fatone for the show. It was rumored that Dutchess Fergie (the royal, not the pop tart) would also join the cast along side both Sharon and Kelly Osbourne. Though none of those three ladies will be on the show according to TMZ. (Dear God I hope Cyrus leaves the Achy Breaky at home...oh yeah...and his mullet, too)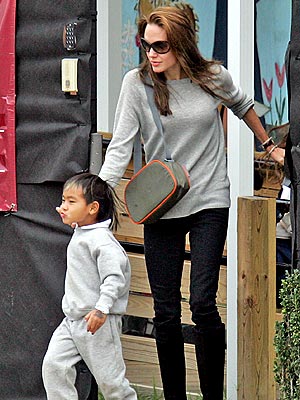 --Oscar winner Angelina Jolie and her five-year-old son Maddox spent more than $700 on Friday just to take a shower at a posh hotel. Jolie and her son made a stop at Shutters On The Beach Hotel in Santa Monica, California so they could shower and freshen up. A source tells Star, "Angelina said they only wanted the room for two hours - time enough for them both to take a shower. She was very sweet and seemed like a concerned mom. It was just very bizarre, when she and Brad Pitt own two house here in Los Angeles, that she would need to spend that kind of money on a hotel room just so she and Maddox could shower." Jolie and Pitt recently moved their family to New Orleans, Louisiana, where he is currently filming The Curious Case Of Benjamin Button.
--Nicolas Cage has been confirmed as the favorite to play camp showman Liberace in a new movie musical. The actor has been linked to the role for years, but now screenwriters Jason Friedberg and Aaron Seltzer have confirmed Cage is in talks to show off his musical skills as the late pianist. Speaking at the Sundance Film Festival, where the writers are promoting their new comedy Epic Movie, Seltzer says, "We met with Nicolas Cage last year and he really wanted to star in it; he wanted to direct himself in it too." (I can see it...)

--If Tara Reid wants to shake her party girl image, she should probably reconsider performing simulated sex with rappers onstage. Click here to watch Miss "I'm Not a Whore" in action. (And here I thought Sundance was more civilized...)

--When you think of Paris Hilton and Jenna Jameson, the last thing you probably think is ... virgins. And yet, sources tell TMZ that famed on-camera sexhibitionists Hilton and Jameson have been contacted about "participating" in a reality show currently in production called "Virgin Territory," in which a group of the uninitiated will find their way to the promised land. (I keep thinking that reality shows can't get any worse...and they ALWAYS do!!!)
Posted by: Lawrenkm at 06:50 AM | Comments (2) | Add Comment
Post contains 996 words, total size 8 kb.
January 23, 2007
Oscars and Razzies and Sundance, Oh My!
--The
Oscar nominations
come out this morning. I'll link to the complete list after they are announced.
I live for this
...
UPDATE
: They
were announced
! Were there a few surprises? Of course! Surprising to me was that "
Dreamgirls
" got 8 nominations, yet was shut out for Best Picture, and that
Mark Wahlberg
snuck in there for Best Supporting Actor. And how about little Abigail Breslin getting a Best Supporting Actress nod for
Little Miss Sunshine
?
--Family, friends and fans of murdered actress Adrienne Shelly paid tribute to the late star last night when her movie Waitress debuted at the Sundance Film Festival in Utah. The American star was found hanging from a shower rod in her New York City apartment last November. A construction worker has since been charged with her death. After yesterday's emotional screening Shelly's widower Andrew Ostoy hailed her enthusiasm for filmmaking, telling the New York Daily News, "Adrienne always had a tremendous passion as a filmmaker. She lived for her art." The film's producer Michael Roiff added, "This is one of the worst things I have ever experienced that she isn't here right now, but I know how proud she would be to see all these people here watching the film." Waitress, which Shelley wrote, directed and starred in, was selected for the festival just days before her death. It charts the story of a poor, pregnant waitress - played by Keri Russell - who has an affair with her doctor to escape an abusive husband.

-- At least someone was happy Sharon Stone reprised her notorious femme-fatale role with "Basic Instinct 2." The box-office bomb received seven nominations Monday for the Razzie Awards that mock the bottom of Hollywood's barrel, among them worst picture and worst actress of the year. Also receiving seven nominations was the Wayans brothers comedy "Little Man," about a thief posing as a baby, including worst picture and director for Keenen Ivory Wayans. Shawn and Marlon Wayans shared a worst-actor nomination, while sisters Hilary and Haylie Duff shared a worst-actress nomination for "Material Girls." The other worst-picture nominees were the fantasies "BloodRayne" and "Lady in the Water" and the thriller "The Wicker Man." Jessica Simpson also received a nod for Worst Actress. Winners will be announced Feb. 24, the day before the Academy Awards. (I can proudly say I didn't see ANY of these...)
--Rocker Billy Joel will perform the American National Anthem at the Super Bowl next month. Thesinger will take to the field at Miami, Florida's Dolphin Stadium with the Chicago Bears and Indianapolis Colts to sing before the two American football giants compete for the sport's championship on 4 February. The six-time Grammy Award winner becomes the first performer to sing the National Anthem at the Super Bowl twice - he also performed at the big game in 1989. Joel will join Prince as part of the Super Bowl's star-studded line-up, as Prince will provide the entertainment at half-time. (Nice! He'll be great!)

--Jennifer Aniston is very close to her best friend, Courtney Cox Arquette - and she's about to get even closer. Aniston is guest-starring in Arquette's FX show, "Dirt," playing her archenemy, a rival tabloid editor. But even better, according to Michael Ausiello of TVGuide.com, "Aniston's character is a lesbian. What's more, she won't just mouth off to Cox's tightly wound counterpart; she's going to share a lip lock with her."
--Nine months pregnant and married to a die-hard Bears fan with tickets to Sunday's NFC Championship game, Colleen Pavelka didn't want to risk going into labor during the game against the New Orleans Saints. Due to give birth on Monday, Pavelka's doctor told her Friday she could induce labor early. She opted for the Friday delivery. "It was very hard for me to say 'You can't go to the NFC Championship game,'" Pavelka, 28, told "FOX and Friends." "He owes me a lot," she added, referring to her husband. Her husband, Mark Pavelka, 28, agreed. "I'm gonna be owing her for a long time," he told "FOX and Friends." (Is it weird that I don't think that's all that crazy?)

--Pamela Anderson has gone postal over a stamp. The former "Baywatch" babe has written an angry letter to the Postmaster General, blasting KFC's request to put the bearded image of the founder of the fast-food chain on a stamp. Anderson, a staunch animal-rights activist and a vocal member of PETA, has blasted KFC for its treatment of chickens and has been part of a long-standing campaign on behalf of the feathered critters. "Honoring a man whose legacy involves breaking animals' bones and scalding animals to death in defeathering tanks is contrary to the values of most compassionate citizens, and I hope that you'll deny KFC's request," Anderson wrote in a letter to Postmaster General John E. Potter. "How about another Elvis stamp instead?"
--"The Bachelor" prince, Lorenzo Borghese, has his hands full. After he was two-timed by the woman he'd selected, Jennifer Wilson, he started seeing the runner-up, L.A.-based publicist and avowed virgin Sadie Murray. Murray is now moving to New York to be closer to him, but Borghese is keeping his options open. At last week's dinner at Gilt to celebrate Raquel Welch's being named the new MAC makeup icon, Borghese chatted up Tinsley Mortimer's sister, Dabney Mercer. Spies said they exchanged numbers and left together. (That one's for you, Steph).

--Rosie O'Donnell took to her blog again, this time taking swipe at the Talk Queen herself, Oprah Winfrey. At issue was Oprah's interview last Thursday with kidnap victim Shawn Hornbeck and his family. Rosie, in her non-sensical, haiku-meets-illiterate-rambling kinda way, refers to Hornbeck on her blog as "paraded out for america to see." She goes on:
"after 4 years captive
a new haircut couldn't hide
his tormented eyes"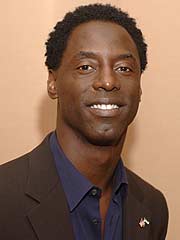 --Isaiah Washington of Grey's Anatomy, who apologized for using a gay slur at the Golden Globes, met Monday with gay and lesbian organization leaders and "acknowledged the harm he caused," the groups said in a statement. "Isaiah understands that he is going to be judged by more than just his apology," Neil G. Giuliano, president of the Gay & Lesbian Alliance Against Defamation, said in the statement. "He knows that his future actions, including the genuine first step that today's meeting represents, will demonstrate his sincerity in becoming part of the solution to anti-gay bigotry." (He's a moron...)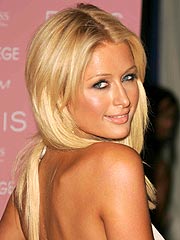 --Paris Hilton has reached a plea agreement with prosecutors in her drunk-driving case. Hilton entered a plea of no contest Monday to a lesser charge of reckless driving and was placed on 36 months probation. She must also pay a fine of $390 and attend an alcohol education program. "I just spoke with Paris an hour ago, and she's happy the matter is behind her," Hilton's rep, Elliot Mintz, said. "We believe this was an appropriate resolution given the facts in this matter and both sides' desire to avoid a trial on the original charges," says Hilton's attorney, Howard Weitzman, who is also representing Nicole Richie in her pending DUI case.
--Mandy and AM are still looking cozy in Sundance: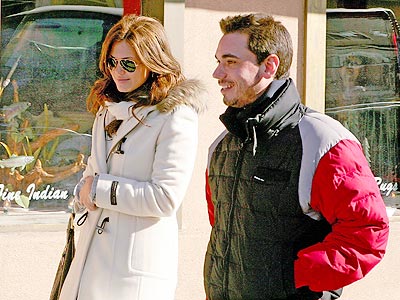 Posted by: Lawrenkm at 06:47 AM | Comments (6) | Add Comment
Post contains 1197 words, total size 9 kb.
January 22, 2007
Have a Nice Flight Back, Tom
The only story worth reporting today is
this one
. And,
this one
. And,
this one
. You get the point.
If you didn't catch the game, you sure missed a great one (whether you were an Indy fan or not). Truly one of the greatest football games ever. And, congrats to my pals who are Bears fans. I've always cheered for the Bears, and always loved Chicago. That ends right now.
I'm sure my buddies over at the G2 will have all the info, commentary, etc. on the big win.
GO COLTS!!!
To put it in perspective for some of you, one invigorated (and half-sauced) patron exclaimed as he was leaving the bar last night, "This is better than sex." Ha.
Posted by: Lawrenkm at 06:31 AM | Comments (5) | Add Comment
Post contains 132 words, total size 2 kb.
January 19, 2007
The New K-Fed? I Can't Stand the Old One...
--
Sean Combs
,
party crasher
? The rapper tried to attend the CAA party after the Golden Globes, but when the hip-hop mogul arrived with his entourage at the Sunset Tower, he was told his name wasn't on the list. When Diddy became "verbally abusive and started yelling at security," said one witness, hotel owner Jeff Klein came out and "kindly asked Puffy to leave." Combs shouted, "What are you going to do - call the police?" Klein said, "Yes!" Combs shouted back, "Just try it - I
'll spend the rest of my life hunting you down
!" But he left soon after. A source claims Combs has been blacklisted from CAA parties since an incident years ago when he lost his temper with an assistant to CAA co-chief Bryan Lourd, who was hosting an Oscar party.
--"Fire is the greatest purifier and it feels really good. It feels really pure to have no possessions. It's kind of a fun place to be at." --Evageline Lilly, on the fire that recently destroyed her house and all of her belongings. (Fun?)

--Millnett? (First Scarlett and now Sienna? How does this no-talent assclown get gorgeous girls?)
-- "I always felt they disabled me from what I wanted to do. Now, I own them. They're like wearing a great necklace. You can't pay for that sort of accessory - though I know people do. But they never look as good at the real ones." --Jessica Simpson on her boobs.

--When celebrities use Myspace...
--Already a household name, syndie newcomer Rachael Ray will now spend more time in living rooms across the country. Rachael Ray will spend at least two more years on CBS after her show was renewed through the 2009-2010 season, Roger King announced yesterday. (People actually watch her and don't think she's one of the most annoying chicks on the planet?)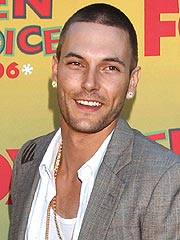 --Kevin Federline says his self-deprecating Super Bowl ad is a sign of a "new Kevin" for 2007 – one who's upbeat and determined to change his image. "This is just the start of other things to come – '07 is a completely life-changing experience for me," Federline, 28, said at the shoot for the Nationwide Insurance commercial on Wednesday. "We're only a few weeks in, and it's already going in a whole another direction. I'm happy. Definitely happy." What's his top priority? "Just changing my perception of myself in the public eye is number one," he said. "I'm slowly and gradually doing that." (Zzzz...)
--Talk show superstar Oprah Winfrey has topped the first Forbes magazine Richest Women Entertainers List. The big business publication estimates the media mogul has made a staggering $1.5 billion in her career as a newscaster, talk show host, publisher and actress. Winfrey tops Harry Potter and the Order of the Phoenix author JK Rowling, who comes in second with a $1 billion fortune, while lifestyle queen Martha Stewart rounds out the top three with $638 million. Madonna ranks fourth on the new list, followed by Celine Dion, Mariah Carey, Janet Jackson, Julia Roberts, Jennifer Lopez and Jennifer Aniston.
--Are you ready for Baywatch: The Movie? I'm not either.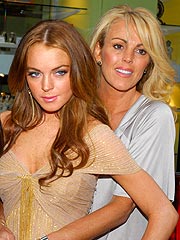 --A day after Lindsay Lohan revealed that she'd checked into rehab, her mother said that the actress is "absolutely fine." "This is a wonderful, giant step she's taking and it's all good," Dina Lohan said Thursday. "Hollywood's a really, really busy scary place and everything is under control." Dina says she's proud that her 20-year-old daughter is mature enough to take care of herself and "not worry about what anyone's going to say about her." (Rumor has it she got throw-up, ridiculous drunk after the Golden Globes and that was the last straw).

--Alec Baldwin is available. Baldwin, 48, having broken up again with luscious Nicole Seidel, has asked Glamour to help him get dates. "I would love to marry. I want to be in love again," he tells the mag's Carole Radziwill, who's soliciting e-mails from interested gals to pass along. The "30 Rock" star, who's divorced from Kim Basinger, also reveals he may try his hand at online dating: "I'm thinking about it. I could post my picture and say, 'People tell me I look like Alec Baldwin.' They'll go, 'Oh, I hate him,' or 'Who the hell is he?' "
--Caption this:

Posted by: Lawrenkm at 06:55 AM | Comments (8) | Add Comment
Post contains 732 words, total size 6 kb.
January 17, 2007
Headin' To the Big Easy (And I'm Not Talking About Getting In Britney's Pants)
--
Cameron Diaz
is not over
Justin Timberlake
just yet, and things got heated when she saw her ex chatting up
Jessica Biel
in L.A. after the Golden Globes. Sources say the temperamental star "blew up" at Biel after she saw Timberlake flirting with her. Diaz followed Timberlake to the
In Style
party at the Hilton Oasis, where "they had an awkward conversation." The "Charlie's Angels" star then trailed Timberlake to the Beverly Hilton rooftop for the Universal party, where she found him chatting up Biel - and screamed at the "Illusionist" star. "If that's how she wants to get him back, it won't work," said our insider. "She's desperate." (
She certainly wasn't going to woo him with that awful dress she had on
...)
--TMZ.com is coming to a television near you. A new entertainment show based on the celebrity gossip website will begin airing this fall on Fox-owned stations nationwide, Warner Bros. Domestic Television Distribution announced Monday.
Financial terms of the multiyear deal were not released. The show, titled, TMZ, will have a half-hour format on weekdays with a one-hour weekend version. It will expand on the website's format as a constantly updated tabloid providing "a fresh, unvarnished look at celebrities and the world of entertainment," the show's co-executive producer, Jim Paratore, said in a statement. (Awesome!)

--Donald Trump got a star on the Hollywood Walk of Fame Tuesday. (Zzzz...)
--Angelina Jolie and Brad Pitt have moved their family to New Orleans, Louisiana to escape the constant media attention they are subjected to in Hollywood. Pitt is currently filming The Curious Case Of Benjamin Button in Louisiana and the celebrity couple have recently purchased a home in the city's historic French Quarter. Jolie confirms the movie to Us Weekly, saying, "We love it there. The kids are going to go to school there. We're really looking forward to it."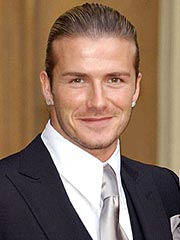 --Of the 13 teams in Major League Soccer, Giorgio Armani thinks he knows why David Beckham chose the Los Angeles Galaxy: because Hollywood is a stone's throw away. "If (reports that Beckham's deal is worth $250 million) are true, then he has done the right thing. And I think he wants to be an actor, not a footballer," Armani told reporters at Milan's fashion shows on Monday, Reuters reports. (Just what Hollywood needs: another bad actor).
--LoFran.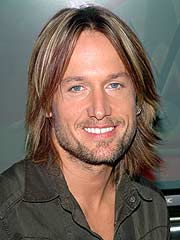 --Keith Urban has been officially released from the rehabilitation facility where he was being treated for an alcohol addiction. The country singer and his wife, actress Nicole Kidman, were spotted out Monday night at the private CAA Golden Globes afterparty in Los Angeles.

--Is time up for "TRL"? An insider says MTV could soon bring the ax down on its signature countdown show because nobody watches it. "The ratings are at an all-time low, around 300,000 viewers," says the source. "The show is going to be canceled and rebranded."
--Miss Congeniality 2: Armed & Fabulous star Regina King and her husband Ian Alexander are divorcing after splitting up last year. The actress filed for divorce in November, citing "irreconcilable differences," and tells the new issue of urban magazine Sister 2 Sister that she isn't ruling out a future marriage, but accepts "it's not an easy thing." King wed Alexander in 1997. The couple has one child, Ian Jr. (I love her new character on 24!)

--Rumor has it that The Piv and Melrose from America's Next Top Model were seen making out after the Golden Globes. A lot. (Guess he sent his mom home...)

--"I haven't seen it yet," she said. "I hear they use my image and likeness. Maybe I should go see it with my lawyer." --Diana Ross, on whether or not she's seen Dreamgirls.

--Brazilian supermodel Gisele Bundchen has apparently sacked New England Patriots quarterback Tom Brady. The stunner, dressed down "in jeans and a T-shirt," was spotted Sunday standing outside his locker room, "just kind of leaning against the wall," a source told the Boston Herald's Inside Track column. (Good! I hope she comes to Indy this weekend, distracts the hell out of him, and he throws 10 interceptions!)
--Unless you're at a bachelorette party, and you're the bachelorette, this is a no-no. Ok, it's not really OK if you're a bachelorette, either.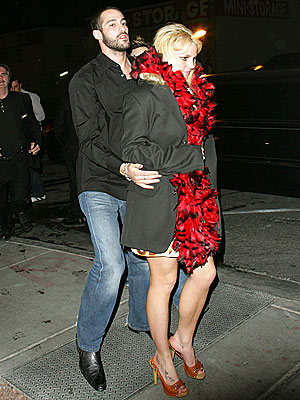 Posted by: Lawrenkm at 06:47 AM | Comments (9) | Add Comment
Post contains 731 words, total size 6 kb.
January 16, 2007
Globetrottin'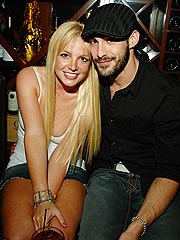 --
Britney Spears
and Isaac Cohen
have taken their hookup
to new heights: a Fantasy Tower suite at The Palms in Las Vegas. Sources say the couple stayed in the tower's $40,000-a-night, two-story Hugh Hefner Sky Villa on Saturday, where a Jacuzzi pool, a glass elevator, an 8-ft. rotating bed and a full bar are among the amenities.
--Whitney Houston has fueled rumors she is dating R&B singer Ray J after the two were spotted sharing a dinner in Beverly Hills on Sunday night. The star announced she was filing for divorce from husband Bobby Brown in September after 14 years of marriage and is currently working on a comeback album. Ray J, whose real name is William Ray Norwood Jr, is the brother of R&B star Brandy and is 18 years younger than Houston. The two were seen leaving Maestro's Steakhouse together and eyewitnesses reportedly saw the two getting cozy while enjoying drinks after dinner. (Interesting. Kind of odd to go from Kim Kardashian to Whitney Houston, don't you think?)
--Steven Tyler certainly is enthralled with his twig and berries:

--Click here to watch the trailer for the new Will Ferrell/Jon Heder movie, Blades of Glory. (I had hopes...but, this looks bad).

--Dethroned Miss Nevada USA Katie Rees has quickly rebounded from her public firing by pageant owner Donald Trump. Rees has signed a two-year, $2 million-plus deal to host a revival of an "estrogen-heavy" variety show at the Hard Rock Hotel & Casino in Las Vegas, Jeff Beacher, promoter of the club night known as Beacher's Madhouse, announced Friday. (Like anyone is shocked about this...)
--Sting is considering reuniting with his former bandmates from The Police to mark the 30th anniversary of the group's formation. The band's ex-frontman wants to commemorate the occasion properly and play gigs again with drummer Stewart Copeland and guitarist Andy Summers. (That would be awesome. The Police were a fantastic band).

--New couple alert: Renée Zellweger is cruising on a "90210" cast member. The "Miss Potter" star went out with Luke Perry Thursday night. Seated at an intimate table at the Sunset Tower hotel's Tower Bar restaurant, they were "definitely on a date," said our L.A. spy. "They both looked super-skinny. He was looking very grungy - baggy jeans, lumberjack flannel shirt and baseball cap. She had on a white button-down shirt, glasses and striped pants. They were talking very closely and rubbing knees." (WHAT? Miss "You complete me" and bad boy Dylan McKay?)
--American Idol judge Paula Abdul is getting her own reality show, and so is Project Runway's Tim Gunn, Bravo told critics here Friday at TV's semi-annual press tour. Bravo, which set ratings records last year thanks to Runway and Top Chef, and is readying Top Design for a Jan. 31 debut, unveiled several new shows due later this year or early in 2008. Hey Paula promises "an insider perspective" of the onetime singer and choreographer, who's now a movie producer (Bratz), and purveyor of perfume, jewelry and clothing. (Tim's I'd watch...Paula's? Not so much...)
--Jenna Jameson, probably the most famous porn star in the world, is making a movie based on her life. She wants Scarlett Johansson to play the lead role. According to the Daily Record, Scarlett is Jenna's number one choice to play the famous porn star. Jenna is currently in talks with producers and hopes work will start on the movie next year. (I can see it...)

--Britney Spears is done with guys who chew tobacco and has moved on to men who carry peanut butter. Photo agency X17 captured her new man, Isaac Cohen, covered in some nasty sludge while spinning down Mulholland Drive in L.A. The agency's Web site reports the two were "driving through the hills, twisting and turning" when Cohen pulled over Spears' car and "removed his white shirt and used it to cover the bulk of the vomit." But Spears' bodyguard claimed the mess wasn't vomit, just peanut butter. X17 also has Cohen on tape stating, "It was some peanut butter that broke in my pocket, and you guys have the jar." (Um, WTF?)
--I didn't get a chance to watch all of the Globes last night. So, no big post from me. Click here to check out BWE's liveblog of the awards if you, too, missed it. Click here for a full list of winners. My quick thoughts from what I did get to see: 1) I was shocked Alec Baldwin beat Steve Carrell;
2) I wanted Piven to win, but knew he wouldn't;
3) I wanted Bill Paxton to win (knew he wouldn't), but was surprised that Hugh Laurie beat McDreamy;
4) Ugly Betty beat The Office and Entourage? Give me a break...;
5) So glad Meryl won--she was superb;
6) Sacha Baron Cohen's acceptance speech was funny at first, got extremely old, and then was just inappropriate;
7) Nicholson is still the coolest guy ever;

Forrest Whitaker was adorable as he fumbled through his acceptance speech;
9) Cameron Diaz and Beyonce looked like crap: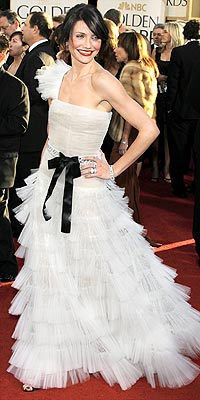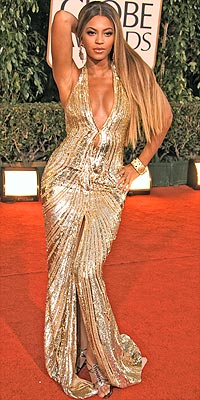 10) Of the dresses I saw (which wasn't many), I liked: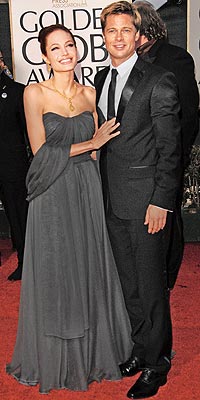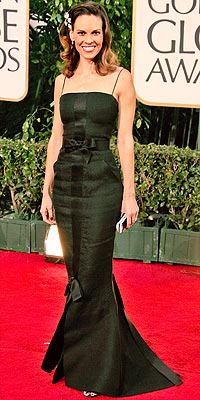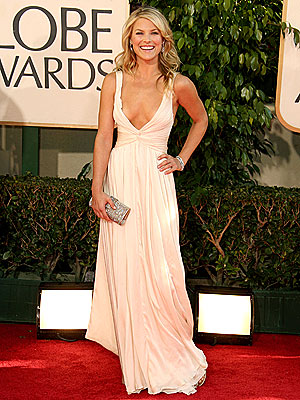 Posted by: Lawrenkm at 06:56 AM | Comments (4) | Add Comment
Post contains 849 words, total size 7 kb.
January 12, 2007
If You Receive a Box From Sharon Osbourne...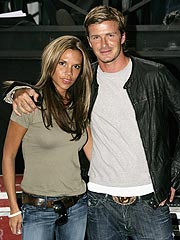 --Sources close to
Victoria and David Beckham
have confirmed
that the couple will move to L.A. later this year. "David has just signed the biggest deal in global sport history with the Galaxy soccer team," a Beckham business insider said. "It is worth several hundred million dollars over five years. They will move after he finishes this season playing in Madrid." (
What's the over/under on when they convert to Scientology
?)
--Academy Award winner Meryl Streep is putting her vocal talents to the test in the Hollywood adaptation of ABBA musical Mamma Mia! The Devil Wears Prada star, 57, is set to play Donna, whose daughter Sophie is due to be married when she embarks on a journey to discover the identity of her father. It will be Streep's first musical. (She can do anything. I'm sure she can sing, too.)

--In a rather unseemly new interview with Life Style Extra, rocker offspring Kelly Osbourne reveals that her mother used to force her to defecate in a box, which Sharon would then send to her enemies in the media. (Lovely...)
--Click here fo the 100 Best Companies to Work For.

--Congrats to Sharon Stone: Her "comeback" flick, "Basic Insinct 2," has scored the Rotten Tomatoes Web site's Moldy Tomato Award for "Worst-Reviewed Movie of the Year." Site founder Senh Duong said, "Sharon looked great for someone who's nearing 50, but the movie was like a less trashy remake of the original - it was unnecessary and boring . . . They made it knowing it wasn't going to win an Academy Award." Last year's "winner" was the laughable Tara Reid horror dud, "Alone in the Dark."
--The Golden Globe gift basket is no more. The Hollywood Foreign Press Association, which presents the annual Golden Globe Awards, announced Wednesday that it had reached an agreement with the Internal Revenue Service to satisfy past tax obligations on the plush gift packages given to awards-show presenters. The end result: No such swag will be handed out at this year's show, to be held Monday at the Beverly Hilton Hotel, said HFPA president Philip Berk.

--Although Kim Kardashian has gone on record saying the reported sex tape of her and R&B singer, Ray J, does not exist, a source says Kardashian is actively involved with the sale of the tape but is doing so through a third party. This would give Kardashian a cut of the alleged $1 million asking price, but it would also give her control of what is released, which appears to be her biggest concern. The source says: She and her camp want to decide exactly what gets released and what doesn't...It's your typical graphic sex tape...there's a golden shower at the end." (I've always said all along she's just as trashy as Paris...)
--According to The National Enquirer, when Lindsay Lohan was in the hospital to have her appendix removed, her blood work showed that Lindsay's liver enzymes are "extremely elevated," and Lohan has been warned she may die, if she doesn't stop drinking.

--John Mayer wants to keep his relationship with Pizza Hut shill Jessica Simpson on the downlow from his family. Jessica Simpson has a smile on her face again -- and insiders say it's all thanks to singer John Mayer. But Jessica's friends are worried that she's more serious about John than he is about her. For example, when he went home to spend the recent holidays with his parents in Fairfield, Conn., he never even mentioned his new girlfriend. "Jessica didn't come up once in conversation," John's dad, Richard, tells In Touch exclusively. But Richard insists his son is "very private" about his love life. "We never pry," he tells In Touch. (He seems relatively normal...I'm sure Papa Joe will drive him away again in no time).
--Still a mess...the dress isn't as bad as her usual choices, but her hair is Christina Aguilera circa "Dirty." Bad choice. And, of course, she looks drunk.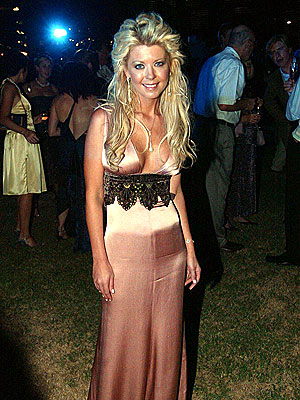 Posted by: Lawrenkm at 06:57 AM | Comments (2) | Add Comment
Post contains 674 words, total size 5 kb.
January 11, 2007
New at Starbucks: Metholatte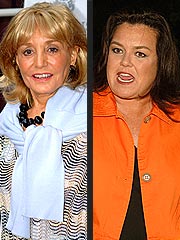 --"That poor, pathetic man..." --
Barbara Walters
on
The Donald
(
Is it me, or is this getting old
?)
--Kanye West and Borat director Larry Charles have teamed up to develop a new series for cable TV network HBO. The as-yet-untitled project will focus on a day in the Grammy Award-winning rapper's life. Charles is a longtime producer and director of TV series Curb Your Enthusiasm and was also executive producer of Entourage for its first two seasons. His most recent film Borat: Cultural Learnings Of America For Make Benefit Glorious Nation Of Kazakhstan recently earned a Golden Globe nomination for Best Musical Or Comedy Motion Picture. Music producer-turned rapper West will serve as executive producer on the project.

--Two women are suing NFL star Junior Seau, claiming that the future Hall of Famer drunkenly called them "female-specific profanities" and tossed drinks on them during a bar confrontation last year.
--Singer and American Idol judge Paula Abdul is moving into feature films and will star in and produce a movie based on the popular Bratz line of fashion dolls. Adbul will play a major character in the live action film Bratz: The Movie and will serve as executive producer. She will also be involved in the film's casting, music, choreography and fashion. The film will follow four teenage girls from diverse backgrounds who long to be themselves and not fall victims to high school cliques. The movie will begin shooting next month and is scheduled for release in August. (Oh God...remember when she tried to act w/ Keanu in her Rush, Rush vid? Bad. Very, very bad.)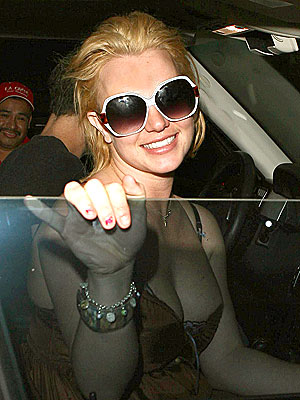 --Britney Spears' stock has fallen so far that her stylist reportedly is trying to distance herself from the singer. Britt Bardo, whose clients include the likes of Kate Hudson, Jennifer Lopez and Eva Mendes, was overheard telling folks that she's not responsible for the look of the "Oops, I Did It Again" crooner, according to In Touch Weekly. "Yes, I've done Britney Spears, but don't blame me, okay?" Bardo said, reports the mag. "I make her up and she just takes everything off and does her own thing." (She might want to call her manicurist, too...)
--Kelly Osbourne has revealed how she wants to bare all - as a Playboy covergirl. Rocker Ozzy's 22-year-old daughter has slimmed from a size 14 to a striking size 10. And she believes the iconic mag is the perfect place to show off her new trim figure. Kelly told Closer magazine: "I'd love to pose for Playboy. "I'd definitely go fully nude - there's no point doing it otherwise." (There goes breakfast...)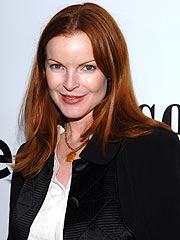 --Marcia Cross, who is expecting twins with husband Tom Mahoney in April, has been ordered to rest in bed, her publicist said Wednesday. "This is a precautionary measure only," spokesperson Heidi Slan tells the Associated Press.
--Halle Berry is reportedly pregnant. Halle is currently dating Canadian supermodel Gabriel Aubry. (God, that will be a hot child. He/she would give Shiloh a run for her money in the looks department.)

--Richard Gere supports hookers. The 57-year-old star whipped up a pep rally of 10,000 sex workers in Mumbai, India, this week, getting them to chant, "No condoms, no sex!" at an AIDS awareness event. Gere, who famously ran off with a call girl played by Julia Roberts in "Pretty Woman," said: "Before, there was a total lack of knowledge among sex workers about HIV . . . Now there is a radical change. When sex workers speak of condoms as a norm, it is a powerful statement, it empowers them."

--Having trouble getting up in the morning? Try Meth Coffee.

--Justin's new romance? Scarlett. BWE asks, "Would They Be TimbJo? Or ScarTin? JustLett?"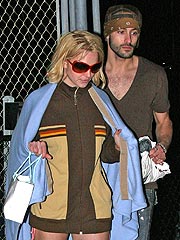 --Pop star Britney Spears is dating 25-year-old male model and actor Isaac Cohen. The star was spotted sailing around Marina Del Rey, California over the weekend on a private powerboat with her new companion. Cohen bears a striking resemblance to Spears' estranged husband Kevin Federline and dresses in a similar style, favoring low-slung jeans and a kerchief on his head. The bikini-clad mother-of-two seemed to be enjoying herself during the excursion, and the two shared several intimate moments. Cohen's agent at LA Models, Brandi Lord, has confirmed the romance to People saying the couple's relationship began "recently...within the last month. He's got a great heart and a good family, and he was raised well. He's a gentleman." Lord insists Cohen isn't after the singer for her fame adding, "(He) is not a player. (He) is not out to get a name for himself." (Um, didn't she use to say the same things about K-Fed?)
Posted by: Lawrenkm at 06:52 AM | Comments (14) | Add Comment
Post contains 777 words, total size 6 kb.
January 09, 2007
Passing Gas and Passing on "The Apprentice"
--The tension between "The View" creator
Barbara Walters
and co-host
Rosie O'Donnell
, sparked by O'Donnell's feud with Donald Trump,
boiled over
yesterday morning when the portly comic called Walters "a [bleeping] liar." According to spies, O'Donnell recoiled from Walters' touch and yelled, "You kept me in the newspapers this whole time!" Both "View" producer Bill Geddie and Walters tried to calm O'Donnell. Walters told her, "I did everything I could to squash the story" - prompting Rosie to scream, "You didn't call me for 10 goddamn days, and you didn't tell me what you were going to say on television!" (
Catfight
!)
--Grammy award-winning singer/songwriter Dave Matthews will guest star as a musical prodigy on the hit medical series House. The singer will play a savant and piano prodigy who comes under the care of Dr. Gregory House, played by British star Hugh Laurie. This isn't the first time Matthews has been linked to the show - his track Some Devil appeared in an episode in 2005. The 39-year-old has appeared in the feature film Because Of Winn-Dixie and will star in the upcoming movie Lake City with Oscar winner Sissy Spacek. Matthews' guest stint on House will air in March.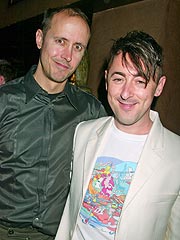 --X-Men 2 star Alan Cumming and commercial illustrator Grant Shaffer were married Sunday in a civil ceremony outside London, according to the rep for the Scottish-born actor. The couple's 140 guests, including Sir Ian McKellen, Geri Halliwell, Neve Campbell, Rufus Wainwright and Monica Lewinsky, boarded a boat in London and sailed down the Thames to Greenwich, where the ceremony was held at the 175-year-old Old Royal Naval College. (Monica Lewinksy? Huh?)
--Angelina Jolie insists she has different feelings towards each of her kids and feels especially close to her adopted children because they've already led such a hard life. The Oscar winner has two adopted children with Brad Pitt, Maddox and Zahara, as well as their biological daughter Shiloh, who was born in May. Jolie tells Elle magazine that she's more partial towards her adopted children, saying, "I think I feel so much more for Mad and Z because they're survivors, they came through so much. Shiloh seemed so privileged from the moment she was born. I have less inclination to feel for her... I met my other kids when they were six months old, they came with personality. A newborn really is this... yes, a blob! But now she's starting to have a personality... I'm conscious that I have to make sure I don't ignore her needs just because I think the others are more vulnerable."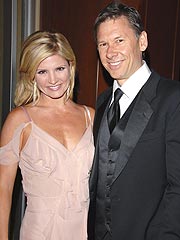 --Dayna Devon, cohost of TV's Extra, and her husband, plastic surgeon Brent Moelleken, welcomed their second child, a boy, on Friday. Cole Brent Moelleken was born by cesarean section and weighed 8 lbs., 2 oz. He was delivered two weeks early because Devon had developed excessive amniotic fluid that might have been dangerous to the baby.
--Van Halen made a "jump" into the Rock and Roll Hall of Fame on Monday along with Grandmaster Flash and the Furious Five, R.E.M., the Ronettes and Patti Smith. (I guess both David Lee Roth and Sammy Hagar will get to attend?)

--Anna Nicole Smith wants to make sure no one gets their hands on her assets. The former Playmate — who for years has been involved in a messy dispute over her late husband's fortune — is looking to set up a dummy corporation so that the man who says he's the father of her daughter can't get any of the money she might inherit. "Now that a judge has ordered a paternity suit so that Larry Birkhead can determine if he is, indeed the father, Anna's scared," says a source. "Anna's no legal eagle, but the idea of a dummy or shell corporation is something she learned in her fight over [her late husband] J. Howard Marshall's estate. And, of course her lawyer [Howard K. Stern, the man Smith says is the baby's father] explained it to her."

--Did anyone watch the premiere of the Apprentice the other night? No? Neither did I. Neither did anyone, aparrently.
--"We are waiting for the gas to pass." --NYC Mayor Bloomberg

--The billionaire owner of 84 Lumber could have only one 84th birthday party, so Joe Hardy's children were determined to make it one to remember. Christina Aguilera sang "Happy Birthday" to Hardy, who turned 84 Sunday, and Bette Midler performed with an orchestra. Robin Williams was the after-dinner performer. (Well, that must have sucked...although, I would have opted for someone much less annoying than Robin Williams)

--The man who sank the Titanic has $200 million to float a new blockbuster. James Cameron has been tapped to direct the 20th Century Fox sci-fi actioner "Avatar," his first dramatic film in a decade. "Avatar," which will be shot in a new 3-D process, is the story of a wounded ex-Marine who, forced to settle and exploit a faraway planet, gets caught up in a battle for survival with its inhabitants. Sam Worthington and Zoe Saldana will star in the summer 2009 release, with visual effects to be handled by "Lord of the Rings" director Peter Jackson's production house, Weta Digital. (I guess Aquaman wasn't a big enough blockbuster for him...hee hee...God, I can't wait until that show comes back on)
--Brit doesn't disappoint, and looks like total ass for the umteenth day in a row: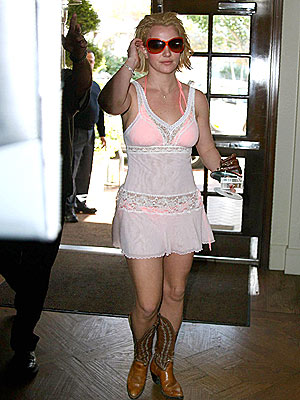 Doesn't she have some tacky, pleather purse that doesn't match to carry all that crap in her hand?
Posted by: Lawrenkm at 06:53 AM | Comments (13) | Add Comment
Post contains 913 words, total size 7 kb.
January 08, 2007
I'd Like to Pluto the word "Plutoed"
--A man
allegedly tried to extort
$1.5 million from
Oprah Winfrey
by threatening to release taped telephone conversations that he claimed would hurt her reputation, according to a federal complaint. Keifer Bonvillain, 36, allegedly demanded that a Winfrey representative pay him the money in exchange for 12 hours of recorded telephone conversations he'd had with a Winfrey employee he met two years earlier at a party, according to the criminal complaint filed in U.S. District Court. (
Don't people know not to mess with the Big O? She'll destroy this guy
.)
--Pluto may no longer be a planet, but it has a new claim to fame: "Plutoed" has been chosen 2006 Word of the Year by the American Dialect Society. The society defined "to pluto" as "to demote or devalue someone or something, as happened to the former planet Pluto when the General Assembly of the International Astronomical Union decided Pluto no longer met its definition of a planet." (What? I have heard ZERO people use that word...)

-- A nationwide talent search for dancers fleet-footed enough to back up Beyonce Knowles came to the pop diva's hometown as hundreds turned out to audition for 40 open slots. The would-be performers took turns Saturday moving through choreographed routines to such Beyonce hits as "Deja Vu," while cameras recorded their footwork and choreographer Frank Gaston studied their style. Houston was the third location in the cross-country search, following auditions in Atlanta and Los Angeles. After two more stops, in New York and Chicago, Gaston and Beyonce will review the tapes.
--Prison Break star Wentworth Miller has hit out at media reports questioning his sexuality, insisting he is straight. The 34-year-old star is still adjusting to life in the spotlight and the intense media scrutiny surrounding his personal life. He explains, "No, I'm not gay. I know these rumors are out there...I'm cool with the fact that they exist, I mean this is about fantasy. Certain people are going to have certain fantasies. If someone wants to imagine me with a woman, or a man or one of each, that's cool with me as long as you keep watching the show." (I'm a big Prison Break fan, and I could care less. New episodes start later this month!)

-- Fans of Muhammad Ali can send personal greetings to the boxing great on his 65th birthday next week. Well-wishers can leave a message through the Muhammad Ali Center's Web site or get a picture taken with a birthday banner at the center on Jan. 17. School classes and groups are being encouraged to send group photos with signs or banners expressing their regards. (Iceman...you going to leave a message?)
--Video footage showing tragic Crocodile Hunter Steve Irwin dying from a stingray barb to the chest has been destroyed now it's no longer needed by investigators. The footage of Irwin's last moments on 4 September last year was used in a police report and coroner's investigation into his death, but the original copy has now been returned to widow Terri Irwin and all other copies have been destroyed. The tape, reportedly showing Irwin snorkeling above the stingray before it whipped its tail into him, had reportedly been the subject of a million dollar bidding war from several websites. Irwin's manager John Stainton said, "Anything to do with the day that he died, that film is not available." Michael Barnes, the Australian coroner investigating the case, insisted he'd taken "all possible steps to ensure something of such a personal and tragic nature did not fall into the wrong hands". Irwin's last program, Ocean's Deadliest, featuring footage shot in the week before Irwin's death, will be shown for the first time in the US on the Discovery Channel on January 21.

--Former "CHiPs" star Erik Estrada got into an expletive-laced shouting match with a man who called him Emilio Estevez amid the filming of a reality television series. (This show looks completely ridiculous, but I know I'll watch since it was filmed in Muncie, Indiana!)

--Kristin Cavallari was BONGO's girl in 2006, but they have dumped her for a fresh face for the new year. Vanessa Minnillo will be the IT girl of BONGO's Spring 2007 campaign.
--Angelina Jolie has attacked Madonna for adopting a child 'illegally'. She said the singer should never have visited an impoverished African country with the sole intention of choosing an infant. Her comments follow accusations that Madonna used her fame and money to speed the adoption of one-year- old David Banda late last year.

--Beyonce's mom may have gotten a recommendation from her boyfriend, Jay-Z, in landing her latest venture. The hip-hop mogul is one of the owners of the Brook lyn-bound New Jersey Nets. Deréon, the junior apparel collection from House of Deréon, which is designed by Beyoncé's mom, Tina Knowles, was just named official sponsor of the Nets Dancers, who entertain on the hardwood at halftime and timeouts. "The Nets Dancers are such a fun part of going to the games," said Tina. "We are thrilled to be able to provide Deréon wardrobe for these extremely talented young women."

--Domenico Dolce (of Dolce and Gabbana) does not pick up men - he has them selected and brought to him. The venerable designer - one half of the Dolce & Gabbana clothing empire - was at Miami hot spot Snatch the other night with several friends and one special employee whose assignment was "to get hot guys in the club to go to his table," giggled our spy. "Domenico would point at a guy, and his employee would go bring the man over. It was extremely effective." Next to the table of giddy men was Kevin Connolly with Anna Anisimova and a table headed by "Laguna Beach" hottie Kristin Cavallari - who was extremely annoyed when she was presented with a bill at the end of the night. "She rolled her eyes and made the people she came with pay for it - and didn't contribute anything."
--Just a day after having an appendectomy, Lindsay Lohan steps out at a Hollywood club on Friday night.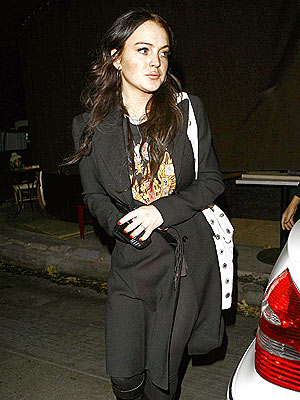 God forbid she miss a second of partying!
Posted by: Lawrenkm at 06:50 AM | Comments (6) | Add Comment
Post contains 1037 words, total size 8 kb.
January 04, 2007
Pageants, Paintings, and Pathetic Resolutions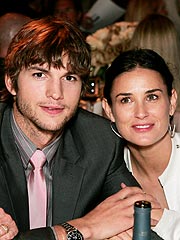 --At 44,
Demi Moore
has three teenage daughters, a much-younger husband and a thriving comeback career – so you'd think she has her hands full. But she wants more kids. "Most definitely,"
she tells
Vanity Fair
when asked whether she wants children with Ashton Kutcher, 28.

--Mario Lopez will host this year's Miss America pageant in Las Vegas, event organizers said Wednesday. "I'm honored. I think it's going to be great," Lopez told The Associated Press from Los Angeles prior to the announcement by Country Music Television Inc.'s officials in Nashville The pageant will air Jan. 29 from the Aladdin Resort & Casino on the Las Vegas Strip. Why do I have a feeling he'll be hitting on every chick backstage?

--Click here to take a view at some of the world's stupidest tattoos.

--Beyonce won't be getting an Oscar for Best Song. And, from what I've been reading, won't come near a Best Actress Oscar either.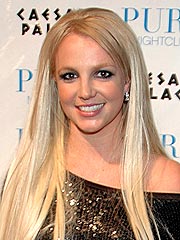 --"Stop biting my nails. Just to take care of me more." --Britney Spears, on her New Year's resolutions.

--Justin and Cameron are dunzo.
--Beloved teen soap The O.C. has been canceled due to falling ratings following actress Mischa Barton's decision to quit the show. The once hit series joins former Will & Grace star Megan Mullally's new chat show as the first TV casualties of the new year in America. Mullally's much-criticized show will end immediately, while The O.C. will see out its current season. The final episode of the series will air on February 22. In a statement released yesterday, The O.C. creator Josh Schwartz said, "It has been an amazing experience and a great run. For a certain audience, at a certain time, The O.C. has meant something. For that we are grateful."

--Barack Obama has tried cocaine. Zzzz...
--Veteran US soap star Drake Hogestyn has filed a restraining order against a man who attacked him in his California home. The actor, who has played John Black on daytime soap Days Of Our Lives for over 20 years, claims Carl Raymond Cheney assaulted him and "physically tried to exorcise the devil from me." In court papers, obtained by website Tmz.com, Hogestyn reveals he was relaxing at home with his family when Oregon native Cheney found his way onto his property and charged at the actor's daughter. Hogestyn reveals Cheney was carrying a Bible and screaming, "Where is he? I will cast him out!" The actor adds Cheney was "calling me by my stage name... recalling past storylines, especially the demonic possession of several years past. But more important, he thought I was dead, because the show that aired on Friday 12.29.06 left my character John Black shot and presumed dead." Hogestyn spent 10 minutes grappling with Cheney until he and his 25-year-old son Ben were able to restrain him and call the police. When WENN went to press, Cheney was in custody at the Los Angeles County Jail on $150,000 bail. Ha! I remember the storyline when he and Marlena were possessed! Truly high-caliber TV!

--Former"That '70s Show" star Wilmer Valderrama can add "fashion designer" to his growing list of side gigs. DNR reports the host of "Yo Momma" and Miami club parties is "setting his sights on the young men's fashion market." Valderrama plans to launch a "Latino-inspired" men's label called Calavena this year.

--Angelina Jolie has been immortalized as the Virgin Mary in a shocking new painting. The actress is portrayed as the mother of God while her adopted children Maddox and Zahara and daughter Shiloh are her cherubs. The painting is on display at the Miami Art Fair. People have way too much time on their hands...
--It's nothing but love for Lindsay Lohan and her Georgia Rule costar Jane Fonda and director Garry Marshall on the film's Los Angeles set recently, where the three got together to celebrate Fonda's 69th birthday.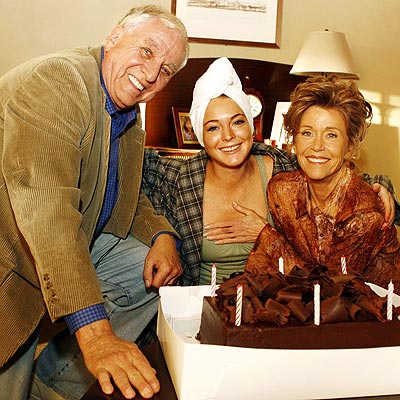 I love how she's covering up L.Lo's ta-ta's.
Posted by: Lawrenkm at 06:53 AM | Comments (3) | Add Comment
Post contains 663 words, total size 6 kb.
January 02, 2007
I Hope Indy Doesn't Break a Hip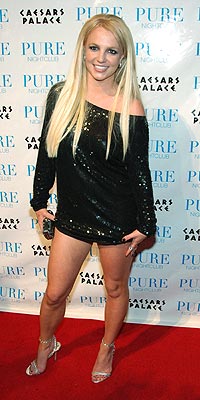 Less than one hour into the New Year, pop-princess
Britney Spears
collapsed
at the PURE nightclub inside Caesars Palace. Just 50 minutes earlier, she had hosted two countdowns to usher in the New Year - one inside the VIP section at the hip hot nightspot and a 2nd up on the club's upper outdoor terrace overlooking the famed Vegas Strip where fireworks were shot off from seven casino-hotel rooftops. Mystery now surrounds Britney's collapse early this morning. She had been seated on a VIP tented-cabana bed overlooking the dance floor at 12:50AM talking with one of her male dancers. She intimated she wanted to leave and as she stood up, "she went into a dead faint and just fell right to the floor."
Brit and her handlers are now saying she wasn't drunk or high, "she was just tired." (Like anyone buys that crap).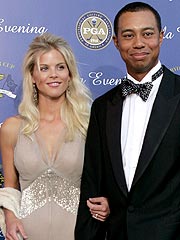 --Tiger Woods and his wife, Elin Nordegren, are expecting their first child together.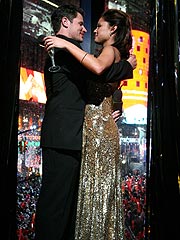 --In addition to making out with Nick Lachey, Vanessa Minnillo dropped the "F-bomb" during MTV's New Year's Eve broadcast. Click here to watch.
--Kate Moss and Pete Doherty are set to have an official wedding this month after reports that they have secretly "married" in a Buddhist ceremony on a beach in Thailand. (I have a feeling they'll have a "white wedding," but I'm not talking about th dress...)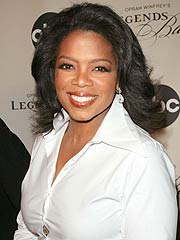 --Oprah Winfrey is getting ready to open the $40 million school she paid to have built in South Africa – in grand Oprah style. The 22-acre Oprah Winfrey Leadership Academy for Girls in the town of Henly-on-Klip is holding its big opening this week. Reportedly due to attend the ceremonies are John Travolta, Stevie Wonder, Nelson Mandela and Angelina Jolie, according to Newsweek magazine.

-- George Lucas said Friday that filming of the long-awaited "Indiana Jones" movie will begin next year. Harrison Ford, who appeared in the three earlier flicks, the last one coming in 1989, is set to star again. Lucas said he and Steven Spielberg recently finalized the script for the film. (Hmmm...I'm a little skeptical). "It's going to be fantastic. It's going to be the best one yet," the 62-year-old filmmaker said during a break from preparing for his duties as grand marshal of Monday's Rose Parade.

--Kristin Cavallari is making her ex, Brody Jenner, jealous while on her Miami vacation. The Laguna Beach babe has been splashing around with super hot Nick Zano. They supposedly stayed holed up in their suite (complete with a bathtub fit for two) all day and then went skinny-dipping in the pool. Sources said Zano and Cavallari stopped by Nobu at the Shore Club for dinner, and were seated next to Jenner, who was dining with on-again couple Wilmer Valderrama and Mandy Moore. "Brody had that 'caught in the headlights' look," said a spy.



--Donald Trump just won an award, but he's not going to like it. The developer was named "Most Annoying Money Personality" in a poll of AOL's Money & Finance users, beating runners-up Suze Orman, Jim Cramer and Mark Cuban. The site said, "His pricey Learning Annex lectures were more annoying than insightful." AOL also blasted his "blatant comb-over." Paris Hilton got the nod for "most overpaid celebrity" followed by Tom Cruise, Oprah Winfrey and Britney Spears.

--Wilmer Valderrama and Mandy Moore, 22, appear to be Young Hollywood's newest — and hottest — rebound couple! The pair, who split in the winter of 2001 after dating for 18 months, were spotted looking very much like a couple in heat, at Miami's Prive nightclub on Thursday night. "Wilmer and Mandy arrived together," a source tells Star, "but they were careful not to be photographed together. Nonetheless, Wilmer was doting on Mandy the whole time, and they were very close to each other the whole night. She was dressed casually with her hair in a ponytail and hoodie sweatshirt." (Booo. She's adorable, has her shit together, and he's a manwhore).
Posted by: Lawrenkm at 06:41 AM | Comments (8) | Add Comment
Post contains 670 words, total size 5 kb.
147kb generated in CPU 0.29, elapsed 0.4862 seconds.
47 queries taking 0.319 seconds, 244 records returned.
Powered by Minx 1.1.6c-pink.