July 25, 2007
The Dog Stole My Homework
--The troubled saga of
Lindsay Lohan
took
another turn early Tuesday when police booked her for investigation of drunken driving and cocaine possession after a frightened woman dialed 911 to report being chased by Lohan's SUV. Less than two weeks out of rehab, with another drunken-driving case pending, Lohan had a blood-alcohol level of between 0.12 and 0.13 percent when police found her about 1:30 a.m., Sgt. Shane Talbot said. She is now heading back to rehab. (
I love how she's now saying the coke wasn't hers. Good one
).
--Vanessa Minnillo credits boyfriend Nick Lachey with helping her overcome the embarrassment of leaked pictures of her cavorting with Lindsay Lohan. Pictures of Minnillo and Lohan playing with knives and pulling at each others' tops at New York club Bungalow in June last year were leaked onto the internet last month. And Minnillo says she only got through the ordeal with the support of Lachey, whom she has been dating for a year. She says, "It was a tough time. I want people to see me for who I am. When a photo like that gets more press than you do it's sad. Nick said to me: 'This is one bad chapter in a book of your life.' It was a period of seconds, over a year ago. Yes of course, it was bad judgment. I was embarrassed."

--Comic Drew Carey was tapped Monday to replace silver-haired legend Bob Barker on the CBS daytime game show "The Price is Right." Carey confirmed the deal during a taping of the "Late Show" with David Letterman.

--OK! magazine's editors have chosen not to sanitize a "heartbreaking" interview with Britney Spears, during which she wiped her fried chicken-grease-covered hands on a $274 dress, picked up her puppy's poop with a $6,700 Zac Posen gown , and expressed fears her ceiling was about to collapse. Editor-in-Chief Sarah Ivens insists the interview, which will appear in the upcoming issue of OK! will leave readers "shocked and sad." Insiders tell Tmz.com Spears had a "total meltdown" during the interview and accompanying photo shoot, refusing professional make-up and hair help and insisting her untrained friends style her. Sources tell the website Spears was "completely out of it" and "erratic" during the shoot, and took "frequent bathroom breaks" without closing the door, Tmz.com reports, "She was also completely paranoid during the entire interview, fearing at one point the ceiling was about to cave in on her." OK! says in the issue hitting stands today. (Mother of the mother effing year right here)
--BET's provocatively titled "Hot Ghetto Mess," which drew sharp criticism and overshadowed the rest of the cable channel's new schedule, is getting an upbeat new name. "We Got to Do Better" is the title the series will have when it debuts Wednesday, BET spokeswoman Jeanine Liburd told The Associated Press on Monday. "We've decided to change the name because we want to highlight the show's real intent, which is to offer social commentary in a context that sparks dialogue, debate, and most importantly, change," BET said in a statement. (Umm...)

--"They don't exist anymore. Why? Don't ask me. I haven't met anyone I wanted to spend an evening with, much less a life with/" "Frankly, the only men I've been interested in these past 20 years, that I thought attractive, were married, and there weren't many of them. They had wives, and I can't deal with that - although both my husbands [Humphrey Bogart and Jason Robards] were married when I met them. It's weird, isn't it?" As for sex, she adds, "Sex? I don't even remember the word." --Lauren Bacall, on the lack of intelligent and witty men. (God, they don't make classy female stars like this anymore).

--Luke Wilson had to change his cellphone number this weekend, thanks to an annoying prank by his pal Johnny Knoxville. The "Jackass" star found out Wilson was going to hang out at the Polaroid Beach House in Malibu for the Boost Mobile party Saturday and hired a plane to hover above the place with a banner that read: "Luke Wilson's phone number 3105000082." Apparently, it was his real number. It's now out of service. But Wilson decided not to hang at the beach, probably because he had to deal with all the annoying calls.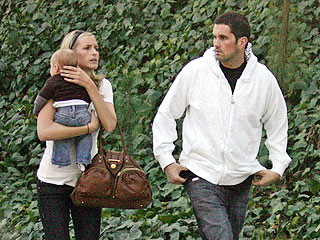 --"It's kind of hard for me as the mom, I'm with Cole probably 99.9 percent of the time – to open a magazine or read a newspaper article with Matt saying, 'Oh, I love being a dad. I love changing diapers. I love doing this.' I'm like, Wait, what?" "It's been hard when I'm doing all the work, but he gets all the credit." --Brynn Cameron, mother of Matt Leinart's child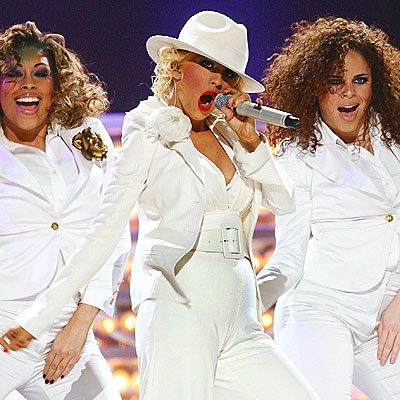 --Pregs? Those sure are kind of mom pant-ish.
Random Thought of the Day:
We need to start thinking of some classy females in Hollywood to hover around. Classy AND smart. Like Bacall, Hepburn, Grace Kelly, Ingrid Bergman, etc. Ok, let's start the list...I'll go first: Ummm...Laura Linney, Julianne Moore, Dame Judy, Helen Mirren, Anne Hathaway, ok...drawing a blank...jury's out on ScarJo, but she'd probably be in here for now, Nicole Kidman, Naomi Watts, Meryl Streep, Sela Ward, Marg Helgenberger, Mariska Hargitay, ok...you think of some! See, there ARE a few out there!
Posted by: Lawrenkm at 05:49 AM | Comments (56) | Add Comment
Post contains 884 words, total size 6 kb.
July 23, 2007
I Know You Thought I'd Skipped the Country, But...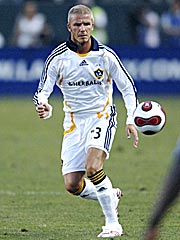 --
Becks
made
his big U.S. debut. And, the stars came out to watch: Katie Holmes, Eva Longoria, Mary-Kate Olsen, and Jennifer Love Hewitt showed up to watch David Beckham's American soccer debut with the Los Angeles Galaxy.
--Rarely seen home movies from the personal collections of Hollywood legends like Alfred Hitchcock and Steve McQueen are to air as part of a one-night film festival in Hollywood. The Academy Of Motion Picture Arts And Sciences will present Hollywood Home Movies: Treasures From The Academy Film Archive next month. A spokeswoman for the event says, "Hollywood Home Movies will feature excerpts of at-home, on-vacation and behind-the-scenes set activities captured by stars and directors from Hollywood's Golden Age." The short film festival will also feature vintage news footage about the construction of Los Angeles City Hall in 1926 and a documentary about Hollywood Boulevard, shot in 1947.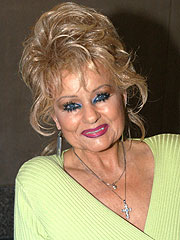 --Evangelist Tammy Faye Messner died on Friday morning of inoperable cancer, CNN's Larry King announced on Saturday night, after her family asked him to personally make the delayed statement. She was 65. Messner had appeared as a guest on Larry King Live on Thursday, looking frighteningly thin, revealing that she could no longer swallow food and had dwindled down to a mere 65 lbs.
--The United States will have a female president next year - on the Fox TV series "24." Tony Award-winning actress Cherry Jones will play President Allison Taylor when the show about the exploits of counterterrorism agent Jack Bauer (Kiefer Sutherland) returns in January for its seventh season, the network announced Sunday. Jones' term will coincide with Democratic Sen. Hillary Rodham Clinton's presidential bid, but Fox Entertainment Chairman Peter Liguori said fiction and real-world politics will not intersect. "It's a dramatic decision. ... The president is a very important piece of '24," Liguori told The Associated Press. "We've had a broad array of presidents on the show; why not a female president?" (I wonder how much the producers, writers, etc. contributed to HRC's campaign...)

--Stephanie Tanner got married. (For the second time). Looks like she got her some fake cans as well.
--Rocker Jon Bon Jovi is threatening legal action against the makers of energy drink Mijovi - because he thinks the beverage bears too much similarity to his own name. Marcos Carrington launched the coffee-based product in 2004 and claims he was inspired to name the drink Mijovi after his girlfriend Jovita. But the singer is demanding Carrington change the product label - which is also marketed using the slogans "itsmijovi" and "itsmilife" - or face a court battle. In a recent letter to Carrington, Bon Jovi's lawyer Peter Laird says, "As you should be aware, one of Bon Jovi's most popular songs is entitled 'It's My Life.' We hereby demand that you immediately cease and desist all further use of the name Mijovi and 'It's My Life.'" Carrington has since agreed to stop the use of "itsmilife" in his marketing campaigns, but protests: "It is just unfair. (itsmilife) means it's my jovial life. It is unfair because Mijovi has nothing to do with Bon Jovi."

--Erin Moran, who played Joanie Cunningham on "Happy Days," would be more famous today if it weren't for her mother. The actress tells retrocrush.com she was up for the pea-soup-hurling lead in "The Exorcist," but "my mom said 'you're not going to do this whether you get it or not.' . . . [My parents] were real strict. I went to a Catholic school for eight years." The part went to Linda Blair.

--Paula is a nutbag.

--Hollywood couple Jennifer Lopez and Marc Anthony have convinced themselves they are "normal." In an interview with Latina magazine, Anthony confesses to filming some "highly charged scenes" for the film he stars in with Lopez, "El Cantante." "All my actor friends warned us, saying, 'Those abusive husband-and-wife scenes are gonna be difficult.' It almost scared me into quitting. With those scenes, we'd end up exhausted. But driving home, we'd just look at each other and say, 'We are so normal.' "

--Hanging out with Lauren Conrad can be hazardous to your health. The sexy star of "The Hills" was playing tackle football at a Malibu beach barbecue thrown by Brody Jenner, the model-son of Olympic great Bruce Jenner and actress Linda Thompson, when "Lauren tackled him too hard and broke his finger. He had to be rushed to the hospital," our spy said. Not one to be a party pooper, Jenner returned to his bash a few hours later "with his hand in a cast, yelled 'I need a beer!' and was handed a Rolling Rock, which he chugged in under a minute."

--Hey, kids, stay away from porn! That's the word from Ron Jeremy, who has shot a bizarre public service ad intended to keep children from viewing XXX videos. According to avn.com, the minute-long ad for a Christian group features the Hedgehog and his sidekick, a doll named "Pete the Porno Puppet," warning: "Don't watch porn 'til you're over 18 years of age. It's for adults only."
Random Thought of the Day:
I try to drink low fat AND low carb when I go to Starbucks. Other than a nonfat latte or a nonfat, sugar-free vanilla latte, what else can I get there? I'm starting to get bored, and I want to change it up occasionally! Please advise.
Posted by: Lawrenkm at 05:43 AM | Comments (12) | Add Comment
Post contains 907 words, total size 7 kb.
July 15, 2007
My Adventure in L.A.--And, I Didn't Get a DUI!
Greetings Readers!
I'm sorry that I was moderately M.I.A. last week, but I was in L.A. from Wednesday - Friday at a conference for work.
On Wednesday, I arrived relatively early (L.A. time) to LAX. My co-worker and I took a cab to our hotel, The Millenium Biltmore, in downtown L.A. This is where the conference was being held, and we got a decent group rate, so I didn't have a say in what hotel to stay at, but I have to say, this was a very cool place.
The hotel was a historic landmark, and has been home to presidents, kings and Hollywood celebrities since it opened in 1923. The interior of the hotel was just gorgeous--Italian-Renaissance architecture with ornate columns and vivid frescoes. It had a very European feel to it. The Biltmore was once home to the Academy Awards, and the hotel's Crystal Ballroom is where the Oscar statuette was first created.
There was a hallway that had huge pictures of some of the grand parties that were held in the ballroom--including the Academy Awards. They reminded me of that picture in The Shining that you eventually see Jack in. Ha. I was waiting to turn the corner and see the creepy twins!
Wednesday afternoon, my co-worker and I took the subway to the Hollywood Walk of Fame. It was fun to see all the stars, but I have to say, it was a bit disappointing to see what shops the stars were in front of. I expected cute clothing stores, places to eat, etc. They were all tacky Hollywood-ish crap, and as well as a wide assortment of places to buy sex toys. It was a bit disconcerting to see Bing Crosby's star outside of a place I could purchase handcuffs and vibrators. But, oh well.
As we walked along, I saw one of the many Church of Scientology buildings, the Kodak Theater, and Grauman's Chinese Theater. The ESPY's were being filmed that night, so they had the street blocked off in front of the Kodak for the ESPY red carpet. Very cool.
That evening we had a reception with the folks from the conference. I crashed pretty early that night since my flight that morning left Indy at 7 a.m.
The next day (Thursday) I had conference sessions all day. I bolted immediately from the last session to run up to my room to change, and then head out to Beverly Hills to shop. I hopped in a cab and asked the cabbie to take me to Robertson Blvd. to shop (where you can find a lot of the fun boutiques like Kitson, the Ivy restaurant, etc.). My cabbie said, "You want shop? I take you to Galleria." I said, "No. I don't want to go to there. I want to go to Robertson." He said, "Ok. I take you there." I nodded. I started looking down at email on my Blackberry for awhile. When I looked up, we were on the freeway--in rush hour! Now, I don't know L.A. at all, so I figured I ought to just roll with it. Maybe you needed to get on the free way to get to Beverly Hills. Well, 40 minutes later, he pulls up to a mall--the Galleria in GLENDALE! I looked around and saw a J.C. effing Penney. What the hell?
I said, "This is NOT Robertson Blvd." He started getting loud and said, "I take you to mall to shop." This time I got louder and said, "No! Take me to Robertson Boulevard and Third immediately!" He looked pissed beyond belief, but I certainly didn't travel across the U.S. to shop at a damn mall.
I finally arrived (another 40 minutes later) and informed him I was not paying the $75 cab fare because he screwed up. He knocked $25 off of it, and while I still didn't think I owed that much, I wanted to be done with him.
I walked in and out of all the shops. It was a blast. Bought a cute top at Kitson--designed by Sally Hershberger and also purchased by Mary Kate and Ashley, Rachel Bilson, and Jennifer Aniston. Here is a pic:

7 p.m. rolled around, and it was time to meet up with my old friend, Brandon. I've known him for years (grew up in Vincennes with me). He and I sang together, were in musicals, together, etc. He works out in L.A. at the Beverly Wilshire (more on that place later in the posting) as a concierge and does the acting thing as well.
He picked me up and we went to a bar called Social Hollywood to have a drink. It was a very cool place. A little dark, though. Ha. I had a Pomegranate Martini that was quite yummy. We had to scoot because we had 8:30 dinner reservations at Mr. Chow. On the way to dinner we passed the infamous In 'n Out Burger where Paris was going the night she got pulled over.
Now, if you haven't heard of Mr. Chow, you live in a hole. Ok, just kidding--but you clearly don't follow celebrity gossip. It's one of the "it" places in Hollywood, and you can almost always see a celebrity or two there. We pulled up, and paparazzi were standing out front. They lifted up their cameras when we got out of the car, but looked utterly disappointed when they saw little old me.
The paparazzi look as disgusting and dirty as they do in the magazines.
We were 7 minutes late for our reservation, so they gave our table away. So annoying, but what do you do? Luckily, since Brandon is a concierge, he knew the hostess, and she said she'd get us in as soon as she could. We stood around and talked, grabbed a drink, etc. We were standing near the door, and all of the sudden, right next to us was Star Jones and her hubby, Al. She looked lovely in a blouse and khaki pencil skirt. And yes, she is just as slender as she appears. However, her head looks humongous on that tiny body. Very disproportionate. As she was leaving, she looked to who I assume was her publicist, and said, "So, I'm just going straight to the car. No talking or waving." Ha.
We finally got seated. It was an action-packed place. Very loud; people seated on top of one another, etc. We took a look at the menu--everything sounded yummy--and so we opted for the fixed price deal. $58 and they brought you a variety of options. It ended up being PERFECT. The food was sooooo good!
During dinner, I looked up, and two tables away being seated was Naomi Watts, Leiv Schreiber, and some random. She was in an adorable white blouse and looking very pregnant; he was in an orange hoodie. They laughed over dinner, ate some chicken-type deal on a stick, and just seemed like run of the mill people. She's as cute in person as she appears.
A bit later, Rosario Dawson walked by and went to the upstairs part of the restaurant. She's stunning in person, and has flawless skin. She came down about 40 minutes later and left.

We wrapped up dinner and walked down the street to the hotel where Brandon works, the Beverly Wilshire. All I have to say is, "WOW." This place was amazing. Bran gave me the tour, I saw the pool, the cabanas w/ plasma screens in them, the amazing spa, the ginormous floral arrangements EVERYWHERE, etc. Unfortunately, the hotel was completely sold out, so I couldn't see a room. Probably a good thing, as I most likely would have gotten drool all over the place.
As we were walking around, we were walking across the driveway in between the hotel's two buildings, and Brandon leaned over to me and said, "I'm pretty sure that guy over there is Usher." And, sho nuff, it WAS. He had a cap on so it was hard to see, but I could tell it was definitely him when I he walked right by me. He had a huge Louis Vuitton backpack on.
Oh, what a night! It was great to see my old friend--and to have some celebrity sightings. Oh, and to have a fabulous meal in the process!
Friday morning I had more sessions for the conference, and then it was time to head to LAX to fly home. I kind of hoped to spot someone fun in the airport, but no dice. As I was walking to my plane, I figured my celeb sightings were over. HOWEVER, little did I know someone was waiting to be spotted on the plane back to Indy in first class. No, it wasn't Peyton. It was none other than super-mooch, porn star himself, Kato Kalin. HA! He was sitting in first class with his horrendously frosted hair and sunglasses. I just shook my head and headed back to my seat.
For a conference, this certainly had its up moments!
Posted by: Lawrenkm at 05:20 PM | Comments (4) | Add Comment
Post contains 1523 words, total size 10 kb.
July 09, 2007
Hot Town, Summer in the City
--
Eva and Tony
got hitched
. Looks like her dress was amazing!

--Toni Collette is preggers. (And, I also learned she's in a band and performed at Live Earth over the weekend.)
--American Idol runner-up Clay Aiken has reportedly been involved in an air-rage bust-up on a flight from Los Angeles to Tulsa, Oklahoma on Saturday. Aiken fought with a woman after his foot was resting on her armrest and she gave him a "minor shove" according to reports. When the plane landed, passengers were held at Tulsa International Airport until they were interviewed by FBI agents. FBI Special Agent Gary Johnson has confirmed there was an altercation between a male and female passenger, but refused to confirm Aiken was involved. No arrests were made. The singer hinted of the incident at his gig at Tulsa's Brady Theater on Saturday, telling fans he had been beaten up by a girl - but his representative has yet to confirm the incident took place.

--Brandon Walsh is now a daddy of a baby girl!

--Add Ivanka Trump's name to the growing list of candidates to replace Rosie O'Donnell and Star Jones on "The View." The National Enquirer reports that Barbara Walters wants to hire the "hottie with brains" to stick it to Paris Hilton and her parents for their shabby treatment of her when they were trying to sell the Paris post-prison interview. But sources say Walters is still sore at Donald Trump for calling her a liar during his feud with O'Donnell and will never hire a Trump. "It ain't gonna happen," said one insider. Still in the running: Gale King, Whoopi Goldberg, Kathy Griffin and another longshot, Mario Cantone.

--It's official (and reported here awhile back): Nicole Richie has a bun in the oven!
Random Thought of the Day:
Did anyone watch Live Earth? Did anyone care? I listened here and there, and I have one thing to say: Fergie can't effing sing. She was TERRIBLE live. Just horrendous. I know we all need to take it seriously, but did anyone else think those little suggestion tidbits in between acts were ridiculous? Sorry, granola-lovers: I flush the toilet. I don't bring my own thermos into Starbucks in order to cut down on the amount of cups they use. I saw one that advocated snuggling up to that special someone instead of having the heat on in the winter. Ummm...rrrrriiiiigggghhhhtttt. Truly, I'm not trying to be evil--I know it's a problem we need to address, but I guess I thought my assistance would come along the lines of recycling and buying a hybrid car.
Posted by: Lawrenkm at 05:47 AM | Comments (8) | Add Comment
Post contains 444 words, total size 3 kb.
July 06, 2007
TGIF!!!!!
Random Thought of the Day
:
I really liked the concepts of Big Brother and Survivor when they first came out ... but dammit, they need to end. I can't believe they're doing another Big Brother now.
Discuss.
(Thanks for the RTOTD submission, Iceman!)
Posted by: Lawrenkm at 05:47 AM | Comments (12) | Add Comment
Post contains 45 words, total size 1 kb.
July 05, 2007
Gettin' Knocked Up, Splittin' Up, and Gettin' Fed Up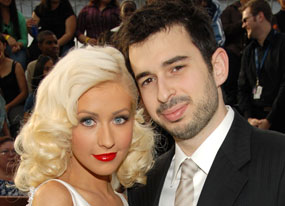 --
Christina Aguilera
is working on converting "Come On Over Baby" into a lullaby. E! News
confirmed
Tuesday that the five-time Grammy winner and hubby Jordan Bratman are expecting their first child together. This will be baby number one for both. There was no immediate comment from a publicist for the couple.
--Nick Lachey is stunned by the furor surrounding raunchy photos of the pop star holidaying with his girlfriend Vanessa Minnillo, declaring, "Where's the scandal?" The singer and MTV presenter were photographed having sex in a hot tub in a private villa near Puerto Vallarta, Mexico, and their lawyer has issued a warning to media outlets demanding they refrain from publishing the images. Lachey tells America's OK! magazine, "Where's the scandal? I was in Mexico with my girlfriend of a year, celebrating our anniversary on a private vacation. It's not like I was caught with a Mexican hooker. We've all gone out and had a few too many and done something stupid. We've all made mistakes. This is the girl that I love. It's tough to see someone you care about be unfairly judged. It's hard for me as a man to see my girl go through that." Minnillo adds, "It was embarrassing. But we did nothing wrong. I felt personally violated. If I was being disrespectful I would (have) expected to be punished, but I wasn't. It's wrong." The couple's lawyer Marty Singer says, "The photos that were taken of our clients by a Mexican photographer violated Mexican law and were a clear invasion of privacy, and we have threatened to take legal action against third parties who publish the photos."

--Johnny Knoxville has filed for divorce from his wife of 12 years. The "Jackass" star, whose birth name is Philip John Clapp, cites "irreconcilable differences" as the reason for ending his marriage to Melanie Lynn Clapp, according to documents filed Tuesday in Los Angeles Superior Court. Knoxville, 36, is seeking joint custody of their 11-year-old daughter, Madison. The couple separated in July 2006.
--Drew Barrymore and funnyman Zach Braff have sparked rumors they're Hollywood's new hot couple after they were spotted "making out" in a New York club. Barrymore, who has been romantically linked to moviemaker Spike Jonze since splitting from longtime boyfriend Fabrizio Moretti, made no secret of her affections for Scrubs star Braff when the two met up at Beauty Bar nightclub on Saturday. A reveler tells the New York Post, "Zach Braff and Drew Barrymore arrived and danced the night away... There was a lot of making out."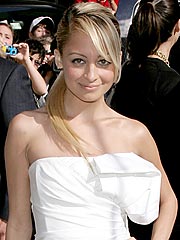 --Will Nicole Richie have to serve jail time while pregnant? Rumor has it she's approaching 6 months...
--The wife of comedian Wayne Brady has filed for divorce. Mandie Brady cites "irreconcilable differences" as the reason for ending their marriage, according to court documents filed Monday inLos Angeles Superior Court. She is seeking joint legal and physical custody of their 4-year-old daughter, Maile. The couple wed in 1999, but separated in April 2006, the papers said.

--Canadian punk princess Avril Lavigne, repeatedly dogged by accusations she doesn't write her own songs, is now being dragged into a legal battle to prove she penned her chart-topping hit "Girlfriend." A pair of U.S. songwriters allege her contagious single sounds suspiciously like a song called "I Wanna Be Your Boyfriend," released by the Rubinoos in 1979. The American song features the upbeat chorus: "Hey, hey, you, you, I wanna be your boyfriend," much like Lavigne's boppy refrain, which declares: "Hey, hey, you, you, I don't like your girlfriend."
-- "Some things are important for the world to know . . . like how long I shower. Seriously. I take a three-minute shower . . . I even brush-wash - brush my teeth while I shower." --Jennifer Aniston, on how dedicated she is to the environment.

--After 10 long years of sticking by Sean Combs, the music impresario's baby mama and longtime girlfriend, Kim Porter, has finally had enough. Sources inside Combs' camp told Page Six that Porter moved out of his apartment here and she isn't going back. Porter has already bought a posh pad in Beverly Hills for her and her four children - three of whom, Christian, 10, and twins D'Lila and Jessie, 7 months, are Diddy's. "She is focusing on her career as a model and actress and raising her children," our source said. "They are the best of friends, but they just can't be together right now." Rumors of a rift between the two started circulating earlier this year when, right after the December birth of the twins, Combs stayed out almost every night till the wee hours of the morning partying with Sienna Miller. The two once stayed out so late partying at her hotel room that they even caught breakfast together in the morning. The friendship between Combs and Miller was rekindled last weekend when he went to London to perform in the Princess Diana Memorial Concert at Wembley Arena. According to Britain's Daily Mirror, Combs went to the concert after-party at a club called Paper, but "didn't look too happy to be there . . . until [Miller] arrived . . . For seemingly the first time all night, he started to enjoy himself . . . he ordered six burly bouncers to form a ring around the couple. And one unlucky reveler who accidentally strayed too close to the pair at Paper . . . was manhandled out of the way by their heavies."
Random Thought of the Day:
Brace yourselves, ladies....the Sex and the City movie is...a...GO! All 4 of the ladies have signed, and shooting will be begin in September!
Posted by: Lawrenkm at 05:58 AM | Comments (15) | Add Comment
Post contains 956 words, total size 7 kb.
July 03, 2007
Wine Recommendation
I have an early meeting today, so I don't have time to blog. However, I met some girlfriends out for drinks and appetizers last night
here
, and discovered a great summer wine that I normally wouldn't order.
I'm usually not a Sauvignon Blanc fan (frankly, I prefer red wine over white, overall). But, my friend Mindy ordered a Kim Crawford Sauvignon Blanc, let me have a sip, and I loved it! It's perfect for summer. It's light. It's dry (although not as dry as a chardonnay). It's not sweet (I loathe sweet wines like riesling or basically anything that comes from Oliver Winery--bleck! I'm getting nauseated just thinking about that stuff!!!). It has a great, crisp, citrus-y aftertaste. If you're a wine person, it's from New Zealand. And, at $13/bottle, you can't go wrong.
A must for your 4th of July cookout!
Posted by: Lawrenkm at 05:41 AM | Comments (8) | Add Comment
Post contains 147 words, total size 1 kb.
July 02, 2007
Dirty Laundry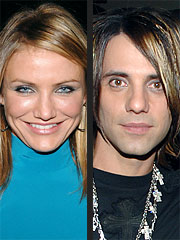 --The estranged wife of
Mindfreak
star
Criss Angel
is suing
for divorce, saying that the illusionist had an affair with
Cameron Diaz
and hasn't shared any of his millions in earnings. According to the
New York Post
, Joanne Sarantakos of Long Island, N.Y., is accusing Angel, her husband of five years, of mental cruelty and abandonment. "We're naming Cameron Diaz as his lover," her lawyer Dominic Barbara reportedly told the Nassau County court, where Angel and Sarantakos faced off on Friday. "We will subpoena her as soon as she comes back to New York." Barbara also told the court that Angel kept his wife a "secret" to further his career. (
Guess I assumed that when I read they were hooking up that he wasn't married
!)
--Lindsay Lohan's lawyer have angrily blasted the police for "selling stories", after the actress' toxicology tests following her drink driving arrest were leaked online. A report published on entertainment site Tmz.com shows Lohan had cocaine and "nearly twice the legal limit" of alcohol in her blood when she crashed her Mercedes in Beverly Hills, California on May 26. Following her arrest, Lohan checked into Promises rehabilitation centre in Malibu, California, where she currently is still seeking treatment. After police sources told Tmz.com the alleged results of the toxicology tests, the star's attorney issued an angry comment. Lawyer Blair Berk tells the New York Daily News, "This is an ongoing investigation. It is shameful that law enforcement would be selling stories, let alone unverified ones." Jane Robison, spokeswoman for the Los Angeles District Attorney, says, "Our office has not received the final toxicology reports - only preliminary results - and the police have not formally filed a case yet."

--The four-year romance between British model Sophie Dahl and Dan Baker Jr. is over, and her friendship with Mick Jagger might be to blame. London's Mail on Sunday reports the 6-foot blonde had been living with Baker, 29, a perennial NYU student and son of a top plastic surgeon, in his NoHo loft. Dahl, who dated Jagger before she met Baker, "stayed in touch with Jagger, irritating Dan," the paper said. "Meanwhile, Dan's lack of a high-powered career had begun to grate on Sophie." A friend of Dahl's said, "She is in a very sad place. She and Dan have split and it is permanent."
--Paris Hilton has been accused of lying to talk show host Larry King during her post-prison interview, by saying she has never taken drugs. Speaking just a day after she was released from jail in California after serving a 23-day sentence for violating her probation, the heiress told King on Wednesday she had never been addicted or taken drugs. But TheSmokingGun.com has video footage of Hilton talking about "smoking pot", taking magic mushrooms and a clip it claims show Hilton "smoking hash in an Amsterdam coffee shop". She is also filmed discussing smuggling drugs from The Netherlands to the US. In one segment her sister Nicky asks Paris "do you have herb?" Paris replies, "Yeah, the best pot. You wanna smoke pot? I have the best pot. I have the best pot." Paris - who is filming at the time - then says to a friend, "Dude, we're smoking pot if you guys want to smoke." (I watched the interview live and when she said that, I think you could hear my screaming all the way to NYC.)

--Former Hollywood madam Heidi Fleiss is diversifying, airing her Dirty Laundry in Nevada as she makes plans for a legal brothel for women. Dirty Laundry is a 24-hour, coin-operated laundry -- 13 washers and 14 dryers -- the one-time leader of a high-priced ring of call girls to the stars is opening at a shopping center in Pahrump, west of Las Vegas. Fleiss, who has become an avid collector of parrots and macaws since moving to Pahrump, said she decided to open the laundromat after the death of one of her pets, a macaw named Dalton.
--American soprano Beverly Sills is critically ill with cancer, her manager has confirmed. Reports emerged on Thursday, the 78-year-old opera star was gravely ill at a New York City hospital. Sills' manager Edger Vincent says, "It's grave. This whole matter of this discovery of cancer has been just about four weeks now. Up until that she had no idea." La Traviata star Sills was initially admitted to hospital when she broke a rib during a fall at home. The New York City-born singer, resigned her post as chairwoman of the city's Metropolitan Opera two years ago, citing health and family reasons. Sills was one of America's best-known opera stars in the 1960s and 1970s, before going on to manage the New York City Opera and the Metropolitan Opera. (Very sad. She is amazing).

--Over the weekend, 7-Eleven Inc. turned a dozen stores into Kwik-E-Marts, the fictional convenience stores of "The Simpsons" fame, in the latest example of marketers making life imitate art. Those stores and most of the 6,000-plus other 7-Elevens in North America will sell items that until now existed only on television: Buzz Cola, KrustyO's cereal and Squishees, the slushy drink knockoff of Slurpees. It's all part of a campaign to hype the July 27 opening of "The Simpsons Movie," the big-screen debut for the long-running television cartoon, which loves to lampoon 7-Eleven as a store that sells all kinds of unhealthy snacks and is run by a man with a thick Indian accent.

--Admirers of author Jack Kerouac celebrated the 50th anniversary of "On the Road" with a marathon reading of the novel. Fans and some close friends of the late author took turns reading his most famous novel aloud at Naropa University in Boulder on Saturday. About 150 people listened to the cover-to-cover reading, which took 12 hours and kicked off the university's inaugural Kerouac Festival. One of the most popular books ever written by an American, "On the Road" tells the story of Kerouac and a friend he calls Dean Moriarity as they travel the country, including a visit to Denver that the city celebrates with a tour that traces his steps. The stream-of-consciousness novel helped generate the Beat Generation.
--Corey Haim and Corey Feldman will star in a new reality show called The Two Coreys. It premieres July 29 on A&E.

--Pink-haired, punk-rocking Kelly Osbourne has found love, according to sources close to the reality TV star. Osbourne is playing house with boyfriend Jarrod Gorbel, lead singer of indie Brooklyn band The Honorary Title. "She just moved in with him in Brooklyn," said our source. Friends say Osbourne, who's now shooting "Simple Life 3" with Kimberly Stewart, "is head over heels" for her boy of two months. They were recently spotted dining with Osbourne's friend Jonathan Cheban at Uncle Jack's Steakhouse on Ninth Avenue.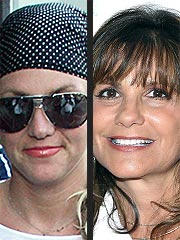 --Three days after Britney Spears handed her mother a reportedly upsetting letter, Lynne Spears is holding out hope to mend their rift. "Everything is going to be fine," she said while shopping in Kentwood, La. "I've got a strong family, and everything is going to be fine." Spears, who was picking up groceries at a local store on Sunday, also said that "hopefully" daughter Britney will make it to a family cookout in their hometown for the Fourth of July holiday. Meanwhile, Britney Spears was spending her weekend in L.A., going out Friday night with girlfriends to club Les Deux but appearing subdued as she chatted and bounced to music. On Sunday she spoke to reporters about her mother outside Sushi House Unico in Bel Air, where she had dined alone on edamame and coffee. "I'm praying for her right now. [I hope] she gets all the help she needs," Spears said.
Random Thought of the Day:
Ok, did any of you actually go out and get an iPhone? Are you having all the problems everyone else is having? I heard that they are on Ebay going for as much as $3K! Insane!
Posted by: Lawrenkm at 05:55 AM | Comments (18) | Add Comment
Post contains 1327 words, total size 9 kb.
106kb generated in CPU 0.25, elapsed 0.4375 seconds.
41 queries taking 0.2711 seconds, 273 records returned.
Powered by Minx 1.1.6c-pink.