June 28, 2007
Flirt Free and Party Hard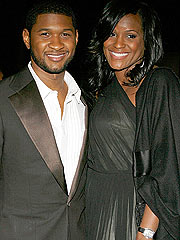 --It's official:
Usher
is going to be a daddy
. Just a week after his fiancée hinted that babies could be in their future, the pop star and Tameka Foster have announced that they're expecting their first child together, due in the fall.
--World Wrestling Entertainment (WWE) has withdrawn its support for dead wrestler Chris Benoit, after it emerged he murdered his wife and seven-year-old son before killing himself. The organization, which broadcast a tribute to the star on Monday Night Raw following news of his death, has vowed "not to mention" Benoit on the wrestling show - and will instead support those affected by the tragedy. WWE boss Vince McMahon said, "Last night on 'Monday Night Raw,' the WWE presented a special tribute show, recognizing the career of Chris Benoit. However, now some 26 hours later, the facts of this horrific tragedy are now apparent. Therefore, other than my comments, there will be no mention of Mr. Benoit tonight. On the contrary, tonight's show will be dedicated to everyone who has been affected by this terrible incident. This evening marks the first step of the healing process. Tonight, the WWE performers will do what they do better than anyone else in the world - entertain you."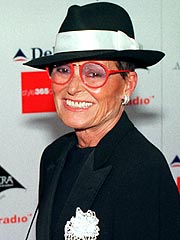 --Designer Liz Claiborne, whose name has adorned career-women's fashions since the 1970s, has died, her company announced Wednesday. She was 78. Claiborne had been battling cancer and died at New York-Presbyterian Hospital on Tuesday, her assistant tells Reuters.

--"Live Free or Die Hard" star Bruce Willis sure knows how to live it up in New York. At the after-party for his movie premiere Friday night, at Spotlive Live in Times Square, Willis was spotted "flirting and leaving with a gorgeous young blonde." Our spy said he picked her up "right in front of [his 18-year-old daughter] Rumer Willis." On Sunday, the bald bachelor held court with a table of "20-something models" while celebrating Petra Nemcova's birthday at the Gramercy Park Hotel - again with his daughter looking on. (Go Bruce!)
--Click here to watch Shar Jackson prove she isn't pregs. (She is seriously so pathetic...)

--Star Magazine's website poses an interesting question: Who should play Hugh Hefner, the ladies man of all ladies men, in the upcoming Hef biopic that Brett Ratner is directing? (Hmmm...that's a tough one. The movie deals a lot with young Hef, so I'm thinking maybe Billy Crudup. What do you guys think?)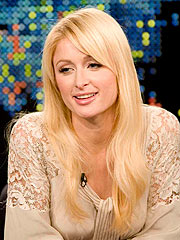 --"I've been a little immature." --Paris Hilton

--Anyone hoping to see Britney Spears perform at Cyndi Lauper's True Colors tour at L.A.'s Greek Theater on Saturday will be sorely disappointed. Spears' choreographer, Misha Gabriel, told People magazine she would hit the stage with Lauper, Rosie O'Donnell, Erasure, Debbie Harry and The MisShapes. But a source told Page Six, "There's no way. Britney said she would only dance or lip-sync - and to be on stage with Cyndi, you have to actually perform. It's not happening now." (Good for Cyndi. I just love her--and her music!)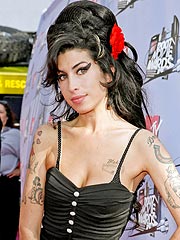 --In a video on Spin.com, Amy Winehouse, 23, is seen posing for photographer Terry Richardson while scratching on her exposed midriff with a shard of a broken mirror. In another clip, her husband, Blake Fielder-Civil, whom she wed in May, asks her, "How do you think the shoot's going, Baby?" "Really well, Baby," she replies sarcastically. "What did you think about the broken glass?" he asks. In a childlike voice, Winehouse replies, "I wrote 'I love Blake' on my tummy." She lifts her shirt to bare her stomach, although the cuts are not visible on the video. "It's just chicken scratch," she says, as she and Fielder-Civil laugh.
Random Thought of the Day:
What the eff was Beyonce thinking? Is this an ode to R2D2?

Posted by: Lawrenkm at 05:50 AM | Comments (17) | Add Comment
Post contains 630 words, total size 5 kb.
June 27, 2007
Happy Wednesday!
--
Paris
loves
TMZ.
--Jessica Simpson is launching a new bikini line. The busty pop star/actress will reportedly debut the swimsuit next month during Mercedes-Benz Fashion Week in Miami Beach, Florida. A Simpson insider tells In Touch Weekly the swimwear line features skimpy designs and more modest one-piece suits. The singer, who helped design the outfits, is so invested in the new line she is personally selecting the models who will show off the stylish suits on the catwalk. The beachwear is the latest venture for enterprising Simpson, who also boasts a skincare empire, hair extension project and a shoe and clothing line.

--NBC has recruited N Sync and "Dancing With The Stars" veteran Joey Fatone to host "The Singing Bee." The network initially announced "The Singing Bee" for a nebulous fall premiere date. That premiere was bumped up to July 10 when FOX attempted to premiere a copy-cat competition show, "Don't Forget the Lyrics!" on July 11. On both shows, contestants will engage in a karaoke-style sing-off. They'll begin by singing along to familiar songs with the words in front of them, but when the lyrics vanish, the contestants have to complete the verses perfectly. Wayne Brady will host FOX's version.
--Ok, so who is getting an iPhone? They are hella expensive (but, look pretty cool!).

--The new face of Nintendo is . . . Nicole Kidman? Nintendo has announced that the star plans to appear in its new "pan-European campaign" for the company's new 60-day Brain Training series. Kidman, 40, said, "I love the concept that Nintendo is reaching out to new audiences with their self-improvement products . . . I've quickly found that training my brain is a great way to keep my mind feeling young."
--Weeds stars Mary-Louise Parker and Jeffrey Dean Morgan have split up after a brief romance. Parker and Morgan, who play husband and wife on the hit show, started dating late last year. However, Morgan admits his relationship with his co-star is over. He says, "I am a single guy. I look for somebody with a sense of humor, someone that laughs at my bad jokes, and wants to have fun in life. That's kind of the key." (But, they each go by 3 names!)

--In another pathetic attempt to be relevant, Rosie dresses up her daughter, Vivi. Who needs frilly dresses when you can put your kid in their very own bullet strap?

--Competitive eating mainstay Takeru "Tsunami" Kobayashi may withdraw from this year's July 4th hot dog eating contest at Coney Island because, as he put it, "My jaw refused to fight anymore." He's been diagnosed with arthritis of the jaw. (Um, serves him right!)

--Is there a beef between Madonna and Janet Jackson? Madge was chummy with fellow singer Shakira at Butter Monday night (our spy said they showed up "hand in hand") and was spotted dancing on banquettes with Demi Moore, Ashton Kutcher and Penelope Cruz. But Jackson was holed up a few booths down and, "She was not invited to join Madonna's crew," said an onlooker, who told us the table drank "seven bottles of champagne and a ton of beer."

--Kim Kardashian's badonkadonk continues to grow.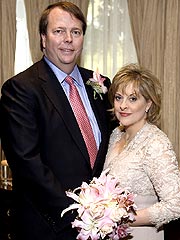 --Nancy Grace married and pregs with twins? (That's just ewww...the whole things sounds pretty random to me.)

--What's the first thing Paris did when she got home? Got her hair did, of course. Hilton, 26, who was released at 12:01 a.m. from Los Angeles' Century Regional Detention Facility, had a 9:30 at-home appointment this morning with DreamCatchers Hair Extensions. And just what was Hilton getting? "Full length, 20 inches of extensions....blonde, of course," the DreamCatchers said.
Random Thought of the Day:
I was at the gym last night, and it's a gym that has a flat screen TV on each aerobic machine. Well, I was looking around while I was on the treadmill, and the guy next to me was watching a pilates show. I thought that was a little weird since he was running on a treadmill, yet watching women do pilates. The other thing that was creepy is that he had this grin on his face. Overall, I was grossed out.
Posted by: Lawrenkm at 06:02 AM | Comments (3) | Add Comment
Post contains 696 words, total size 6 kb.
June 26, 2007
FREEDOM!!!!!!!!!!!!!!!!!!!!!
Paris Hilton has been released from jail.
(I know you all can sleep, now...)
Posted by: Lawrenkm at 06:45 AM | Comments (11) | Add Comment
Post contains 16 words, total size 1 kb.
June 22, 2007
Perez Pulled
Hmmm...being a lawyer and all,
this
certainly gave me cause to pause this morning.
(Sitting here now w/ "Things That Make You Go Hmmm" in my head).
Posted by: Lawrenkm at 12:08 PM | Comments (2) | Add Comment
Post contains 31 words, total size 1 kb.
June 21, 2007
A Whole Lotta Paris
--
Paris
pens
a letter from prison. (
Wow. It totally looks like a 6th grader wrote that
).
--Horror movie mogul Wes Craven is suing funnyman Pauly Shore over a landslide at his Hollywood home. The Nightmare On Elm Street filmmaker claims Shore failed to maintain his garden, which backs onto Craven's property, and the star's inactivity led to a landslide. In papers filed in Los Angeles on Wednesday, and obtained by Tmz.com, Craven states, "water from the Shore Property intruded and infiltrated the Craven Property causing a slope failure/landslide." Craven claims the neighborhood disaster took place last December, adding he "will continue to suffer severe emotional distress and anxiety." The director is seeking unspecified damages.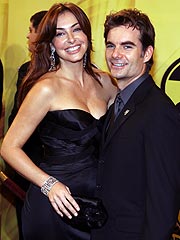 --Jeff Gordon and his Belgian model-actress wife, Ingrid Vandebosch, welcomed a daughter on Wednesday, the NASCAR driver announced on his Web site. Ella Sofia Gordon, the couple's first child, was born at 9:09 a.m. in New York and weighed 7 lbs, 1 oz.
--Revered British actor Jim Broadbent has joined the cast of the upcoming fourth Indiana Jones movie. The Moulin Rouge star will join fellow Oscar winner Cate Blanchett, Harrison Ford, Shia LaBeouf and fellow Brits John Hurt and Ray Winstone in the much-anticipated action film. Production on the film, which reunites director Steven Spielberg, executive producer George Lucas and Ford as the adventurer, began on Monday. The movie is scheduled for release next summer. Broadbent won the 2001 Academy Award for Best Supporting Actor for Iris, the same year he also appeared in Moulin Rouge and Bridget Jones's Diary.

--She might not even be a free woman yet, but Paris Hilton has at least one standing offer once she's out of jail — just ask Hugh Hefner. "Access Hollywood" caught up with the Playboy icon in the French Riviera last week, as he and his three girlfriends — Holly Madison, Bridget Marquardt, and Kendra Wilkinson — promoted their E! show, "The Girls Next Door," at the Monte Carlo Television Festival. And while Hefner enjoyed the sights and sounds of the sunny hotspot, he took some time to share his thoughts on the incarcerated heiress. Would Hefner welcome the idea of Paris posing in Playboy once she's released from jail? "Well, that's a standing offer," he replied, without missing a beat. "I think the problem quite frankly is mama. Mama doesn't want her to pose."

--Capt. Kirk is jealous of Mr. Spock. William Shatner, the stoic commander of the Starship Enterprise on "Star Trek," is said to be furious with the producers of "Star Trek XI" because they offered Leonard Nimoy, Kirk's lovable Vulcan sidekick, a cameo role but didn't give him one. Shatner "is very upset," said an insider, "and has been lobbying for a role." The film, to be directed by "Lost" producer and director J.J. Abrams, is to start shooting later this year.

--"I just think, you know, saying he's a greedy bastard would be giving him too much credit." -- Justin Timberlake, on his former manager, Lou Pearlman
--Click here to check out "AFI's 100 Years ... 100 Movies - 10th Anniversary Edition. (Citizne Kane is still #1, but there are lots of shifts and new additions (and, thus, several who got bumped)).

--Mandy Moore is fighting back against the famous guys who took advantage of her. Music insiders told Page Six the song "Looking Forward to Looking Back" on her "Wild Hope" album is about her "toxic" ex-boyfriend, Zach Braff. "There are references to his Hollywood Hills home in the song," said one tipster. "We all assume it was about Zach, he was such a cheater."

--No love for Paris from her neighbors.
--Ozzy and Sharon Osbourne have revealed that son Jack once bedded jailbird Paris Hilton. Ozzy said: "Paris was always hanging around our house. I'm not sure if she was a friend of Kelly or Amy — which one was it, Sharon?" Sharon looked a bit sheepish and stumbled over her words as she replied: "She was Jack's, erm, friend." Ozzy's jaw dropped and he exclaimed: "He didn't shag her, did he? Well done, my son!" (Wow. She really will do anyone).

--Is Christina Aguilera pregs? According to Page Six, "She's been telling friends. She has to be three months now, because she's announcing it." (Hmmm...I'm not buying this one yet).
Random Thought of the Day:
If you haven't heard of Paul Potts yet, you will. Watch this clip of Britain's Got Talent--you won't believe your ears!

(I think he's since won the entire thing, but don't quote me on that)...
Posted by: Lawrenkm at 05:56 AM | Comments (11) | Add Comment
Post contains 761 words, total size 7 kb.
June 18, 2007
Wedding Fever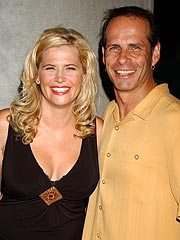 --
Skating with Celebrities
star
Kristy Swanson
was arrested
late Saturday night for allegedly assaulting the ex-wife of her companion and former skating partner, Lloyd Eisler. "I had to go the police station where I had an appointment at 9 p.m. to begin the process of being arrested," she confirms. Swanson was released on $500 (Canadian) bail. Officers escorted her into the police station in Kingston, Ontario, after Eisler's ex, Marcia O'Brien, filed a complaint against Swanson. Swanson, 37, claims she was attacked by O'Brien in front of Eisler and O'Brien's children. The actress's rep, Michael Sands, says Swanson plans to press charges against O'Brien, saying that police took photographs of her back and other parts of her upper extremities to document the injuries. Eisler, 44, a former world champion pairs skater, and Swanson, who starred in the big-screen version of
Buffy the Vampire Slayer
, met in 2006 while filming the FOX reality series, and their romance created a scandal in the skating community when Eisler left his pregnant wife for her. The pair welcomed a baby boy in February.
--Nicole Kidman celebrated her 40th birthday on the beach in Sydney, Australia on Saturday with a party thrown by her friends. With husband Keith Urban expected to join the actress for her actual birthday date on Wednesday, it was left to family and friends to help star celebrate her last weekend as a 30-something on Bondi Beach. It was largely an all-girl's affair as Kidman's sister Antonia and their mom Janelle invited 30 of the star's closest pals from Australia and Hollywood to join them at Bondi Icebergs for a pre-birthday dinner. And Kidman, who will also celebrate the first anniversary of her marriage to Urban later this summer, certainly isn't feeling sore about hitting 40. In a recent interview, she said, "It feels just right. I don't feel what I thought that wretched age was going to be like. I have done a lot of things and it has been full up to this point, especially the past few years, so I am grateful for that."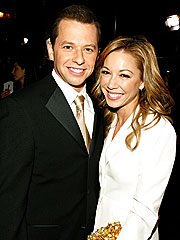 --Jon Cryer of Two and a Half Men married entertainment reporter Lisa Joyner in Mexico on Saturday. The ceremony took place at the Chapel at Pueblo Bonito Sunset Beach in Cabo San Lucas, Mexico, with a reception at a private residence. The bride wore an A-line Empire waist Monique Lhuillier gown with ivory lace over champagne satin.
--Nicole Richie has ignited reports she is to wed boyfriend Joel Madden after she was spotted at a Hollywood party wearing a large diamond sparkler on her ring finger. Richie has so far refused to confirm or deny recent reports of a rumored pregnancy, prompted by pictures of the skinny star with a bloated belly. And now the Good Charlotte rocker - who accompanied Richie to the YSL Pool Party at the Beverly Hills Hotel on Thursday night - appears to have proposed to his lover. An eyewitness tells the New York Post's gossip column Page Six, "It was one big rock surrounded by more diamonds. (Madden was) overly attentive to her - keeping his arm around her all night - and repeatedly asked her if she was OK."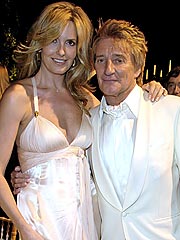 --Singer Rod Stewart has wed for the third time. The 62-year-old rocker said "I do" early Saturday with model Penny Lancaster, 36, his girlfriend of about seven years, in a small town just outside the Italian Riviera resort of Portofino. The ceremony took place at the 17th century Villa Durazzo in the town of Santa Margherita. Mariagrazia Benazzi, the town hall official who celebrated the wedding in lieu of the mayor, says the only people present were the bride, the groom and two witnesses.

--Busta Rhymes must be upset at getting older. The rapper celebrated his 35th birthday last weekend at Suite in Miami where, spies told The Post's Marianne Garvey, "he acted miserable and no one in his entourage spoke to him all night. Busta just stood in a corner alone with his bodyguard. When one of the waitresses brought him a bottle of Cristal with a lit sparkler sticking out of the cork, he claimed he never wanted it and ordered her to send it back." Rhymes then complained that he wasn't paying for the liquor and spent the rest of the night mouthing the words to his own songs that the deejay played for him.
--Gianfranco Ferre, the Italian designer known as the "architect of fashion" for his structured, sculpted shapes and for his groundbreaking tenure at Christian Dior, died Sunday, a hospital said. He was 62. Ferre was taken to the San Raffaele hospital in Milan on Friday after suffering a massive brain hemorrhage. The hospital, in a statement authorized by Ferre's family, said he died Sunday night. Condolences from Italy's top designers poured in as word of his death spread - just days before the menswear spring-summer 2008 collections were to get under way in Milan later this week. Giorgio Armani, perhaps the king of the "Made in Italy" world to which Ferre also belonged, said he had long admired Ferre's artistic and intellectual work. "When I think of Gianfranco Ferre, the idea that comes immediately to mind is the dignity, the calm, the sense of responsibility that he brought to his work," Armani said, according to the ANSA news agency.

--Bob Barker and Ellen Degeneres dominated Friday's Daytime Emmy Awards.
--Iceman had a serious celebrity sighting on Friday. "Brad Pitt was just outside my building with his kids ... eating at that Mars 2112 restaurant and surrounded by a hundred paparazzi." Thanks for the scoop, Ice!

--Eva Longoria's wedding to Tony Parker is fast approaching, and her mane man, Ken Paves, has told the tiny housewife he'll do her hair for free as a gift. Also offering his service free of charge is Longoria's famed stylist, Robert Verdi. Meanwhile, some of Longoria's pals are worried about Parker. "He is just not gracious," one of them said. "He puts himself ahead of her. He always orders at restaurants before her and is rude to waiters. We just don't have a good feeling about him."
--Candy Spelling clearly has too much time on her hands. As if penning a letter to Joe Francis wasn't enough, she's now felt the need to write Britney:
Dear Britney:
You made me do it. I didn't plan to write another letter now. I took two weeks off from TMZ.com because I didn't feel strongly about what anyone was doing -- or else I couldn't decide which side to believe.
You've driven me back to my laptop to ask why, if you have to slither in and out of cars, do clumsy imitations of gymnasts and wear clothes that are just too tight, trashy or skimpy, do you have to pose in front of photographers all the time? We've seen the body parts, poses and clumsy attention-seeking tricks before. You're wearing out your welcome. Some people never can turn away from a train wreck, so who can blame the photographers for waiting for your next one? Do you really want captions such as TMZ's own "Victim of Pap Smear" and "Does Britney Change Clothes for Cash" to be your legacy? You can do much better.
Unlike some others who are famous for being famous, you initially earned the fame and respect you achieved. You were a giant star, a Mouseketeer, a singer whose song titles became part of everyone's vocabulary. You made some missteps. We all do. But, when you become more famous for hideous, irresponsible actions than accomplishments, it's time to step back and figure out where you want your life to go. So many young girls still see you as a role model. Give those kids a reason to look up to you. They're probably even tired of the endless speculation about what undergarments you may or may not be wearing. I know their parents would like you to move on and get dressed. Even the school uniform was more dignified.
You're doing all right with the wigs. I know the paparazzi have a bounty on your (wigless) head. I think it's great that you have a variety of wigs (some very stylish) when you go out in public. If you do feel you need to show how your hair is growing back, at least make a deal with a photographer to sell the photo and donate the money to charity. Do you know what a statement that would make?
Enough with the sorry grabs for attention. Deep down, especially for your sons, people want you to succeed. You can always get attention if you need it. Visit someone famous in jail and attract a zillion photographers if you're that addicted to fame. Americans like winners. We like those stories about what people do with second chances. How about a moratorium on train wrecks and some time out for paying back the fans who helped you succeed?
Best,
Candy Spelling
Random Thought of the Day:
Have any of you seen "Notes on a Scandel" with Dame Judy and Cate Blanchett? I watched it over the weekend (I know, I know...I'm a little behind in my movie watching since it was up for Oscars this past February). I would highly recommend it. The acting was just fantastic. And the writing is edgy and intelligent. It reminded me a little of a Hitchcock movie in that you were walking a fine line in wondering whether Dame Judy's character was just a little neurotic and lonely, or a pure-bred psychopath! Good stuff!
Posted by: Lawrenkm at 05:36 AM | Comments (65) | Add Comment
Post contains 1596 words, total size 11 kb.
June 14, 2007
Like, Here Are Some Tidbits for, Like, Thursday, Y'all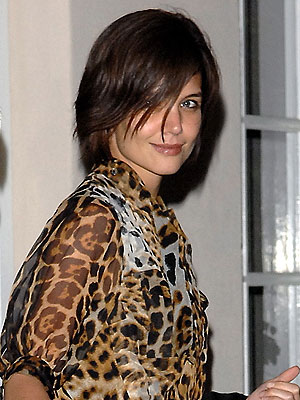 --
Katie
got herself a new 'do. I like it, although she clearly doesn't know how to fix it properly, she at least is starting to look her age. Anyone else think it has an uncanny resemblance to Posh's new haircut? Hmmm...
--Dan Aykroyd is expanding his alcohol empire by putting his name to a new $11 million winery in Canada. The actor, who made a small fortune by introducing Patron tequila to his native Canada, is one of the investors behind The Dan Aykroyd Winery, which will be located near the town of Lincoln, Ontario. At a news conference to announce the venture yesterday, the actor revealed the vineyard's lodge will showcase souvenirs from his movies. He said, "This is really a dream... I never thought that a line of wines would be a possibility." Construction begins later this year and should be completed in time for the 2008 growing season. The winery will be all green, featuring solar panels and environmental water management systems.

--Frankie Abernathy, the punk rock-adoring former "Real World: San Diego" housemate whose struggle with cystic fibrosis helped to further raise national awareness about the chronic lung disease, died Saturday evening in her mother Abbie Hunter's Shorewood, Wisconsin, home. An official cause of death has yet to be determined; Abernathy was 25. (I remember that she was sick from time to time, but I never realized she had CF).
--There will be a remake of Lawrence Kasdan's 1983 film The Big Chill, reports Variety. The movie will likely be retitled, but the original script by Kasdan and Barbara Benedek will be used as a template; the storyline will be contemporized and the cast will be African American. Regina King will be part of the ensemble, and she will produce with her sister, Reina King, and Will Packer (Stomp the Yard). (This movie is a classic. No remakes.)

--Openly gay rocker Rufus Wainwright discussed the advantages of staying closeted in an interview in Spin magazine. "If they stay in the closet, they're going to make a lot more money. I go to the same gym as Anderson Cooper. When I look at him lifting those 5-pound weights, it makes me think, 'He's just trying to live his life and be all that he can be.' But he still goes to the gayest gym in New York."
--Basketball star LeBron James and his girlfriend Savannah Brinson welcomed their second son, Bryce Maximus James, on Thursday. The 8-lb, 6-oz baby was born a 12:51 a.m. in Cuyahoga Falls, Ohio. The couple also have 2-year-old LeBron Jr. James, 22, a forward for the Cleveland Cavaliers, is in the thick of the NBA Finals, with his team trailing the San Antonio Spurs three-games-to-none in the best-of-seven series.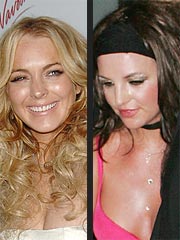 --Britney Spears is asking her fans to help name her upcoming album – and one of her suggestions is a joke about Lindsay Lohan. Her official Web site says, "Britney is asking her most die-hard fans for some assistance in order to name her upcoming album." The first of five possible titles is about the rehabbing Lohan: "Omg is Like Lindsay Lohan Like Okay Like." Spears, who herself recently left rehab, says the other possibilities are: "What if the Joke is on You," "Down boy," "Integrity" and "Dignity." Members of her fan club can then vote by clicking on the screen. (Like, seriously?)
--Jennifer Aniston is planning to adopt a baby, according to reports. The actress has allegedly begun filling out the required paperwork with the adoption agency which dealt with Sheryl Crow's adoption of baby Wyatt last month, according to OK! magazine. An adoption agency source tells the publication, "The process has 100 per cent started," and the New York Daily News reports friends of the star have confirmed Aniston's plans. A friend tells the newspaper, "She is happier and more excited than she has ever been in her life." Another pal adds Aniston had been considering adoption for a long time: "Jen has been thinking about adopting for a while. But after seeing Sheryl and her son, Wyatt, together, Jen didn't know why she was still waiting." Aniston is currently dating 36-year-old British model Paul Sculfor - who has allegedly moved into her new Beverly Hills, California, home.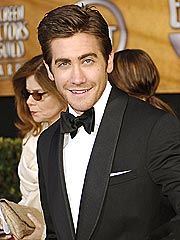 --Jake Gyllenhaal is deciding whether he'll attempt to climb a peak even more treacherous than Brokeback Mountain – Broadway. The Oscar nominee, 26, is mulling over the starring role in the political stage drama Farragut North, to open this fall. Gyllenhaal would play an idealistic communications director for an unorthodox presidential candidate said to be based on 2004 Democratic candidate Howard Dean. The play's title refers to the Washington, D.C., metro stop located near the offices of several lobbyists.

--Shar Jackson is denying recent reports that she is pregnant with Kevin Federline's child. In fact, she is not pregnant at all. "It is not even remotely true," Jackson's rep tells Usmagazine.com. Federline's rep also insists the rumors are "not true." The erroneous story originated in this week's Star magazine, which reported that Jackson, 30, is six weeks along with Federline's child.

--Trump's Tramps?
Random Thought of the Day:
Today's "Random Thought" is a bit of trivia for you. Did you know that the man who appeared in the final scene of "The Sopranos" as the menacing truck driver at the diner, Patrick Connolly, is the uncle of none other than Entourage star, Kevin Connolly. Wow. I guess he's Kevin's version of Drama. Ha!
Posted by: Lawrenkm at 05:54 AM | Comments (3) | Add Comment
Post contains 927 words, total size 7 kb.
June 13, 2007
RIP Mr. Wizard
Don Herbert, who as television's "Mr. Wizard" introduced generations of young viewers to the joys of science, died Tuesday. He was 89. Herbert, who had bone cancer, died at his suburban Bell Canyon home, said his son-in-law, Tom Nikosey.
Ok, who else is totally bummed? I loved me some Mr. Wizard.

Posted by: Lawrenkm at 07:19 AM | Comments (69) | Add Comment
Post contains 57 words, total size 1 kb.
June 11, 2007
We'll Miss You, Tony!
Well, it was a weekend of Tony. Sunday evening proved to be quite exciting for yours truly: The Tony Awards and the "Sopranos" finale were both on, causing me to have to DVR the awards show. I simply could not bear not knowing the fate of my man Ton.

Click here for a run-down of the Tony winners. No big surprise that "Spring Awakening" and "Coast of Utopia" swept most of the categories. Unless you're a theater dork like myself, you may not have heard of most of the winners. David Hyde Pierce of "Frasier" fame won Best Lead Actor in a Musical for "Curtains", which frankly, was a surprise. Billy Crudup won Best Featured Actor in a Play for "The Coast of Utopia." And, another name you all might know: "Coast's" orchestration was done by Duncan Sheik.

But, the real drama of the night came during the series finale of "The Sopranos." A few thoughts:
1) Loved the cat. Even though Adriana wasn't alive like I was hoping, there was still a little of her in the cat, as it constantly stared at Christopher's picture.
2) Um, screamed out loud when the SUV ran over Phil. And then, like the sick, twisted girl that I am, I rewound it for me and my crew over watching.
3) I was on the edge of my seat thinking Pauley was going to sell Tony out.
4) What was with the random vajayjay sighting? I mean, it wasn't even pertinent to the plot!
5) Ok, the ending. Now, I'll admit, at first, I was like, "ARE YOU EFFING KIDDING ME?" But, the more I stewed on it, chatted with others, read some message boards, etc., the more I think it was brilliant. You don't know who is walking in to the diner, you don't know if any of the suspicious looking fellows in the place are about to whack him, and you just have to keep on "believin."
One of the most interesting perspectives I heard was this one that Iceman found on the message boards:
"Tony is dead. Gunshot to the head. Everything went blank. He didn't even see it coming. The camera focusing on Meadow was from Tony's point of view...he was shot as he watching her come in. Think back to the flashback in the 2nd to last episode of Tony sitting on Bobby's boat....they talk about getting shot in the head, and they both agree that you don't even hear anything....everything goes blank!"
Hmmm...is that what Chase wanted us to gather from the long, dark pause?
And, regardless of whether you liked it or not, Chase is a genius because that episode is ALL anyone is talking about today.
Goodbye, Tony. I'll miss you and the gang. (Especially you, Sil). I won't stop believin'.
UPDATE: This was just sent to me by various people:
--The guy who went into the bathroom was credited as Phil Leotardo's brother.
--The trucker was robbed by Christopher in season 2 (Chris killed his brother in the robbery).
--The black guys were the group that tried to kill Tony in an earlier season, but failed (shot his ear).
--The boy scouts were in the train store when Bobby was shot.
--There was reference in an earlier episode that Tony's father was killed in a diner (I can't verify that one...anyone?)

Posted by: Lawrenkm at 05:55 AM | Comments (9) | Add Comment
Post contains 565 words, total size 3 kb.
June 07, 2007
Breaking News
Paris Hilton is already out of jail!!!
The deal was sealed Wednesday, and Hilton made her exit early Thursday morning, TMZ reported.
She was originally sentenced to 45 days in jail for violating probation after a drunken-driving rap, but that was reduced to 23. She served a total of three days.
The L.A. County Sheriff's Department will hold a news conference at 10 a.m. ET to discuss why Hilton was released early.
UPDATE 11:35 a.m.: Due to an undisclosed "medical condition," Paris Hilton has been reassigned from jail to her home, where she will wear an electronic monitoring device. "She was not released, she was reassigned," Los Angeles County Sheriff's Dept. spokesperson Steve Whitmore said at a press conference Thursday. She has been fitted with an ankle bracelet and must remain confined to her home for 40 days.

UPDATE Friday at noon: House arrest for Paris Hilton? What a joke. So far she's ordered cupcakes, had tons of her friends over, and taken naps!!! Sign me up for THAT any day!
UPDATE Friday, 3:56 p.m.: Paris Hilton is headed back to jail. She was taken from court screaming and crying after Judge Michael T. Sauer ordered her to return to jail to serve the remainder of her entire 45-day sentence on Friday. "It's not right!" Hilton, 26, shouted as deputies approached her in the courtroom. She also called out to her mother in the audience: "Mom!" Kathy Hilton, accompanied by Paris's father Rick, answered: "Honey!" Check out the pic: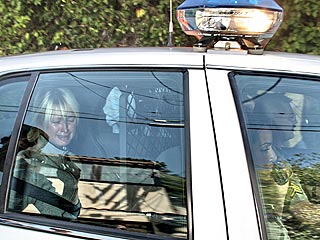 As a swarm of media watched, Hilton parted ways with her parents, and her mother told reporters: "It is what it is and it's in God's hands now." (Oh come on...it's in God's hands now? She didn't get cancer! Cut the dramatics!!!)
Posted by: Lawrenkm at 07:32 AM | Comments (12) | Add Comment
Post contains 295 words, total size 2 kb.
June 06, 2007
Breakup City
--While
Paris Hilton
was sneaking into prison in Los Angeles in the wee hours of Monday morning, her younger brother,
Barron
,
was getting mugged
at knifepoint near Penn Station. Barron, who is tall and blond and believed to be 18, had shown up earlier at Stereo on West 29th Street with three male friends and two girls. "They were all underage and they hung around for a while trying to get in the club," said an eyewitness. "They were waiting outside Stereo. Eventually they all left together at around 4 a.m. "An hour later, two security guards from Stereo were driving by Penn Station on their way home and they saw Barron and his friends. Then they saw two muggers confronting the group, and they all got out. One had a knife and was trying to get money out of the kids. "One guy had Barron at knifepoint, and the guards got out and chased away the guy with the knife. The attackers didn't get any money," said the witness. "Eventually Barron and his friends all piled into a cab."
The insider added that the guards recognized Barron because "he tries to get into Stereo all the time
."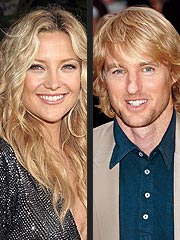 --Kate Hudson and Owen Wilson are dunzo.

--Tom Sizemore surrendered Tuesday to face a hearing on whether he violated probation with his recent arrest for drug possession. Superior Court Judge Cynthia Rayvis later ordered the "Saving Private Ryan" actor held without bail pending a June 19 hearing, said Jane Robison, a spokeswoman for the district attorney's office. Sizemore, 45, had arrived at a county courthouse in a convertible and was greeted by reporters. When asked how he was doing, he replied: "I'm OK. Sizemore was arrested last month at a Bakersfield hotel. Authorities said they found methamphetamines in his car. He was released but a Los Angeles judge later issued a warrant for his arrest for violating probation in another methamphetamine case. If convicted, he could be forced to serve out a 16-month prison sentence.
--Another week, another set of negative ratings records for broadcast television.

--Can McPheever spread from TV to the big screen? Katharine McPhee will make her feature film debut in the indie romantic comedy "The Last Caller." According to The Hollywood Reporter, "The Last Caller" is budgeted between $5-and-$8 million with a production start this fall in and around New York. Michael Albanese wrote the project, which focuses on a self-obsessed woman (McPhee) looking for "love, hope and meaning" in the big city. McPhee's role won't involve any singing, she tells the trade. (Did Idol contestants learn nothing from "From Justin to Kelly?")

--Larry David and his activist wife, Laurie, are dunzo after 14 years of marriage.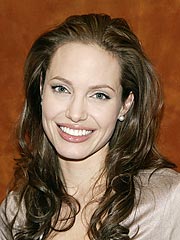 --Angie and Brad like to take baths together.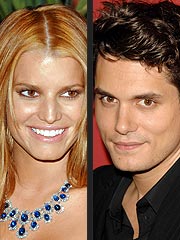 --Jessica Simpson and John Mayer are dunzo--again!

--When ex-wife Demi Moore started carrying on with younger man Ashton Kutcher, Bruce Willis was seeing red. But Will Smith talked him out of his jealous rage, Willis tells Playboy. "During some very dark hours he talked to me about it. He said, 'Dude, you've got to do whatever it takes to get the kids and all the spouses or the girlfriend together. You've got to show your kids it's OK.' It was like a light went on. Ding. So Will, thanks. And thanks for all those good movies you're making." (I love Will. That's one seemingly awesome Hollywood marriage)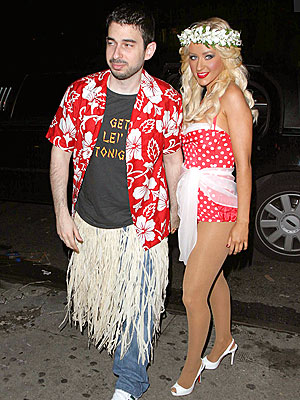 --Christina Aguilera and her hubby look like they're going to a fraternity luau. Remind me again how a guy like that bags someone like her? (And, don't tell me it's love. A great, sweet personality can make an average/cute guy hot in a girl's eyes, but there ain't enough love in the world to make him anything close to attractive).
Random Thought of the Day:
Most over-the-top obnoxious people annoy the hell out of me: Nancy Grace, Carrot Top, that Tony Little workout freak with the ponytail, and the list goes on. However, I have major love in my heart for two people that most would deem utterly obnoxious: Dr. Phil and Kathy Griffin. I love it when Dr. Phil sticks it to the dysfunctional people he has on his show. And, I just love Kathy's perpetual making fun of Hollywood starlets. I think her show is hilarious! ("My Life on the D-List"). Ok, so her face is way too drawn from all her plastic surgery, but I try to look past that. And, I despise the commercials Dr. Phil does for Match.com, but again, minor professional mistake on his part. Anyway, just needed to get that off my chest! Ha.
Posted by: Lawrenkm at 06:00 AM | Comments (7) | Add Comment
Post contains 769 words, total size 6 kb.
June 04, 2007
From the Penthouse to the Big House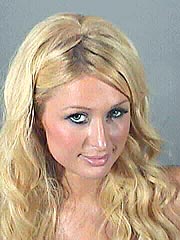 --
Paris Hilton
reported to jail late Sunday night to serve at least 23 days for violating probation. She was booked into the jail at 11:38 p.m., according to the Los Angeles County Sheriff's Department's Web site, after days of partying and just hours after attending the MTV Movie Awards.
I never thought this would actually happen! (Check out the look on her face in the booking photo!)
Posted by: Lawrenkm at 06:57 AM | Comments (8) | Add Comment
Post contains 81 words, total size 1 kb.
150kb generated in CPU 0.17, elapsed 0.3853 seconds.
45 queries taking 0.2466 seconds, 365 records returned.
Powered by Minx 1.1.6c-pink.