October 17, 2007
Nice Hair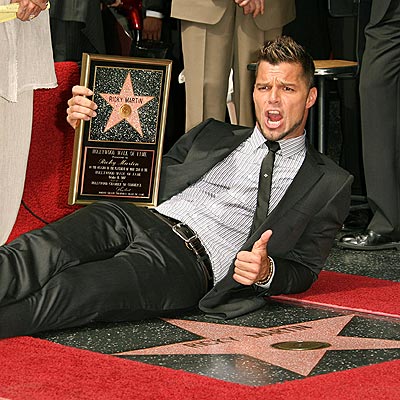 Livin' la vida douchebag.
Posted by: Lawrenkm at 06:37 AM | No Comments | Add Comment
Post contains 8 words, total size 1 kb.
My Own Personal Hell
As if the bottom-of-the-barrel scraping couldn't get any worse, this clown is going to get a gig on Broadway.
Clay Aiken will join the Broadway cast of "Monty Python's Spamalot" on Jan. 18, playing one of the leads, Sir Robin, in the Tony Award-winning musical directed by Mike Nichols.
Posted by: Lawrenkm at 06:34 AM | Comments (4) | Add Comment
Post contains 57 words, total size 1 kb.
October 16, 2007
I'm Sure She's Not With Him For the Money
Check out Kathy Griffin and her new beau, Apple co-founder Steve Wozniak, hit up the grand opening of Diablo's Cantina at the Monte Carlo Resort & Casino on Saturday night. Griffin, who split with her husband last year -- after accusing him of stealing over $70,000 from her.
Posted by: Lawrenkm at 06:32 AM | Comments (2) | Add Comment
Post contains 66 words, total size 1 kb.
October 15, 2007
What The?
I bet you're thinking...Amy Winehouse, right? Nope. That's Rihanna, and I'm not sure what's more scary: her nasty nails, or the fact that she has a tattoo that looks like a ...well, you know...on her arm.
Maybe she's paying homage to Lorena Bobbitt.
Posted by: Lawrenkm at 06:22 AM | Comments (5) | Add Comment
Post contains 47 words, total size 1 kb.
October 12, 2007
My Day...Not Al's Day
--I'm sorry...come again? In my good ear? He won
WHAT
? And what he did has WHAT to do with peace?
Random Thought of the Day:
Happy 29th Birthday to...ME!
Posted by: Lawrenkm at 06:49 AM | Comments (5) | Add Comment
Post contains 38 words, total size 1 kb.
October 11, 2007
Bobby Brown Thursday!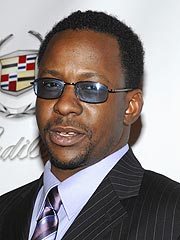 --
Bobby Brown
had a
heart attack
? Hell to the no!
I don't know about you, but I sure miss "Being Bobby Brown." Well, thank God for YouTube. Here are some fun Bobby clips for your Thursday. You'll thank me for the "throw back" third one.
Posted by: Lawrenkm at 06:27 AM | Comments (11) | Add Comment
Post contains 52 words, total size 1 kb.
October 10, 2007
Breaking News
--We all new she was pregs, but it
looks like
twins are on the way for
J.Lo
!
Posted by: Lawrenkm at 07:39 AM | No Comments | Add Comment
Post contains 21 words, total size 1 kb.
Loser
--Reality star
Jonny Fairplay
is suing another reality star –
Danny Bonaduce
– for battery and infliction of emotional distress for tossing him during an awards show last week. The suit stems from the pair's confrontation onstage during the FOX Reality Really Channel awards. Fairplay, 33, was being jeered by the audience when Bonaduce, 48, came out and said into the microphone, "
They're booing because they hate you
." A moment later, Fairplay (real name: Jon Dalton) jumped into the arms of Bonaduce, who tossed the former Survivor star over his head. Fairplay landed on his face, and lost several teeth. Police investigated the incident and declined to press charges, calling Bonaduce's actions "self-defense."
But on Tuesday, Fairplay filed the lawsuit against the former Partridge Family star, as well as FOX reality channel, the show's producers and the club venue where the event took place. Fairplay claims that the incident has caused him "great mental, physical and nervous pain and suffering." He is suing for an undisclosed amount of "general damages." Click here to read the complaint.
This guys is a total loser. I'm kinda glad Bonaduce caused him to lose a few toophers.
Posted by: Lawrenkm at 06:29 AM | Comments (3) | Add Comment
Post contains 195 words, total size 2 kb.
October 09, 2007
Tuesday Quickies
--Is
Kristin
engaged
?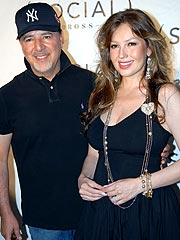 --Thalía has welcomed her first child with her music executive husband Tommy Mottola. Sabrina Sakaë was born Sunday morning in New York and weighed 8 lbs. 4 oz. (It seems like soooo long ago that he was married to Mariah).

--Nicole Kidman and Julia Roberts, the two biggest female stars of our time, are possibly heading for a teaming up. The movie in question is a Kidman project called "Monte Carlo," based on a novel called "Headhunters." The story concerns three Midwestern school teachers who pose as socialites in the world's glamorous gambling capital and wind up snaring billionaires. It's sort of an update on "How to Marry a Millionaire."

--And, on the Britney front: Her weekend consisted of 1) making up w/ her mama and sister; 2) missing her visitation w/ the kiddies; 3) partying; 4) and Taco Bell.
Random Thought of the Day:
No time for thoughts. Early meeting today...
Posted by: Lawrenkm at 06:28 AM | Comments (17) | Add Comment
Post contains 159 words, total size 2 kb.
October 05, 2007
Xtina's Baby Bump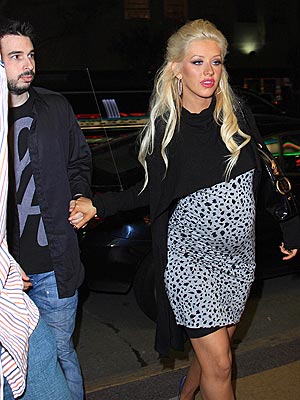 --So, how far along to you think she is? 5 months?
Posted by: Lawrenkm at 05:35 AM | Comments (5) | Add Comment
Post contains 17 words, total size 1 kb.
October 04, 2007
Poor, Troubled Bonaduce
--A court commissioner
ruled
Wednesday that
Britney Spears
can have visits with her two sons but did not reverse an order giving temporary custody to Kevin Federline, the pop star's ex-husband, his attorney said. Superior Court Commissioner Scott M. Gordon was expected to issue an order detailing the visitation rights, attorney Mark Vincent Kaplan said. The order was not released by the time court closed for the day. Federline attended the hearing
but Spears did not.
--Former child star Danny Bonaduce has been named as the suspect in a felony battery report after allegedly beating up a U.S. reality TV star at an awards show. The Partridge Family star stunned the audience at the Fox Reality Channel Really Awards on Tuesday night when he jumped up onstage and attacked Survivor star Jonny Fairplay. The reality star lost a few teeth in the fracas, according to Tmz.com. Speaking on the Adam Carolla radio show in Los Angeles on Wednesday, co-host Bonaduce admitted he has had a thing against Fairplay ever since the reality TV star lied about his grandmother dying, in order to get sympathy on the show. Bonaduce revealed the fight started after Fairplay - real name Jon Dalton - poked fun at him from the stage.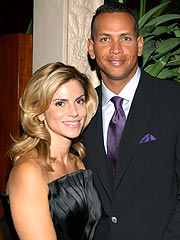 --New York Yankees third baseman Alex Rodriguez, 32, and his wife, Cynthia, 34, are expecting a baby next spring, they have revealed. "Cynthia and I are overjoyed to announce this addition to our family," says the athlete. "We realize what a special gift children are, and feel very blessed to welcome our second child." The two-time American League MVP and his wife of nearly five years already have a daughter, Natasha, 2.
--Single Hollywood stars Jennifer Aniston and Orlando Bloom have prompted rumors of a romance, after they were spotted getting close at their manager's wedding. The pair are both represented by Aleen Keshishian, and traveled to Cabo San Lucas in Mexico to celebrate her marriage, along with other clients Natalie Portman, Laura Linney and Bloom's ex-girlfriend Kate Bosworth. Fellow guests claim Aniston and Bloom immediately latched onto each other and spent much of the ceremony together. A source tells Life & Style magazine. "When they got down to Mexico, they just gravitated to each other. They sat next to each other for both the rehearsal dinner and the actual ceremony. Their super-flirty behavior surprised some of the other guests, but they didn't look like they cared who was watching because they were so into each other." Representatives for both stars insist they are just good friends. (Can I call them Aniblo?)

--When Angelina Jolie stepped out in a midriff-baring tank top, her emaciated stomach nearly ruined In Touch's plans for this week's cover: "Is Angelina Jolie pregnant?" To protect its story, the glossy bought exclusive rights to the shots of her taut torso "so no other weeklies could run them," said an insider. In Touch claims Jolie gained 10 pounds in her chest, but conveniently cropped the photo above her flat stomach. "When Angelina showed up looking so skinny, they bought the photos," our source said. The mag says, "The most striking area of Angelina's weight gain is in her chest, which is why we focused on that area."

--As NBC's "American Gladiators" remake begins to take shape, the network is turning to elsewhere in the world of "sports entertainment" for the show's host. Pro-wrestling legend and VH1 reality star Hulk Hogan is on board to serve as the show's host. Though the deal is still being finalized, TV Week reports that both NBC and the Hulkster (real name: Terry Bollea) are gung-ho about the series, which is likely to find a midseason berth on the network. (Sweet! I totally loved this show!)

--"Go cry to your bald mom, you [bleeping] loser," Charlie Sheen wrote to Denise Richards in an e-mail the actress included in documents filed last week in L.A. Superior Court in the couple's custody battle. "You are a pig. A sad, jobless pig who is sad and talentless and sad and jobless and evil and a bad mom, so go [bleep] yourself sad jobless pig," reads another. "You are an evil piece of [bleep]. I can't wait to tell the world what a piece of [bleep] you are. You don't get a [bleeping] dime till this is resolved," says a third e-mail. Richards says in her court filing that she was particularly hurt by the one about her mother, who is undergoing chemotherapy treatments for cancer. Pictures of Sheen's "erect penis" that Richards says he used for his profile on sex sites are also included, which Richards claims he e-mailed to "approximately 30 women." "I'd love to give it to you any time," Sheen wrote to one woman under the screen name "mrjonze55." Richards says Sheen even visited gay pornography sites - "which I found even more disturbing because I felt that the boys looked underage," the documents state. Richards accuses Sheen of punching the headboard of their bed once in a rage, and telling her that by no longer breast-feeding, she was causing their daughter, Sam, to "become retarded." "He took a large wedding photo off the wall. He had it placed in our garage. He sawed the picture in half and took spray paint and sprayed 'the dumbest day of my life,' " Richards claims in the documents. (Um...whoa).

--People can't get enough of Jennifer Aniston. Neither can Us Weekly, Star or other popular celebrity magazines. Aniston sits atop Forbes.com's first-ever analysis of top-selling famous faces, based on several factors, including newsstand sales of celebrity weeklies People, Us Weekly, In Touch Weekly, Life & Style, OK! and Star over a six-month period ending June 30, as supplied by the Audit Bureau of Circulations. The 38-year-old actress graced six covers - appearing on every magazine except In Touch Weekly at least once during the time period - with her face collectively selling more than 5 million copies, the Web site said Tuesday. Aniston's ex-husband, Brad Pitt, takes second place on the list, followed by Scarlett Johansson, Angelina Jolie, Reese Witherspoon, Katie Holmes, Carrie Underwood, Jennifer Hudson, Valerie Bertinelli and Kelly Ripa.

--Evan Handler, who played Charlotte's bald but lovable hubby, Harry Goldenblatt, on "Sex and the City," reported to his first day of filming for the movie version on Tuesday, when he was a guest at Big and Carrie's wedding. But production had to be halted a few times because of a chronic hiccuping problem Handler has developed. "It's been going on now for the past two years," he said in between hiccups. "Sometimes it goes on for two, three days straight. So, it was happening a little while filming, yes. But I can get in under control. I go to a quiet corner and redirect my breathing and center myself."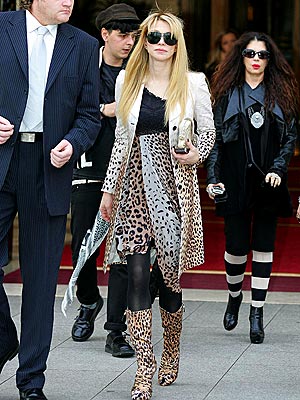 --Oh, for the love of no, Courtney...
Random Thought of the Day:
Ok, so what did everyone think about the Rock of Love finale? I liked Jess all along, so I was happy with his choice. Thank God he didn't keep that crazy Lacey around. Heather, was just too, well trashtastic--even for Bret.
Posted by: Lawrenkm at 05:44 AM | Comments (2) | Add Comment
Post contains 1188 words, total size 9 kb.
October 03, 2007
What Time Is It, OJ?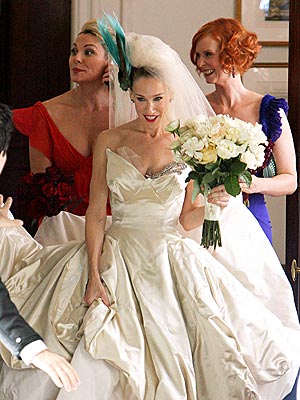 --Love it, love it! Does this mean??? I hope so!
--Hollywood actress Cameron Diaz has fueled rumors she is dating actor Bradley Cooper after the pair were spotted together in New York. Diaz, 35, and newly-divorced (from Jennifer Esposito) Cooper, 32, were spotted caressing each other during a meal at Morgans Hotel in the city. They were also spotted enjoying a New York Giants game on Sunday night. A source tells New York gossip column PageSix, "(They) were very close and lovely. Something is definitely going on, and it's clear they are more than just friends."

--O.J. Simpson was minus one Rolex watch - real or otherwise - Tuesday after a judge ordered him to hand it and other assets over to the father of slaying victim Ron Goldman. Superior Court Judge Gerald Rosenberg also ordered the former football star to turn over any future royalties from a videogame in which he appears and any of the disputed memorabilia he can prove is his that Las Vegas police seized when they arrested him last month on robbery, kidnapping and other charges.
--Wrestler-turned-movie star Dwayne "The Rock" Johnson has made history at his former college by handing over $1 million to fund football facilities at the University Of Miami. The action man, who played football at the Florida university a decade ago, now becomes the most generous former student athlete in the school's history. Johnson's cash gift will help to fund renovation in the university's athletic department. The Miami Hurricanes' football locker room will be renamed in the actor's honour. In making the donation on Tuesday, Johnson said, "My wife Dany and I have always said that being a student athlete here at the University Of Miami has always been a tremendous part of our lives. I have said it time and time again, that this program was a launching pad for my success." Johnson and his wife met at the university. They announced their separation in June.

--It's over between Tory Burch and Lance Armstrong. The fashion designer and the Tour de France champion had been dating for a year, but decided to break up Monday. "It's a geographical thing," said an insider. "They're friends. It's amicable. They really like each other. The logistics were too much." Tory has a brood of six kids (counting her ex-husband's children from a previous marriage). Lance has three young tots.
--Leonardo DiCaprio's Israeli model girl friend, Bar Refaeli, dodged her country's mandatory military service - and couldn't be prouder. "I don't regret not having been drafted . . .because I made out big," she told an Israeli paper. "Why is it good to die for one's country? Isn't it better to live in New York?"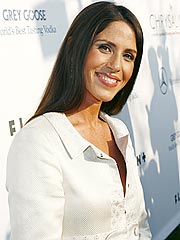 --Punky's pregs (again).

--What's the best selling perfume in the world? Click here to find out. (I guessed right!)
Random Thought of the Day:
So, did you hear that tickets to see the Spice Girls sold out in 38 seconds in Europe? Can I confess that I'd seriously like to go see them when the come to the U.S.? I won't lie: "Wannabe" and "Spice up Your Life" are both on my iPod. I loved me some Posh when I was younger. Who am I kidding? I still love me some Posh!
Posted by: Lawrenkm at 05:47 AM | Comments (9) | Add Comment
Post contains 554 words, total size 4 kb.
October 02, 2007
Mommie Dearest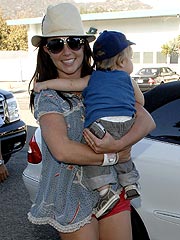 --A California judge temporarily
stripped
Britney
of custody of her sons.
(Hmmm...I'm thinking she either didn't go to one of her parenting classes, or didn't take and/or failed one of her drug tests. What do you guys think?)
Posted by: Lawrenkm at 05:54 AM | Comments (15) | Add Comment
Post contains 42 words, total size 1 kb.
October 01, 2007
Quickies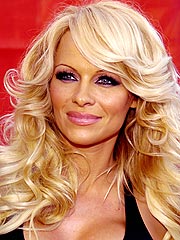 --
Pam Anderson
to wed
Rick Solomon
? (formerly of Paris Hilton sex tape fame; formerly of married to Shannon Doherty fame).

--Rumor has it that Simon & Schuster's children's imprint has inked Indianapolis Colts head coach Tony Dungy to write a picture book for kids about a class clown who finds inspiration to follow his dreams. (4-0, Baby!!!)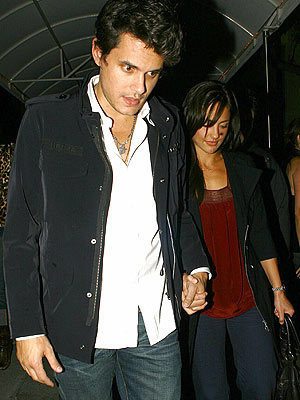 --Boy, John Mayer gets around! (That's Minka Kelly from "Friday Night Lights," his most recent rumored main squeeze).

--Here's something Madonna can really celebrate: a nomination to the Rock and Roll Hall of Fame. Madge joins heartland rocker John Mellencamp, the puckish rappers Beastie Boys and premier dance acts Donna Summer and Chic among the nine nominees for the hall. The five leading vote-getters will be inducted in the annual ceremony March 10, 2008, at New York's Waldorf Astoria Hotel. The other nominees are rap pioneer Afrika Bambaataa, literate songwriter Leonard Cohen, the original British Invasion combo The Dave Clark Five and surf rock instrumentalists The Ventures.

--Bobby Brown's looking for some love from Jesus. (Hell to the no!)
Random Thought of the Day:
I had my 10-year high school class reunion over the weekend in good, old Vincennes, Indiana. It was great to see everyone! Definitely some good laughs, too much alcohol, too much fried food, and an overall great time!
Posted by: Lawrenkm at 05:34 AM | Comments (13) | Add Comment
Post contains 222 words, total size 2 kb.
81kb generated in CPU 0.13, elapsed 0.4153 seconds.
45 queries taking 0.3123 seconds, 243 records returned.
Powered by Minx 1.1.6c-pink.