June 21, 2007
A Whole Lotta Paris
--
Paris
pens
a letter from prison. (
Wow. It totally looks like a 6th grader wrote that
).
--Horror movie mogul Wes Craven is suing funnyman Pauly Shore over a landslide at his Hollywood home. The Nightmare On Elm Street filmmaker claims Shore failed to maintain his garden, which backs onto Craven's property, and the star's inactivity led to a landslide. In papers filed in Los Angeles on Wednesday, and obtained by Tmz.com, Craven states, "water from the Shore Property intruded and infiltrated the Craven Property causing a slope failure/landslide." Craven claims the neighborhood disaster took place last December, adding he "will continue to suffer severe emotional distress and anxiety." The director is seeking unspecified damages.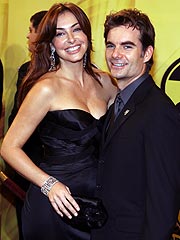 --Jeff Gordon and his Belgian model-actress wife, Ingrid Vandebosch, welcomed a daughter on Wednesday, the NASCAR driver announced on his Web site. Ella Sofia Gordon, the couple's first child, was born at 9:09 a.m. in New York and weighed 7 lbs, 1 oz.
--Revered British actor Jim Broadbent has joined the cast of the upcoming fourth Indiana Jones movie. The Moulin Rouge star will join fellow Oscar winner Cate Blanchett, Harrison Ford, Shia LaBeouf and fellow Brits John Hurt and Ray Winstone in the much-anticipated action film. Production on the film, which reunites director Steven Spielberg, executive producer George Lucas and Ford as the adventurer, began on Monday. The movie is scheduled for release next summer. Broadbent won the 2001 Academy Award for Best Supporting Actor for Iris, the same year he also appeared in Moulin Rouge and Bridget Jones's Diary.

--She might not even be a free woman yet, but Paris Hilton has at least one standing offer once she's out of jail — just ask Hugh Hefner. "Access Hollywood" caught up with the Playboy icon in the French Riviera last week, as he and his three girlfriends — Holly Madison, Bridget Marquardt, and Kendra Wilkinson — promoted their E! show, "The Girls Next Door," at the Monte Carlo Television Festival. And while Hefner enjoyed the sights and sounds of the sunny hotspot, he took some time to share his thoughts on the incarcerated heiress. Would Hefner welcome the idea of Paris posing in Playboy once she's released from jail? "Well, that's a standing offer," he replied, without missing a beat. "I think the problem quite frankly is mama. Mama doesn't want her to pose."

--Capt. Kirk is jealous of Mr. Spock. William Shatner, the stoic commander of the Starship Enterprise on "Star Trek," is said to be furious with the producers of "Star Trek XI" because they offered Leonard Nimoy, Kirk's lovable Vulcan sidekick, a cameo role but didn't give him one. Shatner "is very upset," said an insider, "and has been lobbying for a role." The film, to be directed by "Lost" producer and director J.J. Abrams, is to start shooting later this year.

--"I just think, you know, saying he's a greedy bastard would be giving him too much credit." -- Justin Timberlake, on his former manager, Lou Pearlman
--Click here to check out "AFI's 100 Years ... 100 Movies - 10th Anniversary Edition. (Citizne Kane is still #1, but there are lots of shifts and new additions (and, thus, several who got bumped)).

--Mandy Moore is fighting back against the famous guys who took advantage of her. Music insiders told Page Six the song "Looking Forward to Looking Back" on her "Wild Hope" album is about her "toxic" ex-boyfriend, Zach Braff. "There are references to his Hollywood Hills home in the song," said one tipster. "We all assume it was about Zach, he was such a cheater."

--No love for Paris from her neighbors.
--Ozzy and Sharon Osbourne have revealed that son Jack once bedded jailbird Paris Hilton. Ozzy said: "Paris was always hanging around our house. I'm not sure if she was a friend of Kelly or Amy — which one was it, Sharon?" Sharon looked a bit sheepish and stumbled over her words as she replied: "She was Jack's, erm, friend." Ozzy's jaw dropped and he exclaimed: "He didn't shag her, did he? Well done, my son!" (Wow. She really will do anyone).

--Is Christina Aguilera pregs? According to Page Six, "She's been telling friends. She has to be three months now, because she's announcing it." (Hmmm...I'm not buying this one yet).
Random Thought of the Day:
If you haven't heard of Paul Potts yet, you will. Watch this clip of Britain's Got Talent--you won't believe your ears!

(I think he's since won the entire thing, but don't quote me on that)...
Posted by: Lawrenkm at 05:56 AM | Comments (11) | Add Comment
Post contains 761 words, total size 7 kb.
Posted by: dionna at June 21, 2007 06:20 AM (Fhh1T)
Posted by: Marcus at June 21, 2007 07:07 AM (bfkgE)
Posted by: nanc' at June 21, 2007 08:34 AM (Ailrt)
Posted by: at June 21, 2007 08:57 AM (kJ23i)
Posted by: aeh at June 21, 2007 09:16 AM (V031o)
Posted by: at June 23, 2007 09:07 AM (39Hw1)
Posted by: xultepo zvwr at July 08, 2007 02:28 PM (zo1Aq)
Posted by: rzexyprbnh at August 12, 2007 01:07 PM (1m31q)
Posted by: himeFemoeromb at December 22, 2008 07:16 AM (jXfYc)
Posted by: north face jackets at November 02, 2012 03:40 AM (jG7wv)
Posted by: jocuri online masini at January 31, 2013 05:14 AM (FNbb1)
Comments are disabled. Post is locked.
23kb generated in CPU 0.18, elapsed 0.3825 seconds.
35 queries taking 0.3338 seconds, 139 records returned.
Powered by Minx 1.1.6c-pink.