February 19, 2007
Brady Babymama Drama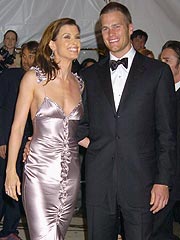 --Though they split up last year, actress
Bridget Moynahan
and New England Patriots quarterback
Tom Brady
are expecting
a baby together. The pregnancy was first reported by the New York Post columnist Liz Smith. Moynahan, 35, who is over three months pregnant, is said to be "healthy and excited," the paper reports. (
Hmmm...I wonder what Giselle things about this
).
--Eva Longoria and Tony Parker will marry in a French luxury chateau - according to press reports. Longoria and her basketball fiance are to wed in Paris this July, but guests including the actress' Desperate Housewives cast mates Teri Hatcher, Marcia Cross, Felicity Huffman and Nicollette Sheridan are being kept in the dark about where the actual event will be held. However, the Sunday Mirror claims the pair will wed in the 17th century Chateau de Chantilly just north of Paris.

--James Gandolfini, who plays the Mafia boss on the Emmy and Peabody-winning HBO series "The Sopranos," was surrounded by lawmen when he arrived in New Orleans to begin his reign over one of the city's biggest Mardi Gras parades. His limousine was escorted by 10 motorcycle officers and two police cars. Gandolfini was crowned Bacchus XXXIX, and as such will ride in Sunday night's parade and rule at the Carnival Krewe's ball.
--Don't try to get too close to ex-NBA star Reggie Miller. Thursday night at Las Vegas bar Rum Jungle, spies witnessed "a really cute girl" chatting it up with the retired Pacers star. "His agent started yelling at the girl," said our spy. "He started saying, 'Move five feet back! Everyone has to keep five feet away from Mr. Miller.'" According to our source, the stupefied lady stopped trying to flirt up the player and just walked away. (Please. I've been within 5 feet of Reggie Miller. It's not that exciting).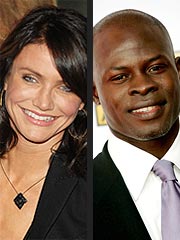 --Cameron Diaz was spotted getting cozy with Blood Diamond Oscar nominee Djimon Hounsou at L.A.'s Hyde Lounge on Thursday. "It looked like the perfect post-Valentine's Day date," a patron said. "They were totally vibing each other, lip-on-lip action," says the source. "Cameron looked so happy... Djimon followed her every move." (Camermon?)
--Actor Sylvester Stallone was detained for several hours at Sydney Airport on Friday, after officials found "prohibited items" in his luggage. The Hollywood tough guy arrived in Australia to promote his latest movie Rocky Balboa, when his and his entourage's baggage was seized. Australian Customs Service national investigations manager Richard Janeczko says, "As a result of having their luggage x-rayed, a number of prohibited items were seized by customs. Mr. Stallone was allowed to continue with his party and our investigations are continuing." After being detained for a number of hours, Stallone was allowed to leave. He explains, "That was just a misunderstanding."

--Actor Ray Liotta was arrested on suspicion of driving under the influence after crashing his car into two parked vehicles in Pacific Palisades, authorities said. Liotta, 52, was taken into custody just before 8:30 p.m. Saturday and booked on a misdemeanor DUI charge, said Los Angeles Police spokesman Mike Lopez. He was released after posting $15,000 bail and ordered to appear in court next month, Lopez said.

--Ron Perelman didn't want to part with his dough when it came to his divorce with Ellen Barkin - but he's actually one of the most generous men in the city. The Revlon chief gave away $60.8 million in 2006, according to The Chronicle of Philanthropy, which ranked him 30th on the list of most generous donors. Other generous New Yorkers include Mayor Bloomberg (No. 9 with $165 million), David Koch (No. 39 with $55 million), and the estate of Geoffrey Beene (No. 46 with $44 million).

--First, he cranked out the hits. Now Carlos Santana is heading to the kitchen. The classic rocker, whose chart toppers include "Evil Ways" and "Oye Como Va," is developing a chain of Mexican restaurants to be named Maria Maria - after his Grammy-winning single.
--"I was sad when Saddam died." "For one, I had a fondness for him cuz I would do him on 'SNL.' I know he was a horribly brutal man. But he was so crazy, it was impressive." --Horatio Sanz, on the death of Saddam Hussein.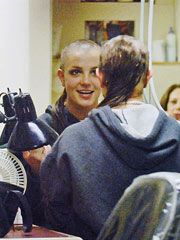 --You knew it was only a matter of time before Brit's hair ended up on Ebay.
Posted by: Lawrenkm at 06:51 AM | Comments (9) | Add Comment
Post contains 722 words, total size 6 kb.
Comments are disabled. Post is locked.
21kb generated in CPU 0.04, elapsed 0.2433 seconds.
35 queries taking 0.2212 seconds, 137 records returned.
Powered by Minx 1.1.6c-pink.