July 02, 2007
Dirty Laundry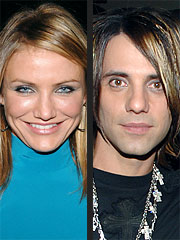 --The estranged wife of
Mindfreak
star
Criss Angel
is suing
for divorce, saying that the illusionist had an affair with
Cameron Diaz
and hasn't shared any of his millions in earnings. According to the
New York Post
, Joanne Sarantakos of Long Island, N.Y., is accusing Angel, her husband of five years, of mental cruelty and abandonment. "We're naming Cameron Diaz as his lover," her lawyer Dominic Barbara reportedly told the Nassau County court, where Angel and Sarantakos faced off on Friday. "We will subpoena her as soon as she comes back to New York." Barbara also told the court that Angel kept his wife a "secret" to further his career. (
Guess I assumed that when I read they were hooking up that he wasn't married
!)
--Lindsay Lohan's lawyer have angrily blasted the police for "selling stories", after the actress' toxicology tests following her drink driving arrest were leaked online. A report published on entertainment site Tmz.com shows Lohan had cocaine and "nearly twice the legal limit" of alcohol in her blood when she crashed her Mercedes in Beverly Hills, California on May 26. Following her arrest, Lohan checked into Promises rehabilitation centre in Malibu, California, where she currently is still seeking treatment. After police sources told Tmz.com the alleged results of the toxicology tests, the star's attorney issued an angry comment. Lawyer Blair Berk tells the New York Daily News, "This is an ongoing investigation. It is shameful that law enforcement would be selling stories, let alone unverified ones." Jane Robison, spokeswoman for the Los Angeles District Attorney, says, "Our office has not received the final toxicology reports - only preliminary results - and the police have not formally filed a case yet."

--The four-year romance between British model Sophie Dahl and Dan Baker Jr. is over, and her friendship with Mick Jagger might be to blame. London's Mail on Sunday reports the 6-foot blonde had been living with Baker, 29, a perennial NYU student and son of a top plastic surgeon, in his NoHo loft. Dahl, who dated Jagger before she met Baker, "stayed in touch with Jagger, irritating Dan," the paper said. "Meanwhile, Dan's lack of a high-powered career had begun to grate on Sophie." A friend of Dahl's said, "She is in a very sad place. She and Dan have split and it is permanent."
--Paris Hilton has been accused of lying to talk show host Larry King during her post-prison interview, by saying she has never taken drugs. Speaking just a day after she was released from jail in California after serving a 23-day sentence for violating her probation, the heiress told King on Wednesday she had never been addicted or taken drugs. But TheSmokingGun.com has video footage of Hilton talking about "smoking pot", taking magic mushrooms and a clip it claims show Hilton "smoking hash in an Amsterdam coffee shop". She is also filmed discussing smuggling drugs from The Netherlands to the US. In one segment her sister Nicky asks Paris "do you have herb?" Paris replies, "Yeah, the best pot. You wanna smoke pot? I have the best pot. I have the best pot." Paris - who is filming at the time - then says to a friend, "Dude, we're smoking pot if you guys want to smoke." (I watched the interview live and when she said that, I think you could hear my screaming all the way to NYC.)

--Former Hollywood madam Heidi Fleiss is diversifying, airing her Dirty Laundry in Nevada as she makes plans for a legal brothel for women. Dirty Laundry is a 24-hour, coin-operated laundry -- 13 washers and 14 dryers -- the one-time leader of a high-priced ring of call girls to the stars is opening at a shopping center in Pahrump, west of Las Vegas. Fleiss, who has become an avid collector of parrots and macaws since moving to Pahrump, said she decided to open the laundromat after the death of one of her pets, a macaw named Dalton.
--American soprano Beverly Sills is critically ill with cancer, her manager has confirmed. Reports emerged on Thursday, the 78-year-old opera star was gravely ill at a New York City hospital. Sills' manager Edger Vincent says, "It's grave. This whole matter of this discovery of cancer has been just about four weeks now. Up until that she had no idea." La Traviata star Sills was initially admitted to hospital when she broke a rib during a fall at home. The New York City-born singer, resigned her post as chairwoman of the city's Metropolitan Opera two years ago, citing health and family reasons. Sills was one of America's best-known opera stars in the 1960s and 1970s, before going on to manage the New York City Opera and the Metropolitan Opera. (Very sad. She is amazing).

--Over the weekend, 7-Eleven Inc. turned a dozen stores into Kwik-E-Marts, the fictional convenience stores of "The Simpsons" fame, in the latest example of marketers making life imitate art. Those stores and most of the 6,000-plus other 7-Elevens in North America will sell items that until now existed only on television: Buzz Cola, KrustyO's cereal and Squishees, the slushy drink knockoff of Slurpees. It's all part of a campaign to hype the July 27 opening of "The Simpsons Movie," the big-screen debut for the long-running television cartoon, which loves to lampoon 7-Eleven as a store that sells all kinds of unhealthy snacks and is run by a man with a thick Indian accent.

--Admirers of author Jack Kerouac celebrated the 50th anniversary of "On the Road" with a marathon reading of the novel. Fans and some close friends of the late author took turns reading his most famous novel aloud at Naropa University in Boulder on Saturday. About 150 people listened to the cover-to-cover reading, which took 12 hours and kicked off the university's inaugural Kerouac Festival. One of the most popular books ever written by an American, "On the Road" tells the story of Kerouac and a friend he calls Dean Moriarity as they travel the country, including a visit to Denver that the city celebrates with a tour that traces his steps. The stream-of-consciousness novel helped generate the Beat Generation.
--Corey Haim and Corey Feldman will star in a new reality show called The Two Coreys. It premieres July 29 on A&E.

--Pink-haired, punk-rocking Kelly Osbourne has found love, according to sources close to the reality TV star. Osbourne is playing house with boyfriend Jarrod Gorbel, lead singer of indie Brooklyn band The Honorary Title. "She just moved in with him in Brooklyn," said our source. Friends say Osbourne, who's now shooting "Simple Life 3" with Kimberly Stewart, "is head over heels" for her boy of two months. They were recently spotted dining with Osbourne's friend Jonathan Cheban at Uncle Jack's Steakhouse on Ninth Avenue.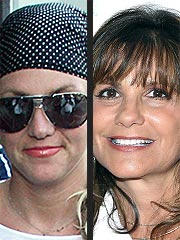 --Three days after Britney Spears handed her mother a reportedly upsetting letter, Lynne Spears is holding out hope to mend their rift. "Everything is going to be fine," she said while shopping in Kentwood, La. "I've got a strong family, and everything is going to be fine." Spears, who was picking up groceries at a local store on Sunday, also said that "hopefully" daughter Britney will make it to a family cookout in their hometown for the Fourth of July holiday. Meanwhile, Britney Spears was spending her weekend in L.A., going out Friday night with girlfriends to club Les Deux but appearing subdued as she chatted and bounced to music. On Sunday she spoke to reporters about her mother outside Sushi House Unico in Bel Air, where she had dined alone on edamame and coffee. "I'm praying for her right now. [I hope] she gets all the help she needs," Spears said.
Random Thought of the Day:
Ok, did any of you actually go out and get an iPhone? Are you having all the problems everyone else is having? I heard that they are on Ebay going for as much as $3K! Insane!
Posted by: Lawrenkm at 05:55 AM | Comments (18) | Add Comment
Post contains 1327 words, total size 9 kb.
Posted by: nanc' at July 02, 2007 07:01 AM (Ailrt)
Posted by: pjdjd at July 02, 2007 07:36 AM (e3ftc)
Posted by: Iceman at July 02, 2007 08:00 AM (JHKKE)
Posted by: The Rev at July 03, 2007 08:19 AM (wPIeZ)
Posted by: yjikwbqpwc at August 21, 2007 03:31 AM (ADYej)
Posted by: buy adipex online no doctor at October 13, 2009 09:39 PM (JFZDc)
Posted by: buy adipex that cost under $100 at October 14, 2009 02:39 AM (09kMa)
Posted by: take adipex with zoloft at October 17, 2009 08:30 AM (Twgm4)
Posted by: adipex overdose at October 17, 2009 10:30 AM (GsShn)
Posted by: tramadol quick at October 17, 2009 12:09 PM (QZYW6)
Posted by: topical cialis at October 25, 2009 07:14 AM (alhsB)
Posted by: adipex without a prescription in us at November 05, 2009 10:01 AM (k00Io)
Posted by: viagra times at November 08, 2009 06:54 PM (5DgJl)
Posted by: non-generic adipex no rx at November 10, 2009 06:30 PM (pQg2L)
Posted by: adipex to florida no prescription at November 16, 2009 09:56 AM (0Y2TO)
Posted by: history search order tramadol at November 18, 2009 09:51 PM (qk2D6)
Posted by: phentermine hcl cap 30 mg at November 18, 2009 10:36 PM (uaKcQ)
Posted by: adipex hair loss at November 18, 2009 11:44 PM (bWHWh)
Comments are disabled. Post is locked.
28kb generated in CPU 0.05, elapsed 0.4323 seconds.
35 queries taking 0.3964 seconds, 146 records returned.
Powered by Minx 1.1.6c-pink.