December 19, 2006
Don't Sue Me!
--I
love
Dwight
.
--Joe Barbera, who with Bill Hanna created such classic cartoon characters as Yogi Bear, the Flintstones, Scooby-Doo and Tom & Jerry, died Monday at the age of 95, the Associated Press reports. Barbera died of natural causes at his home with wife Sheila at his side, a Warner Bros. spokesman tells AP. As the animation team Hanna-Barbera, he and his partner produced a slew of animated TV classics – including The Flintstones, The Jetsons, Scooby-Doo, Yogi Bear, Huckleberry Hound and Friends, Space Ghost, and many others.

--Tennis legend Chris Evert didn't waste much time finding a new doubles partner. Just weeks after her divorce was finalized, Evert has tongues wagging in Palm Beach about her new relationship with Aussie golfing legend Greg "The Shark" Norman. The two, who are both 51 and live in Florida, have been seen together. Norman told reporters last month, "We're very, very close friends, and we'll leave it at that. OK?"
--Celebrity blogger Perez Hilton has been hit with a $7.6 million copyright infringement lawsuit by a Los Angeles photo agency. Bosses at X17 claim Hilton, real name Mario Lavandeira, used 51 photographs without permission, payment or credit, including images of a pregnant Katie Holmes and Britney Spears partying. X17 co-owner Brandy Navarre says, "We've had trouble with a lot of bloggers. But he's the biggest, and the most arrogant and pigheaded about it, frankly. He is stealing our images and costing us money every day." However, Lavandeira claims he has done nothing illegal, insisting, "I am going to vigorously defend myself. I am willing to step up to the plate and fight for my rights and fight for the rights of all bloggers." (Um...should I be nervous?)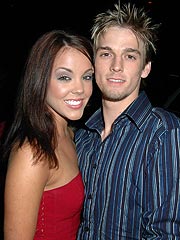 --Aaron Carter is no stranger to falling in love fast. After an impromptu marriage proposal in September to Kari Ann Peniche, his girlfriend of just a few days (they called it off six days later), the House of Carters star has been swept off his feet again. Carter, who turned 19 on Dec. 7, celebrated his birthday Friday night at Shag in Hollywood with his twin sister, Angel. And on his arm was 18-year-old Kaci Brown, a singer who opened for the Backstreet Boys during their 2005 summer tour. (Who?)
--Martha Stewart gets dirty, and spills the beans on her $1,200 vibrator.

--A jilted New Jersey husband has officially accused New England Patriot coach Bill Belichick of sleeping with his estranged wife. Months ago, Vincent Shenocca accused the gridiron genius of having a "relationship" with his attractive blond wife, Sharon. Now he has amended his divorce complaint in Morris County to include adultery among his many grievances. He claims that Sharon, 42, received FedEx parcels of cash in $30,000 lots from Belichick and that the three-time Super Bowl coach paid for exotic luxury vacations and a Jersey Shore summer house. But Sharon has asked her ex to provide proof she slept with Belichick. (Yeah, those hooded sweatshirts are pretty sexy...
)

--"Sex is sacred." --Paris Hilton.
--Click here for the Best 10 Best 10 Lists.
--Joy Behar, who during a discussion Monday about Time magazine's 'Person of the Year' selection, likened former Defense Secretary Donald Rumsfeld to ... Adolf Hitler. "You have to put, like, a Hitler type [on the cover]," Behar said in response to a question about whether Time's selection of "You" was appropriate. "Like, you put Donald Rumsfeld there, or something," she said. The show's audience — even show diva Rosie O'Donnell — was stunned by the comment, and as many began to jeer, Behar feigned surprise and yelled, "What's wrong with that?"
--As if the outfit itself isn't bad enough...she wore this to her mother's birthday dinner!

Posted by: Lawrenkm at 06:43 AM | Comments (16) | Add Comment
Post contains 622 words, total size 5 kb.
Posted by: Heidi at December 19, 2006 11:01 AM (6vZJX)
Posted by: Iceman at December 19, 2006 11:27 AM (JHKKE)
Posted by: Lawren at December 19, 2006 11:43 AM (bfkgE)
Posted by: Alexaadwc at April 05, 2007 09:57 PM (48U9m)
Posted by: no prescrition adipex at October 13, 2009 11:56 PM (EzhRc)
Posted by: tramadol used in dogs at October 17, 2009 11:52 AM (U85Tj)
Posted by: wellbutrin aciphex phentermine nasonex altace at October 21, 2009 12:37 PM (a7s9b)
Posted by: bad phentermine at November 05, 2009 12:30 PM (2x81E)
Posted by: is adipex amp phentermi at November 08, 2009 08:17 PM (odwG3)
Posted by: PyruVitol at November 09, 2009 07:12 AM (VUy2/)
Posted by: My Dog Ate Relafen at November 09, 2009 10:01 AM (VUy2/)
Posted by: here at November 09, 2009 12:50 PM (VUy2/)
Posted by: url at November 09, 2009 03:56 PM (g6AkE)
Posted by: overnight generic adipex at November 10, 2009 04:13 PM (9Ex62)
Posted by: valium and treatment for migraine headaches at November 16, 2009 07:24 AM (TwVHx)
Posted by: side effects wellbutrin paxil valium accuretic at November 16, 2009 11:36 AM (ZqDAT)
Comments are disabled. Post is locked.
23kb generated in CPU 0.08, elapsed 0.3946 seconds.
35 queries taking 0.3504 seconds, 144 records returned.
Powered by Minx 1.1.6c-pink.