May 25, 2007
Enjoy the Long Weekend!
--
Spencer Pratt
and
Heidi Montag
are engaged
. Pratt, 23, popped the question to Montag, 20, Tuesday night at the Bacara Resort & Spa in Santa Barbara, says a source who adds: "She said 'yes.' She's over the moon!" The Hills stars, whose controversial courtship was chronicled last season on the hit MTV reality series, have been dating for just eight months. (
I can't believe she's still w/ this clown. Does he have a job yet
?)

--REM have begun recording their new album in Vancouver. As previously reported, the band have hired Bloc Party and Snow Patrol producer Jacknife Lee to work with them on the follow-up to 2004's 'Around The Sun'. (Good to hear...they are so talented).
--Hollywood star Sharon Stone raised $7 million for AIDS research at a star-studded party at the Cannes Film Festival on Wednesday night. Stars at the fundraiser for charity amFar, The Foundation For Aids Research, included Matt Damon, Naomi Campbell, producer Harvey Weinstein and Ivana Trump. Items auctioned off included a photograph of Sophie Marceau taken by photographer Mario Testino which raised $300,000, a week aboard a luxury yacht, and a tennis lesson with sportswoman Monica Seles. Stone told the 700 attendees, "You have no idea of the good that you've done, or the difference that you've made." Australian pop star Kylie Minogue performed "Can't Get You Out Of My Head" and 1988 hit "Locomotion" at the event. Screen legend Elizabeth Taylor - who organized the event - was unable to attend due to health problems.

--Somehow, Jacko continues to get gigs...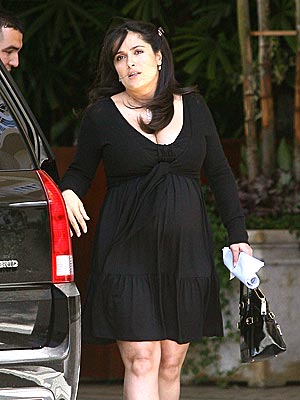 --Salma just doesn't look comfortable...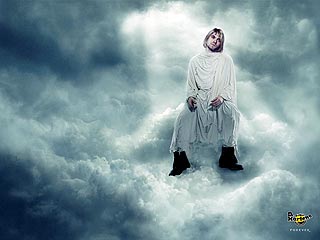 --The head of Dr. Martens shoes apologized Thursday for an ad featuring Courtney Love's late husband, Kurt Cobain, and other dead rock stars. "We are really, really, really sorry," Dr. Martens CEO David Suddens said. "We do think that it is offensive. We made a mistake. My message to Courtney Love is: This is something we shouldn't have been doing." On Wednesday, Love lashed out at the company via her publicist. "Courtney had no idea this was taking place and would never have approved such a use," her rep said. "She thinks it's outrageous that a company is allowed to commercially gain from such a despicable use of her husband's picture." The ad shows Cobain wearing black Dr. Martens boots, draped in an angelic robe and sitting on a cloud. In the corner, it reads: "Dr. Martens. Forever." The ad also includes similar images of the late Sid Vicious and Joey Ramone.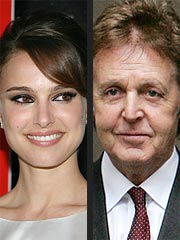 --Sir Paul McCartney has launched his new music video with a little help from a friend ... of his daughter Stella. Natalie Portman appears as a dancing ghost in the video for McCartney's single "Dance Tonight," which had its worldwide premiere Wednesday on YouTube. McCartney connected with Portman through his fashion-designer daughter, Stella, who makes the non-leather shoes Portman buys. "I rang her up and said 'Hey, I'm Stella's dad!' " McCartney said in a press release for the video. "She had a bit of time off as she was between films so it was great."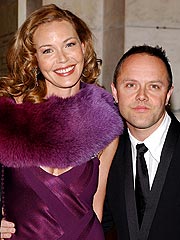 --Gladiator actress Connie Nielsen and Metallica drummer Lars Ulrich have welcomed their first child together, a son. "His name is Bryce Thadeus Ulrich-Nielsen," Nielsen's manager said. "He was born on May 21." Nielsen, 42, told the Danish newspaper BT, "We are ecstatic. Everything is fine with him. He is eating, and he's just so fine." (He looks like a total shrimp next to her)

--The Showtime series "Weeds" is adding new talent to its cast for the third season, including Mary-Kate Olsen and Matthew Modine. Olsen is cast as "Tara, a devoted Christian girl . . . who becomes a love interest for Nancy Botwin's (Mary-Louise Parker) son, Silas (Hunter Parrish)." Modine, sources told Page Six, will play a real-estate agent. The show's executive producer told Hollywood Reporter, "Audiences have seen only one side of Mary-Kate, but here we'll see her in a whole new light." (I'll be interested to see this...)

--The Osmonds will reunite this summer for a TV special celebrating a half-century in the entertainment business. Seven Osmond siblings - Alan, Wayne, Merrill, Jay, Donny, Marie and Jimmy - are scheduled to be onstage Aug. 13-14 at The Orleans Hotel Showroom, publicist Kevin Sasaki said Thursday from Los Angeles. Tickets for the live shows range from $75 to $125. The shows will be taped for "The Osmonds 50th Anniversary," which will air next March on PBS stations. (God helps us all...)
Random Thought of the Day:
Have great Memorial Day weekends, folks! Hope you all have fun plans. I won't be at the race this year, but it's hard not to take notice when it's 500 mania all over town. There are 3 women in the field this year--that's pretty cool. I'm sad that Jim Nabors won't be there to sing "Back Home Again in Indiana." That was always my favorite part for some reason.
Posted by: Lawrenkm at 05:56 AM | Comments (9) | Add Comment
Post contains 827 words, total size 7 kb.
Comments are disabled. Post is locked.
22kb generated in CPU 0.07, elapsed 0.584 seconds.
35 queries taking 0.5353 seconds, 137 records returned.
Powered by Minx 1.1.6c-pink.