June 28, 2007
Flirt Free and Party Hard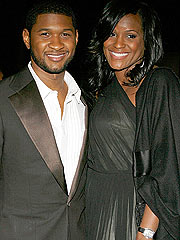 --It's official:
Usher
is going to be a daddy
. Just a week after his fiancée hinted that babies could be in their future, the pop star and Tameka Foster have announced that they're expecting their first child together, due in the fall.
--World Wrestling Entertainment (WWE) has withdrawn its support for dead wrestler Chris Benoit, after it emerged he murdered his wife and seven-year-old son before killing himself. The organization, which broadcast a tribute to the star on Monday Night Raw following news of his death, has vowed "not to mention" Benoit on the wrestling show - and will instead support those affected by the tragedy. WWE boss Vince McMahon said, "Last night on 'Monday Night Raw,' the WWE presented a special tribute show, recognizing the career of Chris Benoit. However, now some 26 hours later, the facts of this horrific tragedy are now apparent. Therefore, other than my comments, there will be no mention of Mr. Benoit tonight. On the contrary, tonight's show will be dedicated to everyone who has been affected by this terrible incident. This evening marks the first step of the healing process. Tonight, the WWE performers will do what they do better than anyone else in the world - entertain you."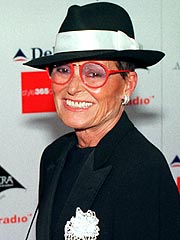 --Designer Liz Claiborne, whose name has adorned career-women's fashions since the 1970s, has died, her company announced Wednesday. She was 78. Claiborne had been battling cancer and died at New York-Presbyterian Hospital on Tuesday, her assistant tells Reuters.

--"Live Free or Die Hard" star Bruce Willis sure knows how to live it up in New York. At the after-party for his movie premiere Friday night, at Spotlive Live in Times Square, Willis was spotted "flirting and leaving with a gorgeous young blonde." Our spy said he picked her up "right in front of [his 18-year-old daughter] Rumer Willis." On Sunday, the bald bachelor held court with a table of "20-something models" while celebrating Petra Nemcova's birthday at the Gramercy Park Hotel - again with his daughter looking on. (Go Bruce!)
--Click here to watch Shar Jackson prove she isn't pregs. (She is seriously so pathetic...)

--Star Magazine's website poses an interesting question: Who should play Hugh Hefner, the ladies man of all ladies men, in the upcoming Hef biopic that Brett Ratner is directing? (Hmmm...that's a tough one. The movie deals a lot with young Hef, so I'm thinking maybe Billy Crudup. What do you guys think?)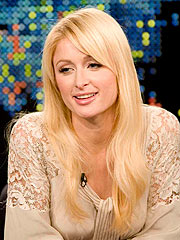 --"I've been a little immature." --Paris Hilton

--Anyone hoping to see Britney Spears perform at Cyndi Lauper's True Colors tour at L.A.'s Greek Theater on Saturday will be sorely disappointed. Spears' choreographer, Misha Gabriel, told People magazine she would hit the stage with Lauper, Rosie O'Donnell, Erasure, Debbie Harry and The MisShapes. But a source told Page Six, "There's no way. Britney said she would only dance or lip-sync - and to be on stage with Cyndi, you have to actually perform. It's not happening now." (Good for Cyndi. I just love her--and her music!)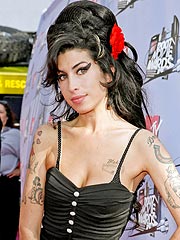 --In a video on Spin.com, Amy Winehouse, 23, is seen posing for photographer Terry Richardson while scratching on her exposed midriff with a shard of a broken mirror. In another clip, her husband, Blake Fielder-Civil, whom she wed in May, asks her, "How do you think the shoot's going, Baby?" "Really well, Baby," she replies sarcastically. "What did you think about the broken glass?" he asks. In a childlike voice, Winehouse replies, "I wrote 'I love Blake' on my tummy." She lifts her shirt to bare her stomach, although the cuts are not visible on the video. "It's just chicken scratch," she says, as she and Fielder-Civil laugh.
Random Thought of the Day:
What the eff was Beyonce thinking? Is this an ode to R2D2?

Posted by: Lawrenkm at 05:50 AM | Comments (17) | Add Comment
Post contains 630 words, total size 5 kb.
Posted by: at June 28, 2007 06:21 AM (xeLaP)
Posted by: at June 28, 2007 06:21 AM (xeLaP)
Posted by: at June 28, 2007 06:22 AM (xeLaP)
Posted by: nanc' at June 28, 2007 07:50 AM (Ailrt)
Posted by: Brian D. at June 28, 2007 09:51 AM (7Wz57)
Posted by: at July 01, 2007 05:47 PM (wlL8v)
Posted by: pnolyadec ehzs at July 09, 2007 11:50 PM (yRpVK)
Posted by: farm bureau insurance at August 26, 2007 12:22 AM (Yofm6)
Posted by: nursing at December 30, 2008 08:31 PM (6dipL)
Posted by: adverse recations of cialis and acetaminophen at October 21, 2009 03:57 PM (DUvEz)
Posted by: adipex epocrates at November 08, 2009 02:14 PM (HPXf4)
Posted by: is it safe to smoke xanax at November 08, 2009 02:40 PM (vfNyx)
Posted by: adipex contains hcg at November 08, 2009 06:44 PM (C06Hv)
Posted by: discounted adipex without prescription at November 08, 2009 11:22 PM (9U4v3)
Posted by: adipex ionamin tenuate at November 10, 2009 08:47 PM (3rk0G)
Posted by: buy adipex at brand name at November 10, 2009 10:33 PM (B0TAh)
Posted by: f order tramadol at November 18, 2009 11:35 PM (OPiuT)
Comments are disabled. Post is locked.
23kb generated in CPU 0.03, elapsed 0.1853 seconds.
35 queries taking 0.1651 seconds, 145 records returned.
Powered by Minx 1.1.6c-pink.