July 05, 2007
Gettin' Knocked Up, Splittin' Up, and Gettin' Fed Up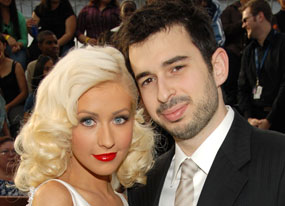 --
Christina Aguilera
is working on converting "Come On Over Baby" into a lullaby. E! News
confirmed
Tuesday that the five-time Grammy winner and hubby Jordan Bratman are expecting their first child together. This will be baby number one for both. There was no immediate comment from a publicist for the couple.
--Nick Lachey is stunned by the furor surrounding raunchy photos of the pop star holidaying with his girlfriend Vanessa Minnillo, declaring, "Where's the scandal?" The singer and MTV presenter were photographed having sex in a hot tub in a private villa near Puerto Vallarta, Mexico, and their lawyer has issued a warning to media outlets demanding they refrain from publishing the images. Lachey tells America's OK! magazine, "Where's the scandal? I was in Mexico with my girlfriend of a year, celebrating our anniversary on a private vacation. It's not like I was caught with a Mexican hooker. We've all gone out and had a few too many and done something stupid. We've all made mistakes. This is the girl that I love. It's tough to see someone you care about be unfairly judged. It's hard for me as a man to see my girl go through that." Minnillo adds, "It was embarrassing. But we did nothing wrong. I felt personally violated. If I was being disrespectful I would (have) expected to be punished, but I wasn't. It's wrong." The couple's lawyer Marty Singer says, "The photos that were taken of our clients by a Mexican photographer violated Mexican law and were a clear invasion of privacy, and we have threatened to take legal action against third parties who publish the photos."

--Johnny Knoxville has filed for divorce from his wife of 12 years. The "Jackass" star, whose birth name is Philip John Clapp, cites "irreconcilable differences" as the reason for ending his marriage to Melanie Lynn Clapp, according to documents filed Tuesday in Los Angeles Superior Court. Knoxville, 36, is seeking joint custody of their 11-year-old daughter, Madison. The couple separated in July 2006.
--Drew Barrymore and funnyman Zach Braff have sparked rumors they're Hollywood's new hot couple after they were spotted "making out" in a New York club. Barrymore, who has been romantically linked to moviemaker Spike Jonze since splitting from longtime boyfriend Fabrizio Moretti, made no secret of her affections for Scrubs star Braff when the two met up at Beauty Bar nightclub on Saturday. A reveler tells the New York Post, "Zach Braff and Drew Barrymore arrived and danced the night away... There was a lot of making out."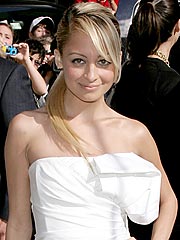 --Will Nicole Richie have to serve jail time while pregnant? Rumor has it she's approaching 6 months...
--The wife of comedian Wayne Brady has filed for divorce. Mandie Brady cites "irreconcilable differences" as the reason for ending their marriage, according to court documents filed Monday inLos Angeles Superior Court. She is seeking joint legal and physical custody of their 4-year-old daughter, Maile. The couple wed in 1999, but separated in April 2006, the papers said.

--Canadian punk princess Avril Lavigne, repeatedly dogged by accusations she doesn't write her own songs, is now being dragged into a legal battle to prove she penned her chart-topping hit "Girlfriend." A pair of U.S. songwriters allege her contagious single sounds suspiciously like a song called "I Wanna Be Your Boyfriend," released by the Rubinoos in 1979. The American song features the upbeat chorus: "Hey, hey, you, you, I wanna be your boyfriend," much like Lavigne's boppy refrain, which declares: "Hey, hey, you, you, I don't like your girlfriend."
-- "Some things are important for the world to know . . . like how long I shower. Seriously. I take a three-minute shower . . . I even brush-wash - brush my teeth while I shower." --Jennifer Aniston, on how dedicated she is to the environment.

--After 10 long years of sticking by Sean Combs, the music impresario's baby mama and longtime girlfriend, Kim Porter, has finally had enough. Sources inside Combs' camp told Page Six that Porter moved out of his apartment here and she isn't going back. Porter has already bought a posh pad in Beverly Hills for her and her four children - three of whom, Christian, 10, and twins D'Lila and Jessie, 7 months, are Diddy's. "She is focusing on her career as a model and actress and raising her children," our source said. "They are the best of friends, but they just can't be together right now." Rumors of a rift between the two started circulating earlier this year when, right after the December birth of the twins, Combs stayed out almost every night till the wee hours of the morning partying with Sienna Miller. The two once stayed out so late partying at her hotel room that they even caught breakfast together in the morning. The friendship between Combs and Miller was rekindled last weekend when he went to London to perform in the Princess Diana Memorial Concert at Wembley Arena. According to Britain's Daily Mirror, Combs went to the concert after-party at a club called Paper, but "didn't look too happy to be there . . . until [Miller] arrived . . . For seemingly the first time all night, he started to enjoy himself . . . he ordered six burly bouncers to form a ring around the couple. And one unlucky reveler who accidentally strayed too close to the pair at Paper . . . was manhandled out of the way by their heavies."
Random Thought of the Day:
Brace yourselves, ladies....the Sex and the City movie is...a...GO! All 4 of the ladies have signed, and shooting will be begin in September!
Posted by: Lawrenkm at 05:58 AM | Comments (15) | Add Comment
Post contains 956 words, total size 7 kb.
Posted by: pcjge lczd at July 09, 2007 02:00 AM (RlbNt)
Posted by: credit card at August 08, 2007 06:43 AM (LGgFX)
Posted by: aetna health insurance at August 25, 2007 07:24 PM (ledXS)
Posted by: adipex p vs adipex at October 21, 2009 01:59 PM (Fqkpv)
Posted by: overnight generic adipex at October 21, 2009 08:00 PM (edcQU)
Posted by: phentermine drug store more at November 05, 2009 09:53 AM (Z6CzF)
Posted by: adipex p not working at November 05, 2009 10:20 AM (cnZJc)
Posted by: adipex information weight loss pill at November 08, 2009 05:37 PM (w1w3S)
Posted by: buy adipex with discover credit card at November 08, 2009 06:00 PM (LZSHF)
Posted by: discount viagra furthermore cheap adipex reviews at November 10, 2009 08:00 PM (xx370)
Posted by: alabama weight loss medication adipex at November 14, 2009 01:30 AM (TePP+)
Posted by: nutrisystem adipex at November 14, 2009 06:04 AM (vd6RV)
Posted by: cheapest generic adipex p online at November 14, 2009 06:27 AM (0AuwH)
Posted by: formun on adipex at November 14, 2009 06:50 AM (MxxAp)
Posted by: how does adipex work at November 14, 2009 08:44 AM (t4nUq)
Comments are disabled. Post is locked.
25kb generated in CPU 0.02, elapsed 0.1986 seconds.
35 queries taking 0.1795 seconds, 143 records returned.
Powered by Minx 1.1.6c-pink.