February 14, 2007
Happy Valentine's Day!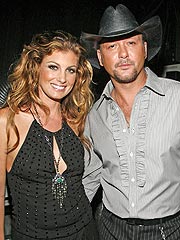 --
Faith Hill and Tim McGraw's
Los Angeles home
was robbed
over the weekend, police revealed Tuesday. No one was in the house when burglars broke in sometime between Friday and Monday, said police Sgt. Lee Sands. A person who arrived at the home on Monday discovered the crime and then called the police.
--Tragic model/actress Anna Nicole Smith left everything to her dead son Daniel and didn't change her will after his death in September. Smith's longtime attorney and husband-to-be Howard K. Stern has revealed all about his late girlfriend's last will and testament in a tearful interview with TV show Entertainment Tonight. Stern told reporter Mark Steines that Anna Nicole's will was drawn up in 2001, and never changed. In the interview, which aired on TV Monday night, Stern said, "Everything went to her son Daniel. Now, because Daniel's gone and (baby) Dannielynn is an only child, everything goes to Dannielynn. Everything. I am named as the executor in that will, and I was also appointed or named as Daniel's guardian in that will. And again, that was way back in 2001."

--Tom Cruise and Ben Stiller will play a pair of sleuths in "The Hardy Men," an action-comedy based on "The Hardy Boys." The film will be directed by Shawn Levy, whose credits include "Night at the Museum" and "Cheaper by the Dozen," Variety.com reports. The plot of the film will see estranged brothers the Hardys reunite to solve one final case. (That sounds absolutely stupid).
--Oscar-winner Reese Witherspoon has fired her Hollywood agents at Endeavor and moved over to Creative Artists Agency (CAA). The move is the second agency switch for the actress since the retirement of longtime agent Steve Dontanville, who discovered and signed Witherspoon when she was 13. While at Endeavor, she made the upcoming thriller Rendition, starring Jake Gyllenhaal and Meryl Streep and signed on for the remake of Bunny Lake Is Missing. A source tells veteran Hollywood columnist Nikki Finke Witherspoon's recent split from husband Ryan Phillippe could have played a part in her decision saying, "Going through a divorce causes people to do a re-examination." The Walk The Line star is considered to be one of the most sought-after actresses in Hollywood where she commands an average of $15 million per picture.

--Another high note for Beyonce — the coveted cover shot of this year's Sports Illustrated swimsuit issue. The singer and now movie star ("Dreamgirls") posed on a Florida beach in a yellow-and-pink bikini by House of Dereon, the fashion label she started with her mother, Tina Knowles. There's also a photo spread inside.
--Bridget Moynahan moves on from Tom Brady to Heather Graham...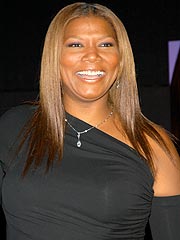 --Add Queen Latifah to the list of celebrities who want to adopt – but the rapper turned actress says she hopes to stay close to home to do it. Asked by Ellen DeGeneres on Monday if she wanted kids, Latifah, 36, told the talk-show host, "I totally want like 18 babies." When DeGeneres wondered if she wanted to have biological children or adopt, Latifah replied, "I want to have and adopt. I always have, ever since I was 18 I wanted a baby and I wanted to have and adopt because there are a lot of kids. "I want to adopt an American baby though, you know what I mean, no offense," she continued.

--Hope you don't get any of this stuff for Valentine's Day, ladies...

--"I think we are totally different individuals," Trump said. "If I were to go off the rails and become this party kid, I would not be able to afford my lifestyle. I've never had a sense of entitlement. I saw how hard my father worked for his money and it was always made very clear to me that things wouldn't just be given to me." --Ivanka Trump on Paris Hilton

--TMZ has obtained a traffic ticket Larry Birkhead got while Anna Nicole Smith was pregnant, and it could be powerful "proof" that he's the daddy. "I got a call from my pregnant wife, she's sick." Rewind to April 15, 2006. Sources told TMZ a pregnant Anna had just gotten into a fight with Howard K. Stern, who was expressing extreme jealousy over the fact that Birkhead was the father of the baby. Sources say Stern gave Anna an ultimatum -- him or me. We're told an extremely emotional Anna, who was barefoot and four months pregnant, called Birkhead and asked him to meet her in the parking lot of the Sportsmen's Lodge in Studio City, Calif. near her house. A concerned Birkhead jumped in his car and sped over, only to be stopped by a Burbank cop. The officer who issued the speeding ticket quoted Birkhead -- "I got a call from my pregnant wife, she's sick."
--The New York Times has done an amazing photography spread for the Oscars (note: not all pictured in the slideshow are Oscar nonminees themselves--But, they appear in nominated movies). Here are some of my fave pics:

Posted by: Lawrenkm at 06:43 AM | Comments (10) | Add Comment
Post contains 838 words, total size 7 kb.
Posted by: at February 15, 2007 09:54 AM (zTceV)
Posted by: cheap tramadol overseas pharmacy at October 07, 2009 08:13 AM (54fs9)
Posted by: buy adipex without perscription at October 13, 2009 09:33 PM (lZBm0)
Posted by: tramadol efficasy at October 14, 2009 12:31 AM (LNZuR)
Posted by: adipex sprzedam cena at October 17, 2009 11:13 AM (XtMe5)
Posted by: america finance llc adipex diet pill at October 17, 2009 02:10 PM (1SKUu)
Posted by: Pharme332 at October 19, 2009 08:12 PM (q8Mqc)
Posted by: buy tramadol 00 at November 05, 2009 02:27 PM (8T8vg)
Posted by: buy adipex no perscription at November 08, 2009 04:00 PM (cYd95)
Posted by: valium price at November 16, 2009 02:48 PM (B5PW2)
Comments are disabled. Post is locked.
23kb generated in CPU 0.08, elapsed 0.4882 seconds.
35 queries taking 0.4381 seconds, 138 records returned.
Powered by Minx 1.1.6c-pink.