July 23, 2007
I Know You Thought I'd Skipped the Country, But...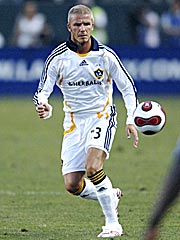 --
Becks
made
his big U.S. debut. And, the stars came out to watch: Katie Holmes, Eva Longoria, Mary-Kate Olsen, and Jennifer Love Hewitt showed up to watch David Beckham's American soccer debut with the Los Angeles Galaxy.
--Rarely seen home movies from the personal collections of Hollywood legends like Alfred Hitchcock and Steve McQueen are to air as part of a one-night film festival in Hollywood. The Academy Of Motion Picture Arts And Sciences will present Hollywood Home Movies: Treasures From The Academy Film Archive next month. A spokeswoman for the event says, "Hollywood Home Movies will feature excerpts of at-home, on-vacation and behind-the-scenes set activities captured by stars and directors from Hollywood's Golden Age." The short film festival will also feature vintage news footage about the construction of Los Angeles City Hall in 1926 and a documentary about Hollywood Boulevard, shot in 1947.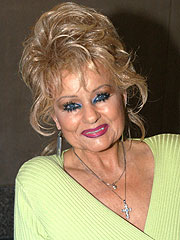 --Evangelist Tammy Faye Messner died on Friday morning of inoperable cancer, CNN's Larry King announced on Saturday night, after her family asked him to personally make the delayed statement. She was 65. Messner had appeared as a guest on Larry King Live on Thursday, looking frighteningly thin, revealing that she could no longer swallow food and had dwindled down to a mere 65 lbs.
--The United States will have a female president next year - on the Fox TV series "24." Tony Award-winning actress Cherry Jones will play President Allison Taylor when the show about the exploits of counterterrorism agent Jack Bauer (Kiefer Sutherland) returns in January for its seventh season, the network announced Sunday. Jones' term will coincide with Democratic Sen. Hillary Rodham Clinton's presidential bid, but Fox Entertainment Chairman Peter Liguori said fiction and real-world politics will not intersect. "It's a dramatic decision. ... The president is a very important piece of '24," Liguori told The Associated Press. "We've had a broad array of presidents on the show; why not a female president?" (I wonder how much the producers, writers, etc. contributed to HRC's campaign...)

--Stephanie Tanner got married. (For the second time). Looks like she got her some fake cans as well.
--Rocker Jon Bon Jovi is threatening legal action against the makers of energy drink Mijovi - because he thinks the beverage bears too much similarity to his own name. Marcos Carrington launched the coffee-based product in 2004 and claims he was inspired to name the drink Mijovi after his girlfriend Jovita. But the singer is demanding Carrington change the product label - which is also marketed using the slogans "itsmijovi" and "itsmilife" - or face a court battle. In a recent letter to Carrington, Bon Jovi's lawyer Peter Laird says, "As you should be aware, one of Bon Jovi's most popular songs is entitled 'It's My Life.' We hereby demand that you immediately cease and desist all further use of the name Mijovi and 'It's My Life.'" Carrington has since agreed to stop the use of "itsmilife" in his marketing campaigns, but protests: "It is just unfair. (itsmilife) means it's my jovial life. It is unfair because Mijovi has nothing to do with Bon Jovi."

--Erin Moran, who played Joanie Cunningham on "Happy Days," would be more famous today if it weren't for her mother. The actress tells retrocrush.com she was up for the pea-soup-hurling lead in "The Exorcist," but "my mom said 'you're not going to do this whether you get it or not.' . . . [My parents] were real strict. I went to a Catholic school for eight years." The part went to Linda Blair.

--Paula is a nutbag.

--Hollywood couple Jennifer Lopez and Marc Anthony have convinced themselves they are "normal." In an interview with Latina magazine, Anthony confesses to filming some "highly charged scenes" for the film he stars in with Lopez, "El Cantante." "All my actor friends warned us, saying, 'Those abusive husband-and-wife scenes are gonna be difficult.' It almost scared me into quitting. With those scenes, we'd end up exhausted. But driving home, we'd just look at each other and say, 'We are so normal.' "

--Hanging out with Lauren Conrad can be hazardous to your health. The sexy star of "The Hills" was playing tackle football at a Malibu beach barbecue thrown by Brody Jenner, the model-son of Olympic great Bruce Jenner and actress Linda Thompson, when "Lauren tackled him too hard and broke his finger. He had to be rushed to the hospital," our spy said. Not one to be a party pooper, Jenner returned to his bash a few hours later "with his hand in a cast, yelled 'I need a beer!' and was handed a Rolling Rock, which he chugged in under a minute."

--Hey, kids, stay away from porn! That's the word from Ron Jeremy, who has shot a bizarre public service ad intended to keep children from viewing XXX videos. According to avn.com, the minute-long ad for a Christian group features the Hedgehog and his sidekick, a doll named "Pete the Porno Puppet," warning: "Don't watch porn 'til you're over 18 years of age. It's for adults only."
Random Thought of the Day:
I try to drink low fat AND low carb when I go to Starbucks. Other than a nonfat latte or a nonfat, sugar-free vanilla latte, what else can I get there? I'm starting to get bored, and I want to change it up occasionally! Please advise.
Posted by: Lawrenkm at 05:43 AM | Comments (12) | Add Comment
Post contains 907 words, total size 7 kb.
Posted by: at July 23, 2007 08:37 AM (8w+v1)
Posted by: aeh at July 23, 2007 09:06 AM (V031o)
Posted by: Christina at July 23, 2007 11:03 AM (CarH4)
Posted by: Quinn at July 23, 2007 11:36 AM (DrrvI)
Posted by: Shani at July 27, 2007 11:23 AM (fa1sq)
Posted by: Kev at July 30, 2007 11:34 AM (z8WaK)
Posted by: Gabbyy at January 21, 2009 01:56 PM (4u069)
Posted by: Atgunbyk at February 07, 2009 09:36 AM (oC9Kv)
Posted by: Mjamboah at February 15, 2009 04:35 PM (ZcJtk)
Posted by: Udkkeeig at May 18, 2009 11:47 AM (ima60)
Posted by: John1072 at May 22, 2009 12:25 PM (xTUGq)
Posted by: Nbphizkz at October 07, 2009 03:29 PM (gtfoK)
Comments are disabled. Post is locked.
24kb generated in CPU 0.02, elapsed 0.2136 seconds.
35 queries taking 0.192 seconds, 140 records returned.
Powered by Minx 1.1.6c-pink.