January 08, 2007
I'd Like to Pluto the word "Plutoed"
--A man
allegedly tried to extort
$1.5 million from
Oprah Winfrey
by threatening to release taped telephone conversations that he claimed would hurt her reputation, according to a federal complaint. Keifer Bonvillain, 36, allegedly demanded that a Winfrey representative pay him the money in exchange for 12 hours of recorded telephone conversations he'd had with a Winfrey employee he met two years earlier at a party, according to the criminal complaint filed in U.S. District Court. (
Don't people know not to mess with the Big O? She'll destroy this guy
.)
--Pluto may no longer be a planet, but it has a new claim to fame: "Plutoed" has been chosen 2006 Word of the Year by the American Dialect Society. The society defined "to pluto" as "to demote or devalue someone or something, as happened to the former planet Pluto when the General Assembly of the International Astronomical Union decided Pluto no longer met its definition of a planet." (What? I have heard ZERO people use that word...)

-- A nationwide talent search for dancers fleet-footed enough to back up Beyonce Knowles came to the pop diva's hometown as hundreds turned out to audition for 40 open slots. The would-be performers took turns Saturday moving through choreographed routines to such Beyonce hits as "Deja Vu," while cameras recorded their footwork and choreographer Frank Gaston studied their style. Houston was the third location in the cross-country search, following auditions in Atlanta and Los Angeles. After two more stops, in New York and Chicago, Gaston and Beyonce will review the tapes.
--Prison Break star Wentworth Miller has hit out at media reports questioning his sexuality, insisting he is straight. The 34-year-old star is still adjusting to life in the spotlight and the intense media scrutiny surrounding his personal life. He explains, "No, I'm not gay. I know these rumors are out there...I'm cool with the fact that they exist, I mean this is about fantasy. Certain people are going to have certain fantasies. If someone wants to imagine me with a woman, or a man or one of each, that's cool with me as long as you keep watching the show." (I'm a big Prison Break fan, and I could care less. New episodes start later this month!)

-- Fans of Muhammad Ali can send personal greetings to the boxing great on his 65th birthday next week. Well-wishers can leave a message through the Muhammad Ali Center's Web site or get a picture taken with a birthday banner at the center on Jan. 17. School classes and groups are being encouraged to send group photos with signs or banners expressing their regards. (Iceman...you going to leave a message?)
--Video footage showing tragic Crocodile Hunter Steve Irwin dying from a stingray barb to the chest has been destroyed now it's no longer needed by investigators. The footage of Irwin's last moments on 4 September last year was used in a police report and coroner's investigation into his death, but the original copy has now been returned to widow Terri Irwin and all other copies have been destroyed. The tape, reportedly showing Irwin snorkeling above the stingray before it whipped its tail into him, had reportedly been the subject of a million dollar bidding war from several websites. Irwin's manager John Stainton said, "Anything to do with the day that he died, that film is not available." Michael Barnes, the Australian coroner investigating the case, insisted he'd taken "all possible steps to ensure something of such a personal and tragic nature did not fall into the wrong hands". Irwin's last program, Ocean's Deadliest, featuring footage shot in the week before Irwin's death, will be shown for the first time in the US on the Discovery Channel on January 21.

--Former "CHiPs" star Erik Estrada got into an expletive-laced shouting match with a man who called him Emilio Estevez amid the filming of a reality television series. (This show looks completely ridiculous, but I know I'll watch since it was filmed in Muncie, Indiana!)

--Kristin Cavallari was BONGO's girl in 2006, but they have dumped her for a fresh face for the new year. Vanessa Minnillo will be the IT girl of BONGO's Spring 2007 campaign.
--Angelina Jolie has attacked Madonna for adopting a child 'illegally'. She said the singer should never have visited an impoverished African country with the sole intention of choosing an infant. Her comments follow accusations that Madonna used her fame and money to speed the adoption of one-year- old David Banda late last year.

--Beyonce's mom may have gotten a recommendation from her boyfriend, Jay-Z, in landing her latest venture. The hip-hop mogul is one of the owners of the Brook lyn-bound New Jersey Nets. Deréon, the junior apparel collection from House of Deréon, which is designed by Beyoncé's mom, Tina Knowles, was just named official sponsor of the Nets Dancers, who entertain on the hardwood at halftime and timeouts. "The Nets Dancers are such a fun part of going to the games," said Tina. "We are thrilled to be able to provide Deréon wardrobe for these extremely talented young women."

--Domenico Dolce (of Dolce and Gabbana) does not pick up men - he has them selected and brought to him. The venerable designer - one half of the Dolce & Gabbana clothing empire - was at Miami hot spot Snatch the other night with several friends and one special employee whose assignment was "to get hot guys in the club to go to his table," giggled our spy. "Domenico would point at a guy, and his employee would go bring the man over. It was extremely effective." Next to the table of giddy men was Kevin Connolly with Anna Anisimova and a table headed by "Laguna Beach" hottie Kristin Cavallari - who was extremely annoyed when she was presented with a bill at the end of the night. "She rolled her eyes and made the people she came with pay for it - and didn't contribute anything."
--Just a day after having an appendectomy, Lindsay Lohan steps out at a Hollywood club on Friday night.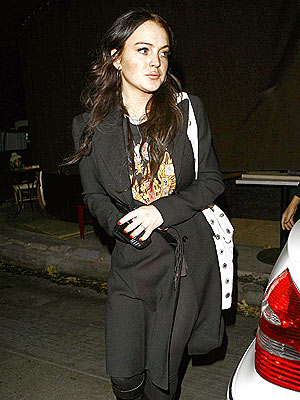 God forbid she miss a second of partying!
Posted by: Lawrenkm at 06:50 AM | Comments (6) | Add Comment
Post contains 1037 words, total size 8 kb.
Posted by: Iceman at January 08, 2007 10:44 AM (JHKKE)
Posted by: just one guy's opinion at January 08, 2007 01:11 PM (1Qr3g)
Posted by: Alexyokou at April 06, 2007 12:15 AM (48U9m)
Posted by: Alexummrh at April 06, 2007 01:34 AM (48U9m)
Posted by: Mary at May 08, 2007 07:24 PM (SOZV9)
Posted by: hoolio at February 10, 2009 08:09 AM (zfjcv)
Comments are disabled. Post is locked.
22kb generated in CPU 0.27, elapsed 0.7045 seconds.
35 queries taking 0.6457 seconds, 134 records returned.
Powered by Minx 1.1.6c-pink.