December 29, 2006
It's Electric
--
Julia Roberts
is reportedly
pregnant with her third child. (
God knows what she'll name this one
...)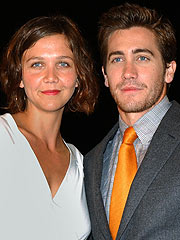 --Jake Gyllenhaal battled hurricanes and tidal waves in The Day After Tomorrow, but on Wednesday he faced a real-life natural disaster: A fire at the California hotel where he was vacationing with his family. Gyllenhaal, 26, and his actress sister Maggie, 29, were among the guests forced to flee Manka's Inverness Lodge in the San Francisco Bay area when the two-story wooden inn caught fire around 2:30 a.m. Wednesday, the Marin Independent Journal reports.
--Madonna, who recites an apology in many different languages on her single Sorry, has added another tongue to her repertoire — Chichewa, which is spoken in Malawi. Madonna and hubby Guy Ritchie have been learning it because their adopted nipper David Banda comes from the African country. The couple are keen to keep him in touch with his roots.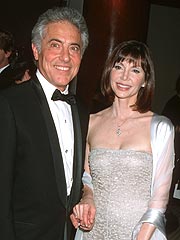 --Dallas star Victoria Principal and her husband, Beverly Hills plastic surgeon Harry Glassman, have finalized their divorce, agreeing to split more than $50 million in assets and setting aside a pre-nuptial agreement that had been an issue in the case.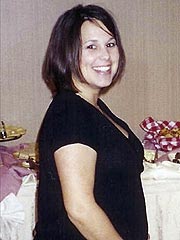 --Just after the four-year anniversary of Laci Peterson's disappearance, a married couple has agreed to buy the house she shared with Scott Peterson – and where police believe he killed her and their unborn son at Christmastime 2002.

--There is a biopic of James Brown in the works. Usher was a favorite for the lead based on his singing and dancing in "Chicago." Fergie of the Black-Eyed Peas wants to play one of Brown's wives. Yesterday, Variety reported that Spike Lee has signed on to direct the movie about Brown's life, which was optioned by Brian Grazer of Imagine Films and Paramount. Grazer, who'd spent a lot of time with Brown recently, said, "It's somehow not surprising that he died on Christmas Day. He was the ultimate showman, all the way to the end."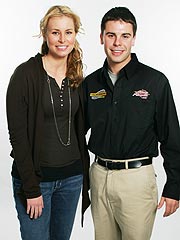 --Supermodel Niki Taylor has married NASCAR driver Burney Lamar after a four-month engagement.

--Hilary Swank's derriere looks good in a backless gown strolling red carpets, but she apparently isn't expert at shaking it on the dance floor. While making "Freedom Writers," which opens Jan. 5, cast and crew were shocked when Swank admitted she didn't know how to do the Electric Slide. Hip-hop stars Common and Will.i.am cmhere2- who cut the single for the movie - were called upon to help the two-time Oscar winner master the moves. Swank never got the dance down, but she does manage to shake it on MTV (for a special promoting the film) and proudly proclaims, "I do have a booty!" (Um, IIIII don't know how to do the electric slide either! It doesn't look too difficult to pick up, but I wasn't exactly "in" to line dancing!)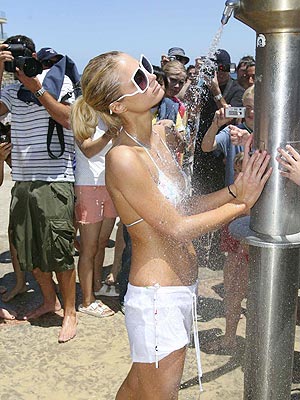 --Paris Hilton caused a sensation on Sydney's Bondi Beach on Tuesday when she swam and sunbathed in a white bikini, talked on her cellphone and hosed herself down as she made her exit with her busty brunette pal, Kim Kardashian. Hilton is Down Under because she's being paid a reported $1 million to host a New Year's Eve party for a new beer, Bondi Blonde. Among her duties is helping select one of 40 Aussie beach babes as the face of the new brew. The slogan for the beer - which takes its name from the surfing mecca where Post columnist Steve Dun leavy grew up - is, "at last, a natural Blonde in Bondi!"

Posted by: Lawrenkm at 06:46 AM | No Comments | Add Comment
Post contains 586 words, total size 5 kb.
Comments are disabled. Post is locked.
17kb generated in CPU 0.87, elapsed 3.7629 seconds.
33 queries taking 3.6877 seconds, 127 records returned.
Powered by Minx 1.1.6c-pink.