February 16, 2007
It's Too Freaking Cold To Think of a Clever Title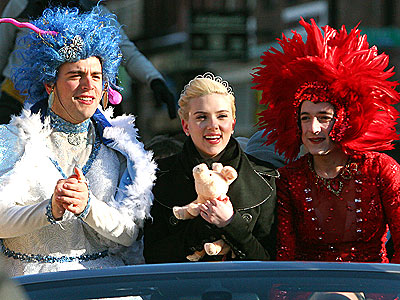 -- Not quite the Oscar, but
Scarlett Johansson
still was all smiles Thursday about
being crowned
the
Harvard Hasty Pudding
woman of the year. And happy to participate in the rambunctious roasting that goes along with the honor. She participated in a mock SAT exam, and endured a lampooning of her famous unclad Vanity Fair cover pose. But the blonde actress kept mum when asked to make an analogy between director Woody Allen, in whose films she has appeared, and fashion designer Issac Mizrahi, who groped her breast on the red carpet at the Golden Globes last year.
--A Florida judge yesterday ruled Anna Nicole Smith's ex-boyfriend Larry Birkhead can obtain one more DNA sample from her body and review specimens already taken. Birkhead is in a paternity fight over Smith's daughter Dannielynn and wanted to make sure no substitute samples could be used in subsequent DNA tests. Probate Judge Larry Seidlin ordered the medical examiner, at the request of Birkhead's attorneys, to take on more oral swab of Smith's body for review by Birkhead's expert. The order came after three hours of arguments and testimony yesterday morning. Attorneys for Birkhead, Smith's companion Howard K. Stern and her mother, Virgie Arthur, are currently gathered in Fort Lauderdale, Florida fighting for the release of her body.

--Lawyers for black audience members who were the targets of Michael Richards' N-word rant at the Laugh Factory last November plan to hold a "mock trial" of him at Loyola Law School in L.A. tomorrow. Richards was invited to a face-to-face, Saturday afternoon meeting at Loyola Law by Gloria Allred, the publicity-loving lawyer for the four patrons seeking face time with the former "Seinfeld" star. But Page Six confirmed that an assistant to Allred rented the Loyola courtroom for what the school's events and scheduling department describe as "a mock trial."
--Former Vice President Al Gore, Cameron Diaz and hip-hop producer Pharrell Williams have joined forces to promote an international campaign to raise environmental awareness. The trio were in Los Angeles yesterday to announce the initiative called Save Our Selves - The Campaign for a Climate in Crisis. Promoters are planning a 24-hour concert called Live Earth that will take place on seven continents on July 7. More than 100 music acts, including Pharrell, John Legend, Black Eyed Peas, Fall Out Boy and Kelly Clarkson, will participate. Diaz told the audience, "This is the only issue in the history of mankind that affects every single one of us - our planet is in danger. But at least someone is doing something about it." Promoters said the concerts will take place in Shanghai, China; Johannesburg, South Africa; Sydney, Australia; London and cities to be announced in Japan, Brazil and the United States. Pharrell added, "Our atmosphere, our planet, is being abused, and we need to make this part of our daily consciousness. On July 7, you're going to see the biggest party on earth!"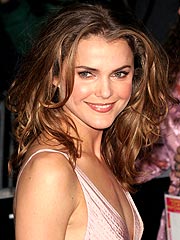 --Former Felicity star Keri Russell married her longtime boyfriend, Shane Deary, in an intimate Valentine's Day ceremony on Wednesday. Only a few close friends were in attendance for the wedding, which took place in New York during a snowstorm. Russell and Deary, who are both 30, are expecting their first child this summer. (I know Iceman is devastated...)

-- Spike TV is the new home of competitive eating. The male-targeted cable network, known for its Ultimate Fighting broadcasts, has inked a deal with Shea Baer Productions to air quarterly one-hour Major League Eating specials starting March 17. The barf-inducing spectacles of men and women stuffing various foods down their throats will be hosted by George and Richard Shea, the public relations brothers who turned the Nathan's Famous Hot Dog Eating Contest into an international phenomenon.

--J.Lo and Marc Anthony are already sucked in...

--Tony Danza was onstage in "The Producers" Wednesday night when two women in the audience started filming his performance. "Tony warned them, shaking his finger and mouthing 'please stop' - but they waved the camera in his face," a tipster reports. When the curtain came down, Danza told them to "get the hell out." Danza's rep said, "As any theater patron should know, it is prohibited to film in the theater, not to mention it is very distracting to the actors. Tony did his best to politely ask these women to stop filming, unfortunately to no avail." (Good for him. That is completely unacceptable...)

--She had some mighty Fiennes sex. So says flight attendant Lisa Robertson, who's tell ing friends that, despite her earlier denials, she did indeed have an unprotected quickie with Ralph Fiennes in the bath room of an India-bound Qantas jet. Not only that, but the 38-year-old fly-girl also claims they went on to enjoy a night of passion in a Mumbai hotel at Fiennes' in vitation, according to London's Daily Mail. "I've always fancied him," she re portedly told pals. "I just stood up, reached down for his hand and told him to follow me." Fiennes was in India to preach safe sex. The newspaper says Fiennes and Robertson, a former cop, practiced safe sex the second time they hooked up.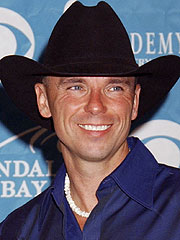 --Kenny Chesney is shooting down gay rumors, which were originally sparked when Renée Zellweger cited "fraud" as the reason for annulling their brief 2005 marriage. "It's not true. Period. Maybe I should have come out and said, 'No, I'm not (gay),' but I didn't want to draw any more attention to it," the country star, 38 tells 60 Minutes in an interview to air Sunday, the Associated Press reports. (Glad he's not into drawing attention to it...)
--No one can, Paris. You're a lost cause: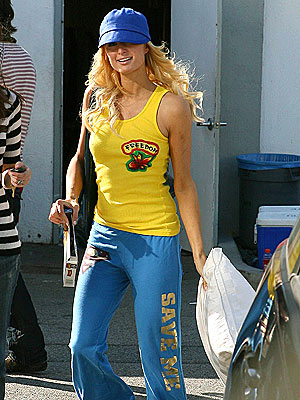 Posted by: Lawrenkm at 06:46 AM | No Comments | Add Comment
Post contains 961 words, total size 7 kb.
Comments are disabled. Post is locked.
20kb generated in CPU 0.2, elapsed 0.484 seconds.
33 queries taking 0.4523 seconds, 127 records returned.
Powered by Minx 1.1.6c-pink.