September 12, 2007
"LEAVE HER ALONE!"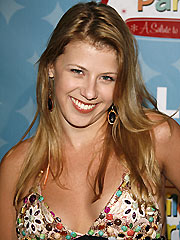 --
Stephanie Tanner
is
pregs
.
--Academy Award-winning actress Jennifer Hudson will join the cast of the film version of Sex And The City - as Carrie Bradshaw's assistant, it has been reported. The Dreamgirls star is in final negotiations to join Sarah Jessica Parker, Kim Cattrall, Kristin Davis and Cynthia Nixon for the long-awaited movie version of the sassy, Emmy Award-winning HBO comedy, according to industry publication Variety. Filming for Sex and the City is due to begin next week. Fellow TV show star Chris Noth is slated to reprise his role as Mr. Big, though none of the other male love interests for the characters have been confirmed.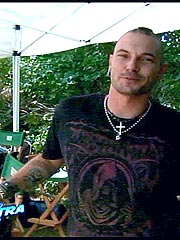 --"I'm really into the acting thing." --Kevin Federline
--Pianist Leon Fleisher, actor Steve Martin, singers Diana Ross and Brian Wilson and film director Martin Scorsese will share the 30th annual honors of the John F. Kennedy Center for the Performing Arts in December.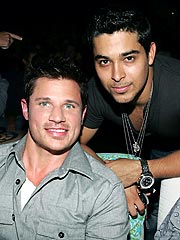 --Move over, Jamie Oliver, Rachael Ray and Gordon Ramsay: Nick Lachey, Nicky Hilton and Wilmer Valderrama are also jumping into the kitchen. "We're doing a restaurant in [Las] Vegas, called The Company, in the Luxor hotel," Valderrama, 27, said at Monday's John Varvatos show for New York's Fashion Week. "It's a steak house," added the actor. "Really great. It's going to be really special for Vegas, a different flavor."
By that, Valderrama says he is referring to the "architecture, the chef, the vibe of the restaurant. There's a lot of great restaurants in Vegas, but this is exciting because it's a different branding, kind of next generation type things."

--Before Kathy Griffin won a creative arts Emmy last weekend for her reality show, "My Life on the D-List," she joked that an award would move her to the C-list. She was right: "C" as in censored. The TV academy said her raucous acceptance speech will be edited when the event, which was taped, is shown Saturday on the E! channel. The main prime-time Emmy Awards air the next night on Fox. "Kathy Griffin's offensive remarks will not be part of the E! telecast on Saturday night," the Academy of Television Arts & Sciences said in a statement Monday. In her speech, Griffin said that "a lot of people come up here and thank Jesus for this award. I want you to know that no one had less to do with this award than Jesus." She went on to hold up her Emmy, make an off-color remark about Christ and proclaim, "This award is my god now!" (Am I off the reservation in thinking those comments, while not cool, aren't censor-worthy?)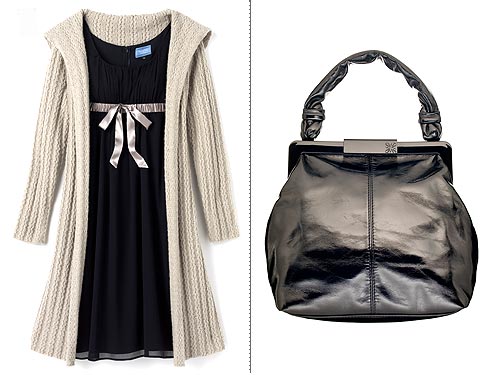 --Simply Vera Vera Wang, has finally hit Kohl's! Go to the store, or shop online!

--The TV commercial for Sean Combs' fragrance, Unforgivable, is too hot - even for cable. The spot shows Combs "going at it" with Jessica Gomez in a stairwell and a hotel room. But after MTV screened the ads, execs sent a list of edits Combs will need to make before censors will allow it to air. The offending footage includes Diddy "hiking up" Gomez's skirt, putting his hands under her dress, and a scene with another woman holding Gomez's breast and pulling down her underwear. Combs is refusing so far to edit his commercial. Last year, the print ads for Unforgivable were too hot for city bus stops.
Random Thought of the Day:
Check out this clip of an angry monologue by an anguished Britney fan. It was truly one of the funniest things I've seen in awhile! My favorite part is when he (she?) mentions that Brit's not well. Oh really? Thanks for pointing that out, Dr. Freud.

Posted by: Lawrenkm at 05:56 AM | Comments (6) | Add Comment
Post contains 613 words, total size 5 kb.
Posted by: LKM at September 12, 2007 06:24 AM (GJK5m)
Posted by: Iceman at September 12, 2007 07:44 AM (JHKKE)
Posted by: quinn at September 12, 2007 08:51 AM (rNcT7)
Posted by: quinn at September 12, 2007 08:53 AM (rNcT7)
Posted by: aeh at September 12, 2007 12:58 PM (V031o)
Posted by: John at April 28, 2009 12:54 PM (+IsMy)
Comments are disabled. Post is locked.
20kb generated in CPU 0.08, elapsed 0.3553 seconds.
35 queries taking 0.3165 seconds, 134 records returned.
Powered by Minx 1.1.6c-pink.