June 14, 2007
Like, Here Are Some Tidbits for, Like, Thursday, Y'all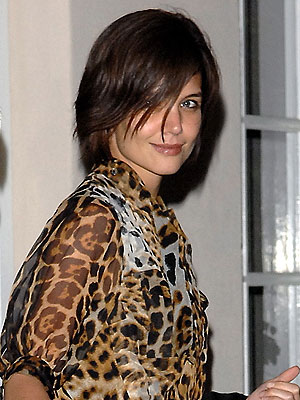 --
Katie
got herself a new 'do. I like it, although she clearly doesn't know how to fix it properly, she at least is starting to look her age. Anyone else think it has an uncanny resemblance to Posh's new haircut? Hmmm...
--Dan Aykroyd is expanding his alcohol empire by putting his name to a new $11 million winery in Canada. The actor, who made a small fortune by introducing Patron tequila to his native Canada, is one of the investors behind The Dan Aykroyd Winery, which will be located near the town of Lincoln, Ontario. At a news conference to announce the venture yesterday, the actor revealed the vineyard's lodge will showcase souvenirs from his movies. He said, "This is really a dream... I never thought that a line of wines would be a possibility." Construction begins later this year and should be completed in time for the 2008 growing season. The winery will be all green, featuring solar panels and environmental water management systems.

--Frankie Abernathy, the punk rock-adoring former "Real World: San Diego" housemate whose struggle with cystic fibrosis helped to further raise national awareness about the chronic lung disease, died Saturday evening in her mother Abbie Hunter's Shorewood, Wisconsin, home. An official cause of death has yet to be determined; Abernathy was 25. (I remember that she was sick from time to time, but I never realized she had CF).
--There will be a remake of Lawrence Kasdan's 1983 film The Big Chill, reports Variety. The movie will likely be retitled, but the original script by Kasdan and Barbara Benedek will be used as a template; the storyline will be contemporized and the cast will be African American. Regina King will be part of the ensemble, and she will produce with her sister, Reina King, and Will Packer (Stomp the Yard). (This movie is a classic. No remakes.)

--Openly gay rocker Rufus Wainwright discussed the advantages of staying closeted in an interview in Spin magazine. "If they stay in the closet, they're going to make a lot more money. I go to the same gym as Anderson Cooper. When I look at him lifting those 5-pound weights, it makes me think, 'He's just trying to live his life and be all that he can be.' But he still goes to the gayest gym in New York."
--Basketball star LeBron James and his girlfriend Savannah Brinson welcomed their second son, Bryce Maximus James, on Thursday. The 8-lb, 6-oz baby was born a 12:51 a.m. in Cuyahoga Falls, Ohio. The couple also have 2-year-old LeBron Jr. James, 22, a forward for the Cleveland Cavaliers, is in the thick of the NBA Finals, with his team trailing the San Antonio Spurs three-games-to-none in the best-of-seven series.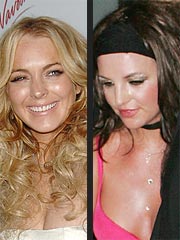 --Britney Spears is asking her fans to help name her upcoming album – and one of her suggestions is a joke about Lindsay Lohan. Her official Web site says, "Britney is asking her most die-hard fans for some assistance in order to name her upcoming album." The first of five possible titles is about the rehabbing Lohan: "Omg is Like Lindsay Lohan Like Okay Like." Spears, who herself recently left rehab, says the other possibilities are: "What if the Joke is on You," "Down boy," "Integrity" and "Dignity." Members of her fan club can then vote by clicking on the screen. (Like, seriously?)
--Jennifer Aniston is planning to adopt a baby, according to reports. The actress has allegedly begun filling out the required paperwork with the adoption agency which dealt with Sheryl Crow's adoption of baby Wyatt last month, according to OK! magazine. An adoption agency source tells the publication, "The process has 100 per cent started," and the New York Daily News reports friends of the star have confirmed Aniston's plans. A friend tells the newspaper, "She is happier and more excited than she has ever been in her life." Another pal adds Aniston had been considering adoption for a long time: "Jen has been thinking about adopting for a while. But after seeing Sheryl and her son, Wyatt, together, Jen didn't know why she was still waiting." Aniston is currently dating 36-year-old British model Paul Sculfor - who has allegedly moved into her new Beverly Hills, California, home.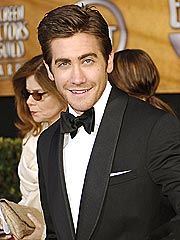 --Jake Gyllenhaal is deciding whether he'll attempt to climb a peak even more treacherous than Brokeback Mountain – Broadway. The Oscar nominee, 26, is mulling over the starring role in the political stage drama Farragut North, to open this fall. Gyllenhaal would play an idealistic communications director for an unorthodox presidential candidate said to be based on 2004 Democratic candidate Howard Dean. The play's title refers to the Washington, D.C., metro stop located near the offices of several lobbyists.

--Shar Jackson is denying recent reports that she is pregnant with Kevin Federline's child. In fact, she is not pregnant at all. "It is not even remotely true," Jackson's rep tells Usmagazine.com. Federline's rep also insists the rumors are "not true." The erroneous story originated in this week's Star magazine, which reported that Jackson, 30, is six weeks along with Federline's child.

--Trump's Tramps?
Random Thought of the Day:
Today's "Random Thought" is a bit of trivia for you. Did you know that the man who appeared in the final scene of "The Sopranos" as the menacing truck driver at the diner, Patrick Connolly, is the uncle of none other than Entourage star, Kevin Connolly. Wow. I guess he's Kevin's version of Drama. Ha!
Posted by: Lawrenkm at 05:54 AM | Comments (3) | Add Comment
Post contains 927 words, total size 7 kb.
1
-I don't know why the gay community feels its their duty to out everyone. I don't really care who is gay or straight or if they are out or not. Leave people alone. (Damn!) -It's funny to find out who some actors are related to. One of the brothers on Sisters and Brothers (the one with the scar in his eyebrow) is a Getty, as in John Paul Getty. How 'bout that?
Posted by: nanc' at June 14, 2007 08:09 AM (Ailrt)
2
Oops, Make that "Jean" Paul Getty.
Posted by: nanc' at June 14, 2007 08:28 AM (Ailrt)
3
-I laughed at the part where he said Cooper lifts 5lb weights. -I'm not sure they ever told us that Frankie had CF ... she was sick, but I don't recall ... that was the last series of Real World that I was truly devoted to watching. Since then, not an episode. Kinda funny how you're so into a series and then you're just "over it." Same goes for Apprentice. -Aniston always moves her men into her place so damn fast! That might be part of the problem? I still want to marry Jennifer Aniston. I would be a father to her soon-to-be-adopted child.
Posted by: Iceman at June 14, 2007 08:49 AM (JHKKE)
Comments are disabled. Post is locked.
21kb generated in CPU 0.04, elapsed 0.2152 seconds.
35 queries taking 0.1967 seconds, 131 records returned.
Powered by Minx 1.1.6c-pink.