January 09, 2007
Passing Gas and Passing on "The Apprentice"
--The tension between "The View" creator
Barbara Walters
and co-host
Rosie O'Donnell
, sparked by O'Donnell's feud with Donald Trump,
boiled over
yesterday morning when the portly comic called Walters "a [bleeping] liar." According to spies, O'Donnell recoiled from Walters' touch and yelled, "You kept me in the newspapers this whole time!" Both "View" producer Bill Geddie and Walters tried to calm O'Donnell. Walters told her, "I did everything I could to squash the story" - prompting Rosie to scream, "You didn't call me for 10 goddamn days, and you didn't tell me what you were going to say on television!" (
Catfight
!)
--Grammy award-winning singer/songwriter Dave Matthews will guest star as a musical prodigy on the hit medical series House. The singer will play a savant and piano prodigy who comes under the care of Dr. Gregory House, played by British star Hugh Laurie. This isn't the first time Matthews has been linked to the show - his track Some Devil appeared in an episode in 2005. The 39-year-old has appeared in the feature film Because Of Winn-Dixie and will star in the upcoming movie Lake City with Oscar winner Sissy Spacek. Matthews' guest stint on House will air in March.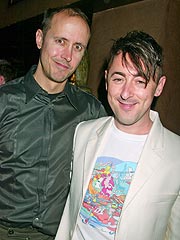 --X-Men 2 star Alan Cumming and commercial illustrator Grant Shaffer were married Sunday in a civil ceremony outside London, according to the rep for the Scottish-born actor. The couple's 140 guests, including Sir Ian McKellen, Geri Halliwell, Neve Campbell, Rufus Wainwright and Monica Lewinsky, boarded a boat in London and sailed down the Thames to Greenwich, where the ceremony was held at the 175-year-old Old Royal Naval College. (Monica Lewinksy? Huh?)
--Angelina Jolie insists she has different feelings towards each of her kids and feels especially close to her adopted children because they've already led such a hard life. The Oscar winner has two adopted children with Brad Pitt, Maddox and Zahara, as well as their biological daughter Shiloh, who was born in May. Jolie tells Elle magazine that she's more partial towards her adopted children, saying, "I think I feel so much more for Mad and Z because they're survivors, they came through so much. Shiloh seemed so privileged from the moment she was born. I have less inclination to feel for her... I met my other kids when they were six months old, they came with personality. A newborn really is this... yes, a blob! But now she's starting to have a personality... I'm conscious that I have to make sure I don't ignore her needs just because I think the others are more vulnerable."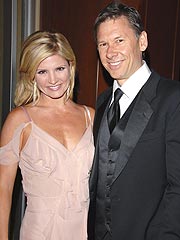 --Dayna Devon, cohost of TV's Extra, and her husband, plastic surgeon Brent Moelleken, welcomed their second child, a boy, on Friday. Cole Brent Moelleken was born by cesarean section and weighed 8 lbs., 2 oz. He was delivered two weeks early because Devon had developed excessive amniotic fluid that might have been dangerous to the baby.
--Van Halen made a "jump" into the Rock and Roll Hall of Fame on Monday along with Grandmaster Flash and the Furious Five, R.E.M., the Ronettes and Patti Smith. (I guess both David Lee Roth and Sammy Hagar will get to attend?)

--Anna Nicole Smith wants to make sure no one gets their hands on her assets. The former Playmate — who for years has been involved in a messy dispute over her late husband's fortune — is looking to set up a dummy corporation so that the man who says he's the father of her daughter can't get any of the money she might inherit. "Now that a judge has ordered a paternity suit so that Larry Birkhead can determine if he is, indeed the father, Anna's scared," says a source. "Anna's no legal eagle, but the idea of a dummy or shell corporation is something she learned in her fight over [her late husband] J. Howard Marshall's estate. And, of course her lawyer [Howard K. Stern, the man Smith says is the baby's father] explained it to her."

--Did anyone watch the premiere of the Apprentice the other night? No? Neither did I. Neither did anyone, aparrently.
--"We are waiting for the gas to pass." --NYC Mayor Bloomberg

--The billionaire owner of 84 Lumber could have only one 84th birthday party, so Joe Hardy's children were determined to make it one to remember. Christina Aguilera sang "Happy Birthday" to Hardy, who turned 84 Sunday, and Bette Midler performed with an orchestra. Robin Williams was the after-dinner performer. (Well, that must have sucked...although, I would have opted for someone much less annoying than Robin Williams)

--The man who sank the Titanic has $200 million to float a new blockbuster. James Cameron has been tapped to direct the 20th Century Fox sci-fi actioner "Avatar," his first dramatic film in a decade. "Avatar," which will be shot in a new 3-D process, is the story of a wounded ex-Marine who, forced to settle and exploit a faraway planet, gets caught up in a battle for survival with its inhabitants. Sam Worthington and Zoe Saldana will star in the summer 2009 release, with visual effects to be handled by "Lord of the Rings" director Peter Jackson's production house, Weta Digital. (I guess Aquaman wasn't a big enough blockbuster for him...hee hee...God, I can't wait until that show comes back on)
--Brit doesn't disappoint, and looks like total ass for the umteenth day in a row: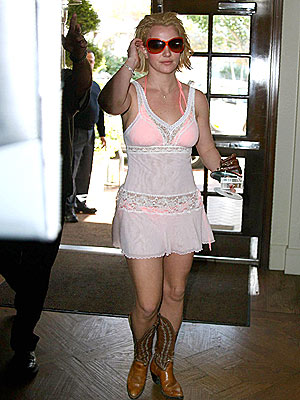 Doesn't she have some tacky, pleather purse that doesn't match to carry all that crap in her hand?
Posted by: Lawrenkm at 06:53 AM | Comments (13) | Add Comment
Post contains 913 words, total size 7 kb.
Posted by: The Rev at January 09, 2007 09:29 AM (wPIeZ)
Posted by: Nanc' at January 09, 2007 10:02 AM (Ailrt)
Posted by: JR at January 09, 2007 10:45 AM (L5c1z)
Posted by: Iceman at January 09, 2007 11:55 AM (JHKKE)
Posted by: aeh at January 09, 2007 12:32 PM (V031o)
Posted by: -d at January 09, 2007 12:36 PM (FYJX9)
Posted by: Tracy at January 10, 2007 11:16 AM (g8k+c)
Posted by: Venomous Kate at January 10, 2007 08:08 PM (fBHz6)
Posted by: amateur sex at September 15, 2007 01:13 PM (Uru9R)
Posted by: o4k043 at September 19, 2007 03:19 AM (Uru9R)
Posted by: f4rwffdw at September 19, 2007 04:13 AM (Uru9R)
Posted by: max4354 at September 19, 2007 05:14 AM (Uru9R)
Posted by: sdfkjoew at September 19, 2007 06:52 AM (Uru9R)
Comments are disabled. Post is locked.
26kb generated in CPU 0.07, elapsed 0.3359 seconds.
35 queries taking 0.2919 seconds, 141 records returned.
Powered by Minx 1.1.6c-pink.