February 22, 2007
Promises, Promises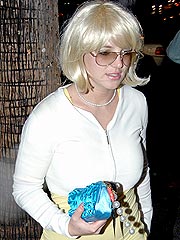 --A day after entering Promises, a residential rehab facility in Malibu,
Britney Spears
has
checked out
of the treatment center, a source confirms. "It was against their advice," says the source. "If she comes back for treatment, Promises will have to assess the situation. Sometimes people come back, but it doesn't look good." After checking out, Spears arrived at the Bel-Air Hotel on Wednesday. When asked how she was doing, she replied, "Great. I'm great." (
How sad is it that K. Fed could end up looking like the better parent here
?).
--Nicole Richie and boyfriend Joel Madden are currently house hunting in Los Angeles - just three months after the pair began dating. The Simple Life star pleaded not guilty on Tuesday to a charge of driving while under the influence and faces up to a year in jail if convicted of a second DUI. Richie, who lives in a West Hollywood condominium, and Madden, who has a house in suburban Glendale, are searching for a new home to live in together. A source tells Us Weekly, "Nicole hasn't moved in with him yet...but they are looking at places."

--A Hollywood movie studio filed a lawsuit claiming gossip blogger Perez Hilton posted a stolen topless photograph of Jennifer Aniston on the Web. Universal City Studios Productions LLLP filed the suit Tuesday claiming the stolen image was posted on the perezhilton Internet site by Mario Lavandeira, aka Hilton. The picture was allegedly "misappropriated and illegally copied" during production or post-production of the 2006 romantic comedy hit "The Break-Up," starring the actress and Vince Vaughn, the suit said. The shot of Aniston, 38, was not included in the final version of the movie, which earned more than $118 million at the box office. The lawsuit, claiming copyright infringement and filed in U.S. District Court, said Lavandeira "posted all or parts of the stolen footage from the motion picture on his Web site." (Yikes! I always get nervous when I hear stories like that).
--Funny blog: Jet Blue Hostage

--Sorry, ladies, but Usher is officially off the block. Sources say the R&B icon is engaged to his longtime girlfriend and stylist Tameka Foster. "It's 100 percent official," said an insider. The couple began dating more than a year ago, but tried to keep it quiet - going so far as denying their relationship - but they recently became more open with their love. "She is wearing a beautiful ring," said a friend of Usher, "and he's been introducing her as his fiancée."
--The ABC network is planning a spin-off of its hit medical series Grey's Anatomy, featuring the character of Dr. Addison Montgomery-Shepherd, played by Kate Walsh. The show's creator, Shonda Rhimes, is preparing a two-hour episode Grey's Anatomy, set to air in May, that would serve as the pilot episode for the proposed spin-off. If the network approves, the show will be considered for spot on the schedule next autumn. An ABC spokeswoman confirmed the plans, but said the plot line for the spin-off was being kept under wraps and no title has been selected. (Um, why?)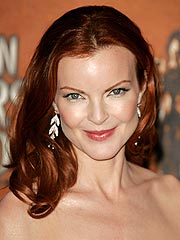 --Marcia Cross became a mom on Tuesday, welcoming fraternal twin daughters. The girls, Eden and Savannah, who were born at a Los Angeles hospital, are the first children for the Desperate Housewives actress, 44, and her stockbroker husband Tom Mahoney, 49, who married in June 2006.
--Kim Kardashian filed a lawsuit Wednesday against Vivid Entertainment over the distribution of a sex tape she made with her former boyfriend, R&B singer Willie "Ray J" Norwood. Kardashian, 26, a pal of Paris Hilton and daughter of O.J. Simpson attorney Robert Kardashian, is asking for unspecified damages, attorney fees and all profits from the sale of the tape, according to the LA Superior Court lawsuit. "This tape, which was made three years ago, and was meant to be something private between myself and my then boyfriend is extremely hurtful not only to me, but to my family as well," Kardashian said in a statement. "I am filing legal charges against the company who is distributing this tape since it is being sold completely without my permission or consent." (I don't feel a bit sorry for her).

--Comic Kathy Griffin lost her father, John Griffin, last Friday, but she has an amazing work ethic and is forging on and will still host the raucous GAYVN Awards - the Oscars of gay porn - in San Francisco Saturday night. Luckily, she'll have plenty to work with, thanks to nominees with titles like "Big Rig," "Booty Thief" and "Harassment at the Work Site." John and Kathy's mother, Maggie, were an integral part of Griffin's act and appeared regularly on her Bravo show, "My Life on the D List." (That is sad. I watched a few episodes of her show, and he seemed like a wonderful, sweet man).

--The family of a woman who died two years ago is suing Michael Jackson and a California hospital, claiming the gravely ill patient was moved to make room for the pop star when he arrived with flu symptoms. The complaint was filed against Jackson and Marian Medical Center on the second anniversary of the death of 73-year-old Manuela Gomez Ruiz. The family had previously complained publicly that Ruiz, who had suffered a heart attack and was on life support, was suddenly moved to make way for Jackson, whose admission to the hospital caused cancellation of a court session in his child molestation trial. Ruiz suffered a second heart attack and died later that day.

--Manbobs: the newest trend.
--Miss the old Brit? Having a hard time remembering what she was like pre-train wreck? Click here for a montage set to the tune of "It's So Hard to Say Goodbye To Yesterday."

--Lindsay Lohan may have thought of her "A Prairie Home Companion" director Robert Altman as a father figure, but she didn't show up for his memorial service here Tuesday - and was out partying in L.A. with "Jackass" badboy Steve O instead. After Altman's death in November, Lohan released a statement that he "was the closest thing to my father and grandfather that I really do believe I've had in several years." A source sneers, "If he was so important to her, where was she?" Among those who did show to honor the legend at the Majestic Theatre in Manhattan were Lily Tomlin, E. L. Doctorow, Harry Belafonte, Julianne Moore, Kevin Kline and Tim Robbins.
Random Thought of the Day:
I used to go to this babysitter occasionally when I was little, who was an old lady with a huge beehive hairdo. She clearly used a can of Aqua Net a day, contributing probably more than any other human being to the hole in the ozone layer. The bathroom had a shag toilet seat. Yeah--no joke. Shag like shag carpet. And, it was pink.
We (other kids and myself) used to play cops and robbers and when we pretended to shoot her, she'd pretend she was dead and stick out her false teeth. Her husband, a guy we called Pop, had a tattoo of a dagger that used to stick out of the top of his shirt so we could see it.
I remember all kind of random memories from being over there, but when I try to picture their faces, their actual faces and not other things I remember about them, I can't really see them. Is it weird that I can remember so many details, yet can't remember what their faces look like?
Posted by: Lawrenkm at 06:54 AM | Comments (5) | Add Comment
Post contains 1256 words, total size 9 kb.
Posted by: Cutter in Chicago at February 22, 2007 07:33 AM (96Ddv)
Posted by: aeh at February 22, 2007 10:25 AM (V031o)
Posted by: Nanc' at February 22, 2007 10:39 AM (Ailrt)
Posted by: Kelly at February 22, 2007 11:09 AM (6vP9X)
Posted by: aeh at February 22, 2007 03:02 PM (V031o)
Comments are disabled. Post is locked.
23kb generated in CPU 1.81, elapsed 4.4852 seconds.
35 queries taking 4.2865 seconds, 133 records returned.
Powered by Minx 1.1.6c-pink.