December 18, 2006
Simply Havin'...A Wonderful Christmas Time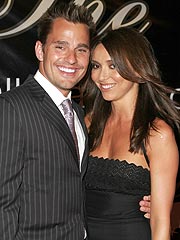 --Former Apprentice winner
Bill Rancic
popped the question
to E! News anchor
Giuliana DePandi
Friday night – and she said yes. "I thought I was dreaming," DePandi tells PEOPLE. "It was the most amazing moment of my entire life. Not only is Bill the love of my life, but he's also my best friend. I couldn't believe my dream guy was asking me to marry him!" (
I had no idea they were dating
!)
--Another Star Trek movie? Enough!

--"The Good Shepherd" had an exemplary story - it was just the casting that wasn't believable. In an interview with Chris Matthews on "Hardball" to air tonight, Matt Damon says his biggest problem with the script is that his character is married to Angelina Jolie - and ignores her because he's obsessed with his job and another woman. Matthews sums it up: "You're married to Angelina Jolie and you've got no time for her, which is kind of hard to believe." (No shit!)
--Hollywood director Oliver Stone shocked the audience at last night's British Comedy Awards in London by joking about the recent murders of five prostitutes. The Suffolk killings, thought to be the work of a serial killer, have dominated British headlines this week and Platoon movie-maker Stone's bad-taste gag was met with horror by the celebrity audience including Sacha Baron Cohen and Charlotte Church. On presenting the Best Comedy Film prize to Wallace And Gromit creator Nick Park, the American quipped, "It's great to be back in England. I feel like Jack The Ripper (prolific 19th century serial killer) days are back. Nothing ever changes here." Realizing the gag had bombed, Stone jeered, "You're a lovely crowd."

--Paris Hilton is the latest Hollywood "star" to incur the wrath of MySpace impersonators. News reports from several "reputable" sources have been reporting that Paris Hilton was using her MySpace blog to defend Britney Spears. In the fake blog, the "heiress" states that Brit is a great mom who is always there for her children, and that Britney's partying is just the normal behavior for a 25-year-old. While these are thoughts that could possibly be in Hilton's head, only Miss Hilton knows for sure. TMZ contacted Paris' rep, Elliot Mintz, who revealed that "Paris did not write it. She does not have a MySpace account."
--When the Hollywood ceremonies for the Golden Globe Awards and the Oscars take place next year, those in attendance will not be given the typical gift baskets. The two awards shows confirmed that in 2007 the extravagant gift baskets, that typically contained everything from electronics to jewelry will no longer be presented to celebrity guests thanks to their controversial nature, the New York Daily News reported. After being hit with a series of legal questions from the Internal Revenue Service, the Academy chose to forgo offering its baskets, valued up to $100,000 each, to help their recipients avoid unwanted tax problems.

--Hard-partying Miss USA Tara Conner was booted out of her ritzy Trump Place apartment and fled the Big Apple to her tiny Kentucky hometown with her reputation in shambles, as reports swirled yesterday that her runner-up had already been tapped to replace her. "She does not live here anymore," said a doorman at the posh Upper West Side property, where the Miss USA winner is given an apartment every year. "She is not allowed any where on Trump property. She is certainly not allowed to come back. I don't think it was her choice, really."

--What a horrible year for Paul McCartney. In addition to his ugly divorce from Heather Mills, the beloved Beatle's 1979 tune "Wonderful Christmas Time" has been named the worst Yule song of all time by pop-culture Web site Retrocrush. "It sounds like some kid with hooks for fingers and Parkinson's disease is slamming on some used Casio that Paul found at a thrift store," says Retrocrush editor Robert Berry. The vocals are "like leftovers from some sort of Special Olympics victory song . . . anyone who's ever had to suffer through this Yuletide abortion should at least get a fat check from Sir Paul as a Christmas gift."

--Bridget Moynahan tried a "Hail Mary pass" last week to save her relationship with former fiancé Tom Brady, but it was too late; the New England Patriots quarterback was over it. Moynahan flew down to Miami on Dec. 10 to host a Baume Mercier party at the Raleigh and to "keep an eye on Tom," said a spy. But Brady was said to be annoyed because while the Patriots were in Miami to play the Dolphins, he was having a good time at the bars with the local women when she arrived. "No one travels with the team, and he had already broken up with her," said one source. The stress on the actress showed - she was "exhausted-looking, and Nicole Richie-thin." It emerged Thursday that the two had broken up two weeks ago.
Posted by: Lawrenkm at 06:42 AM | Comments (2) | Add Comment
Post contains 831 words, total size 6 kb.
1
- I thought Guliana married some rich guy a few years ago--when she was a blonde. -Matt Damon gets better looking every year! -I agree with Robert Berry; "Wonderful X-mas Time" makes me want to stab myself...and Paul.
Posted by: Nanc' at December 18, 2006 09:12 AM (Ailrt)
Posted by: louise at July 12, 2007 09:06 AM (gR/rj)
Comments are disabled. Post is locked.
19kb generated in CPU 0.22, elapsed 0.8425 seconds.
35 queries taking 0.7762 seconds, 130 records returned.
Powered by Minx 1.1.6c-pink.