January 24, 2007
Smackin' That At Sundance
--
Kirk Douglas
is 90 years old -
but time hasn't dulled
his memory when it comes to some of his more colorful sexual experiences. In his new memoir, "Let's Face It - 90 Years of Living, Loving and Learning," due in April from Wiley, the cleft-chinned Oscar-winning star of such pictures as "Spartacus" and "Gunfight at the O.K. Corral" recalls a fling with a "big, tall blond" German airline stewardess who liked to be disciplined in bed. During their enthusiastic sex sessions, "she would scream, 'I'm a Nazi!' -
which was his cue to slap her
, which he did, Douglas writes. (
If someone said that to me, I'd slap them, too
!)
--Canadian singer Nelly Furtado is desperate for another child after successfully balancing motherhood with her chart-topping pop career. The Maneater star's three-year-old daughter Nevis is looked after by her extended family when Furtado is busy promoting her records. And the arrangement works so well, Furtado is keen to add to her brood right away. (Ok, I know it's not spelled the same, but why would you name your kid something that means "mole?")

-- It looks like it's over between Derek Jeter and Jessica Biel. Last weekend, Biel flirted with Justin Timberlake while Jeter was at Atlantis in the Bahamas for the Michael Jordan Golf Tournament, where Biel seemed to be the last thing on his mind. Saturday night, Jeter was "flirting madly" with Gabrielle Union , a source said. When DJ Cassidy played "Put It in Your Mouth" by Akinyle, Jeter and Union dirty-danced before leaving together. A rep for Union said, "They are friends, but they did not hook up." (Sure they didn't...)
--Tori Spelling insists her new reality show with husband Dean Mcdermott will be better than Nick Lachey and Jessica Simpson's MTV show Newlyweds: Nick & Jessica. Although they are starring in the reality series Tori & Dean: Inn Love, where they run a real bed and breakfast, she says they won't be copying Simpson and Lachey's infamous antics. Spelling explains, "We think of it as Newlyweds at the next level.

--Scientologist Tom Cruise has been told he has been "chosen" to spread the word of his faith throughout the world. And leader David Miscavige believes that in future, Cruise, 44, will be worshiped like Jesus for his work to raise awareness of the religion. A source close to the actor, who has risen to one of the church's top levels, said: "Tom has been told he is Scientology's Christ-like figure. "Like Christ, he's been criticised for his views. But future generations will realise he was right."
--Actor Nick Cannon has been hired by Will Smith to play late tennis ace Arthur Ashe in a new biographical motion picture. Smith will produce the project, and Bobby star Cannon can't wait to start taking tennis lessons so he can play the African-American sports legend authentically. (Hmmm...I'm not sure I think he's (Cannon) talented. Someone sway my opinion...)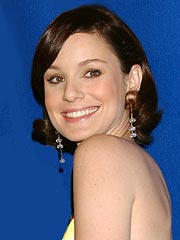 --Sarah Wayne Callies, who plays Dr. Sara Tancredi on FOX's Prison Break, is expecting her first child with her husband, Josh Winterhalt. The baby is due in late summer, according to her publicist Jodi Gottlieb. TV Guide first reported the news on Tuesday.
--Wondering which celebs will don their dancing shoes during the upcoming Dancing with the Stars season? TMZ is reporting some of that country crooner/Hannah Montana star Billy Ray Cyrus, Ian Ziering of 90210 fame and Laila Ali, Muhammed Ali's daughter, will join former 'N Sync-er Joey Fatone for the show. It was rumored that Dutchess Fergie (the royal, not the pop tart) would also join the cast along side both Sharon and Kelly Osbourne. Though none of those three ladies will be on the show according to TMZ. (Dear God I hope Cyrus leaves the Achy Breaky at home...oh yeah...and his mullet, too)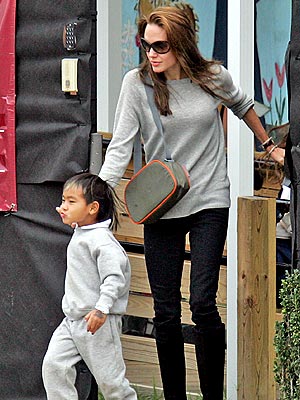 --Oscar winner Angelina Jolie and her five-year-old son Maddox spent more than $700 on Friday just to take a shower at a posh hotel. Jolie and her son made a stop at Shutters On The Beach Hotel in Santa Monica, California so they could shower and freshen up. A source tells Star, "Angelina said they only wanted the room for two hours - time enough for them both to take a shower. She was very sweet and seemed like a concerned mom. It was just very bizarre, when she and Brad Pitt own two house here in Los Angeles, that she would need to spend that kind of money on a hotel room just so she and Maddox could shower." Jolie and Pitt recently moved their family to New Orleans, Louisiana, where he is currently filming The Curious Case Of Benjamin Button.
--Nicolas Cage has been confirmed as the favorite to play camp showman Liberace in a new movie musical. The actor has been linked to the role for years, but now screenwriters Jason Friedberg and Aaron Seltzer have confirmed Cage is in talks to show off his musical skills as the late pianist. Speaking at the Sundance Film Festival, where the writers are promoting their new comedy Epic Movie, Seltzer says, "We met with Nicolas Cage last year and he really wanted to star in it; he wanted to direct himself in it too." (I can see it...)

--If Tara Reid wants to shake her party girl image, she should probably reconsider performing simulated sex with rappers onstage. Click here to watch Miss "I'm Not a Whore" in action. (And here I thought Sundance was more civilized...)

--When you think of Paris Hilton and Jenna Jameson, the last thing you probably think is ... virgins. And yet, sources tell TMZ that famed on-camera sexhibitionists Hilton and Jameson have been contacted about "participating" in a reality show currently in production called "Virgin Territory," in which a group of the uninitiated will find their way to the promised land. (I keep thinking that reality shows can't get any worse...and they ALWAYS do!!!)
Posted by: Lawrenkm at 06:50 AM | Comments (2) | Add Comment
Post contains 996 words, total size 8 kb.
1
i really just do not understand the infatuation known as "paris hilton" as a man, i can honestly say, i do not find her remotely attractive nor do i see any worthwhile qualities
Posted by: at January 24, 2007 08:17 PM (UzUv3)
2
Jessica Biel back on the market! Excellent!
Posted by: SH at January 25, 2007 03:53 PM (K1z+J)
Comments are disabled. Post is locked.
21kb generated in CPU 0.06, elapsed 0.3659 seconds.
35 queries taking 0.318 seconds, 130 records returned.
Powered by Minx 1.1.6c-pink.