February 27, 2007
So, Does That Mean Kendra and Bridget Will Have to Move Out?
--
Anna Nicole
had lupus
?
--ReyBiel?

--Djimon Hounsou will follow in the briefs of Freddie Ljungberg, Mark Wahlberg and seven others when he becomes the latest Calvin Klein underwear model: "The Fall 2007 campaign, which will be shot in late March or early April, will appear internationally in more than 20 countries, with print and outdoor media timed to coincide with September 2007 magazine issues. Hounsou is the ninth man to be featured in a Calvin Klein Underwear campaign and the first actor in over a decade." He'll be launching Calvin Klein Steel for the Fall 2007 season. (Seems a far stretch from Oscar-nominated actor, but don't forget he pranced around shirtless in Janet Jackson's "Love Will Never Do Without You" video).
--Hollywood actress Daryl Hannah is overjoyed she turned down the role in Pretty Woman made famous by Julia Roberts because she now thinks of it as "degrading for the whole of womankind". The star declined the part of prostitute Vivian Ward in the 1990 movie - which shot Roberts to fame - because she disliked the tone, as did Meg Ryan and Michelle Pfeiffer. Hannah says, "One of the things I'm most proud of is refusing to take Julia's role. Every time I see it I like it less and less. They sold it as a romantic fairytale when in fact it's a story about a prostitute who becomes a lady by being kept by a rich and powerful man. I think that film is degrading for the whole of womankind." (Riiiiigggghhhhtttt...)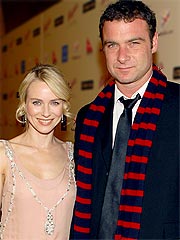 --Conan O'Brien let the stork out of the bag Monday night – by congratulating Liev Schreiber for expecting a baby with Naomi Watts. "Yes, I'm going to be a dad," Schreiber said in response to the announcement by the Late Night host. "Very exciting."



--Amid all the Oscar buzz this weekend, word has leaked that Hugh Hefner and girlfriend #1, Holly Madison, will wed before the end of the year. "This is very secret, but the word is 'yes,'" says an insider. "Hef has decided he will marry Holly, and he wants it for his show, The Girls Next Door. Hef thinks business all the time, and looks for a new hook, although he also does really love Holly." Hef was reportedly hoping to keep the wedding plans secret in fear that monogamy would kill the appeal of his reality show. This would be the third marriage for the Playboy magnate. (I'll admit it...I not only watch, but DVR that show. And, I actually think Hef and Holly are kind of cute together. Does that make me sick?)

--Oscar winner Jennifer Hudson may have walked away with gold, but according to the actress (and many critics), her red carpet style was anything but award-winning. In a Today Show interview, the 25-year-old American Idol alum admitted to Matt Lauer on Tuesday that her outfit was her only Oscar regret - adding fuel to a Page Six report that Hudson was forced to wear the much-maligned metallic bolero jacket picked by her stylist, Vogue editor Andre Leon Tally. (Told ya she deserved to be on my Worst Dressed List).


--Get your bald Britney dolls here.
Random Thought of the Day:
I consider myself a decent speller. I even won a few spelling bees in my day. (Yes, I know I'm a dork). However, I, to this day, have to spellcheck the word "aparrently." Even this time. Is it one "p?" Is it one "r?" Is it two "p's" and two "r's?" Thank God for Yourdictionary.com.
Posted by: Lawrenkm at 10:09 PM | Comments (12) | Add Comment
Post contains 610 words, total size 5 kb.
Posted by: at February 28, 2007 08:05 AM (xeLaP)
Posted by: Tracy at February 28, 2007 08:31 AM (g8k+c)
Posted by: Foolish at February 28, 2007 08:33 AM (8Koan)
Posted by: Nanc' at February 28, 2007 08:46 AM (Ailrt)
Posted by: Cutter in Chicago at February 28, 2007 09:13 AM (96Ddv)
Posted by: Nanc' at February 28, 2007 10:46 AM (Ailrt)
Posted by: nora at April 19, 2007 11:28 AM (/ehJK)
Posted by: sarah at May 12, 2007 09:01 PM (2z+xG)
Posted by: phentermine with a prescription at October 14, 2009 01:50 AM (ypQsT)
Posted by: adipex order no script at October 17, 2009 12:34 PM (s5t7x)
Posted by: buy cash on delivery adipex at October 21, 2009 12:53 PM (oKj2O)
Posted by: adipex without prescriptiion at November 10, 2009 05:42 PM (00uww)
Comments are disabled. Post is locked.
21kb generated in CPU 0.05, elapsed 0.3245 seconds.
35 queries taking 0.291 seconds, 140 records returned.
Powered by Minx 1.1.6c-pink.