January 19, 2007
The New K-Fed? I Can't Stand the Old One...
--
Sean Combs
,
party crasher
? The rapper tried to attend the CAA party after the Golden Globes, but when the hip-hop mogul arrived with his entourage at the Sunset Tower, he was told his name wasn't on the list. When Diddy became "verbally abusive and started yelling at security," said one witness, hotel owner Jeff Klein came out and "kindly asked Puffy to leave." Combs shouted, "What are you going to do - call the police?" Klein said, "Yes!" Combs shouted back, "Just try it - I
'll spend the rest of my life hunting you down
!" But he left soon after. A source claims Combs has been blacklisted from CAA parties since an incident years ago when he lost his temper with an assistant to CAA co-chief Bryan Lourd, who was hosting an Oscar party.
--"Fire is the greatest purifier and it feels really good. It feels really pure to have no possessions. It's kind of a fun place to be at." --Evageline Lilly, on the fire that recently destroyed her house and all of her belongings. (Fun?)

--Millnett? (First Scarlett and now Sienna? How does this no-talent assclown get gorgeous girls?)
-- "I always felt they disabled me from what I wanted to do. Now, I own them. They're like wearing a great necklace. You can't pay for that sort of accessory - though I know people do. But they never look as good at the real ones." --Jessica Simpson on her boobs.

--When celebrities use Myspace...
--Already a household name, syndie newcomer Rachael Ray will now spend more time in living rooms across the country. Rachael Ray will spend at least two more years on CBS after her show was renewed through the 2009-2010 season, Roger King announced yesterday. (People actually watch her and don't think she's one of the most annoying chicks on the planet?)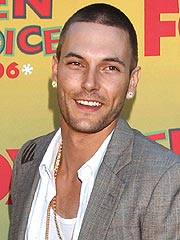 --Kevin Federline says his self-deprecating Super Bowl ad is a sign of a "new Kevin" for 2007 – one who's upbeat and determined to change his image. "This is just the start of other things to come – '07 is a completely life-changing experience for me," Federline, 28, said at the shoot for the Nationwide Insurance commercial on Wednesday. "We're only a few weeks in, and it's already going in a whole another direction. I'm happy. Definitely happy." What's his top priority? "Just changing my perception of myself in the public eye is number one," he said. "I'm slowly and gradually doing that." (Zzzz...)
--Talk show superstar Oprah Winfrey has topped the first Forbes magazine Richest Women Entertainers List. The big business publication estimates the media mogul has made a staggering $1.5 billion in her career as a newscaster, talk show host, publisher and actress. Winfrey tops Harry Potter and the Order of the Phoenix author JK Rowling, who comes in second with a $1 billion fortune, while lifestyle queen Martha Stewart rounds out the top three with $638 million. Madonna ranks fourth on the new list, followed by Celine Dion, Mariah Carey, Janet Jackson, Julia Roberts, Jennifer Lopez and Jennifer Aniston.
--Are you ready for Baywatch: The Movie? I'm not either.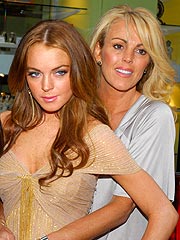 --A day after Lindsay Lohan revealed that she'd checked into rehab, her mother said that the actress is "absolutely fine." "This is a wonderful, giant step she's taking and it's all good," Dina Lohan said Thursday. "Hollywood's a really, really busy scary place and everything is under control." Dina says she's proud that her 20-year-old daughter is mature enough to take care of herself and "not worry about what anyone's going to say about her." (Rumor has it she got throw-up, ridiculous drunk after the Golden Globes and that was the last straw).

--Alec Baldwin is available. Baldwin, 48, having broken up again with luscious Nicole Seidel, has asked Glamour to help him get dates. "I would love to marry. I want to be in love again," he tells the mag's Carole Radziwill, who's soliciting e-mails from interested gals to pass along. The "30 Rock" star, who's divorced from Kim Basinger, also reveals he may try his hand at online dating: "I'm thinking about it. I could post my picture and say, 'People tell me I look like Alec Baldwin.' They'll go, 'Oh, I hate him,' or 'Who the hell is he?' "
--Caption this:

Posted by: Lawrenkm at 06:55 AM | Comments (8) | Add Comment
Post contains 732 words, total size 6 kb.
Posted by: aeh at January 19, 2007 09:43 AM (V031o)
Posted by: Nanc' at January 19, 2007 10:09 AM (Ailrt)
Posted by: dionna4570 at January 19, 2007 11:01 PM (4Xo8g)
Posted by: Alexkzhyj at April 05, 2007 09:37 PM (48U9m)
Posted by: Alexmkqij at April 06, 2007 12:25 AM (48U9m)
Posted by: Jonney_abc at April 27, 2007 06:47 PM (Iu3ch)
Posted by: Jonney_sxg at April 27, 2007 07:11 PM (Iu3ch)
Posted by: Bill at August 14, 2007 01:19 PM (OPAc+)
Comments are disabled. Post is locked.
21kb generated in CPU 0.04, elapsed 0.2662 seconds.
35 queries taking 0.2401 seconds, 136 records returned.
Powered by Minx 1.1.6c-pink.