December 20, 2006
What's the Buzz?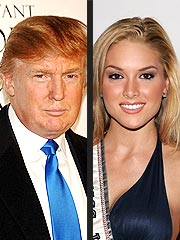 --It's official:
Donald Trump
has not fired Miss USA
Tara Conner
. (
Whahhhh! Did you see that press conference? Give me a break
.)

--Former 'N Sync star Joey Fatone will join the next round of celebrity reality competition Dancing With The Stars. The singer broke the news over the weekend, when he was interviewed by a radio station in Florida. Fatone said producers had previously approached him three times about being on the show, but he declined - until now. He explains his change of heart by saying, "Well, it's kind of popular now! I like doing it because it's challenging." The hit show will return for a fourth season in March 2007.

--Josh and Scarlett are cozy again. (Look at him! Talk about a guy who has way overshot!)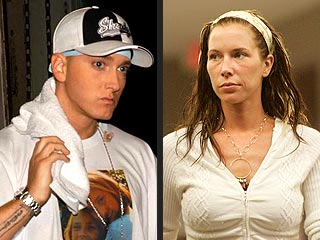 --Eminem and Kimberley Mathers are divorced – again, according to the Detroit Free Press. The couple, who have been married to each other twice, reached an out-of-court settlement during a hearing at Macomb County Circuit Court on Tuesday. The pair agreed to share custody of their daughter, Hailie Jade Scott, who turns 11 on Christmas Day, the newspaper reports.
--John Mayer initially refused to allow his song "Your Body Is A Wonderland" to be used on the US version of hit comedy The Office, but changed his mind after producers explained the hilarious scene. The song was featured on the show last week during a scene in which Steve Carell's character Michael Scott butchers the song while singing karaoke. Mayer calls The Office "one of my favorite shows on television" and writes on his website, "I initially turned the request down, but after thinking about it (and hearing the details on the incredibly funny sounding scene from producer BJ Novak), I decided to go for it." He adds, "Now, I'm not making apologies for my work, but it's safe to say I don't get asked to use 'Wonderland' for strongman competitions and documentaries about aircraft carriers. I get asked so people can goof on it." (If you didn't see it, it was hilarious!)
--Sharon Stone and Christian Slater have confirmed rumors they're dating and now plan to spend Christmas together. The starry couple, who co-star in new movie Bobby, sparked romance rumors when they attended a string of events together, but refused to confirm their relationship. But now 48-year-old Stone and her 37-year-old beau aren't hiding their affections for each other - they recently attended a party for fashion label Dolce & Gabbana at the Chateau Marmont Hotel in Los Angeles arm-in-arm and made sure everyone knew they were a couple.

--Listen up, ladies - Joan Rivers has a message for you. In an attempt to get Barnard alumnae to start sending in cash to her alma mater, Rivers wrote a letter expressing her support for "women who have a sense of confidence and self-worth." She asked, "Where have all the smart girls gone?" and told her fellow Barnard women, "That is a hard question to answer in an age where Jessica Simpson and Paris Hilton pass as intellectuals." Rivers' solution? "Go through your husband's wallet, and give everything in it."
--Newly-single pop star Britney Spears has purchased a new home in Beverly Hills for $7.2 million. The five-bedroom Mediterranean-style villa is located in the exclusive gated community of Summit Circle and includes a swimming pool, library, media room, and maid's quarters. Celebrity real estate agent Barbara Corcoran says, "Britney's new house is a perfect party pad. It's on the best street in the Summit Circle gated community, on a quiet cul-de-sac and it needs absolutely no work." Spears has already moved out of the Malibu, California home she shared with estranged husband Kevin Federline and is keen to move into her new property as soon as possible.

--Fat Joe bought himself an early Christmas present that would make Santa blush - dozens of gyrating strippers. The rotund rapper and his Terror Squad posse barreled into Sin City, the famed mammary mecca near Yankee Stadium, on three consecutive nights last week, dropping $20,000 on booze and lap dances, reports complex.com. In addition to hand-picking his favorite girls, the rapper tossed wads of $1 bills into the air to literally shower the dancers with money.

--Mel Gibson calls DUI scandal a "gift" to himself. (Mmmmkay...)
--What are Neve and Selma thinking? I bet Ken Paves did it.

Posted by: Lawrenkm at 06:52 AM | Comments (6) | Add Comment
Post contains 731 words, total size 6 kb.
Posted by: Nanc' at December 20, 2006 09:56 AM (Ailrt)
Posted by: Iceman at December 20, 2006 12:22 PM (JHKKE)
Posted by: Lawren at December 20, 2006 04:36 PM (bfkgE)
Posted by: at December 21, 2006 10:45 AM (MvIQr)
Posted by: mike at December 21, 2006 04:57 PM (EKLWD)
Posted by: Iceman at December 22, 2006 02:00 PM (1XftH)
Comments are disabled. Post is locked.
20kb generated in CPU 0.05, elapsed 0.2536 seconds.
35 queries taking 0.227 seconds, 134 records returned.
Powered by Minx 1.1.6c-pink.