January 26, 2007
Where are Rose, Blanche, and Dorothy When You Need Them?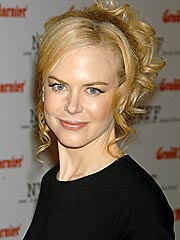 --
Nicole Kidman
was briefly hospitalized
in L.A. early Thursday after a stunt car crashed into a light pole on the set of her movie
The Invasion
, police said. She suffered no serious injuries and was scheduled to return to the set later Thursday.
--David Beckham and Victoria Beckham are reportedly considering an offer to star in their own reality TV show in the US. The series is being modeled on The Osbournes, which featured rocker Ozzy Osbourne and his family, and could help the couple become more well-known in America. The pair, who are due to move to Los Angeles later this year, are said to be considering the offer from US network Fox. David recently signed a multi-million dollar deal with the Los Angeles Galaxy soccer team and the show would follow the couple as they adjust to their life in the US. A source said that the show, tentatively titled Living With The Beckhams, would give the couple a big publicity boost. The source explains, "At the moment, neither David nor Victoria are very famous in the States, but starring in their own show on one of America's biggest channels would catapult them to instant stardom." (I won't lie...I'd watch it).

--Figure skater Johnny Weir plays Jesus?
--Check out this hilarious series of unfortunate events that took place on Today, where action news guy David Gregory is trying to fill Matt Lauer's shoes while he takes a few days away from the tube. It's a smorgasborg of TV talk show awkwardness. (My favorite is at the end, when he says, "on a lighter note," and segways into a murder story).

--According to the National Enquirer, Jennifer Aniston is mighty pissed with her BFF, Courteney Cox, for being friendly with Brad Pitt on the red carpet. At the Jan. 15 Golden Globes, Courteney and husband David Arquette bumped into Brad and Angelina during a break in the awards show "Jen is insulted that Courteney took the initiative and went straight up to Brad when he was there with Angelina," disclosed an insider. "In Jen's mind, Courteney could have easily avoided them. It's like Courteney went out of her way to be super nice to Brad." (Oh, snap!)
--On her hit show America's Next Top Model, Tyra Banks has always stressed the importance of body confidence – but it still hurt when tabloids ran an unflattering photo of her in a bathing suit under headlines that screamed, "America's Next Top Waddle" and "Tyra Porkchop." Now, for the first time, Banks, 33, is publicly discussing her much-buzzed-about weight gain. "I get so much mail from young girls who say, 'I look up to you, you're not as skinny as everyone else, I think you're beautiful,' " she says. "So when they say that my body is 'ugly' and 'disgusting,' what does that make those girls feel like?" As for how Banks feels about her own 5'10" body – which she says is at 161 lbs. these days, about 30 lbs. heavier than when she landed on the cover of Sports Illustrated's swimsuit issue in 1997 – she says: "I still feel hot, but every day is different. It's when I put on the jeans that used to fit a year ago and don't fit now and give me the muffin top, that's when I say, 'Damn!' "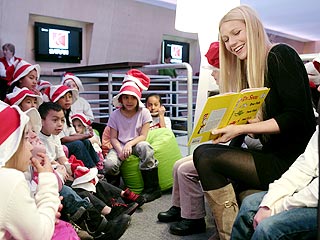 --Gwyneth Paltrow faced an unexpectedly tough audience at the Sundance Film Festival on Wednesday – a room full of children in Saturn's Read Across America tent. As Paltrow was being introduced as a very special guest, one of the kids piped up: "Is it Britney Spears?" Taking the comment in stride, Paltrow laughed and said, "I'm sorry I'm not Britney Spears, but I'll work on my dance routine." (I don't know why, but this reminded me of the part in Jerry Maguire when Tod Tidwell is asked, "Are you Hootie?")
--I'm still not totally sure what this is, but it involves Estelle Getty working out to "Check on It" by Beyonce...so it's quality entertainment.

--Van Halen may be giving their fans a reason to jump. RollingStone.com reports that the veteran rock band is in talks to reunite with David Lee Roth for a 40-date summer tour. This past December Roth joined the group for rehearsal at Eddie Van Halen's home studio, and the band got along just fine at the time.

--R&B sensation Brandy was involved in a fatal accident last month, and it appears to be her fault. In a conversation with the man driving directly behind Brandy at the time of her fateful crash, the singer repeatedly blamed herself at the scene of the accident. "She got upset, talking about how it was all her fault ... she didn't stop, kept saying how she hit the lady," says the witness. Click here to listen to the 911 calls.
--Kirsten Dunst is on a massive dating spree, being seen with Adam Brody, Fabrizio Moretti (who just split with Drew Barrymore), and none other than Vincent Chase himself, Adrien Grenier.
Posted by: Lawrenkm at 06:53 AM | Comments (2) | Add Comment
Post contains 856 words, total size 7 kb.
1
Dear Van Halen, Please come to town before somebody throws DLR in front of the bus this time.
Posted by: Brian D. at January 26, 2007 08:36 AM (fxIvx)
2
-I don't necessarily believe the story about Jennifer but if it is true, I wish she'd just get on with her life and stop making a fool of herself. -Didn't see Tara's "fat" but it's hard for me to believe that woman could ever be ugly. -If I were Kirsten, I'd be playin' the field too.
Posted by: Nanc' at January 26, 2007 09:44 AM (Ailrt)
Comments are disabled. Post is locked.
20kb generated in CPU 0.07, elapsed 0.4926 seconds.
35 queries taking 0.4531 seconds, 130 records returned.
Powered by Minx 1.1.6c-pink.