September 13, 2007
Why No Ellen?
--Comedian
Jon Stewart
will return
as host of the Oscars for the 80th awards show on Feb. 24, it was announced Wednesday. The host of TV's "The Daily Show with Jon Stewart" will get his second shot at hosting Hollywood's premiere event, which will be held on Feb. 24 at the Kodak Theatre in Hollywood. He hosted the 78th annual awards show in 2006. The statement did not say why the academy decided to go with Stewart after comedian Ellen DeGeneres hosted last year.

--Brad Pitt and Edward Norton will share the screen again in State of Play, a film adaptation of the British miniseries. Kevin MacDonald, who did a phenomenal job with Last King of Scotland, will direct. According to Variety, "Norton will play a congressman whose speedy political rise is threatened by an investigation into the death of his mistress. Pitt plays a politico-turned-journalist whose relationship with the solon is compromised when he oversees his newspaper's investigation into the murder and develops a relationship with the pol's estranged wife."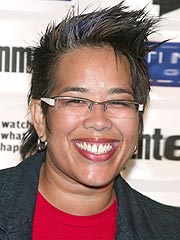 --A former contestant on Top Chef was beaten by a group of about 10 young people screaming anti-gay slurs, her attorney tells the Associated Press. Josie Smith-Malave, 32 according to her bio on the Web site of the Bravo reality show, was with a small group of women who were asked to leave a bar in Sea Cliff, N.Y., over Labor Day weekend, her lawyer Yetta Kurland said Tuesday. Kurland, who says Smith-Malave – a second-season contestant on Top Chef – is openly gay, said that about 10 people followed the women from the bar and started to shout anti-gay epithets and spit on them before beating them up.

--Eve celebrated the completion of 45 days of sobriety by hitting the bar. The songstress was freed from her alcohol-monitoring anklet on Saturday morning, and by cocktail hour was hitting the MTV Video Music Awards swag suites at Caesars Palace. "When a cocktail waitress walked over to her with a bottle of Svedka, her eyes lit up," said a Page Six spy. "She got kind of nervous when they wanted her to take a photo, and wouldn't pose with the bottle - but then her assistant asked a promoter to send a case to her house."

--50 Cent may be getting hip-hop's equivalent of a gold watch next week. Early reports have Kanye West beating 50 in their much-hyped battle of album sales: West's "Graduation" is on pace to sell about 575,000 to 700,000 its first week out, while 50 Cent's "Curtis" is on track to do 550,000, according to Billboard magazine. As of day one, Kanye had sold 437,000 copies to 50's 310,000, according to Nielsen Soundscan. Both albums came out Tuesday, and a confident 50 Cent famously announced that he would retire if West outsold him in first-week sales.

--Beyonce Knowles, Jennifer Lopez and Gwen Stefani are among the stylish stars on People magazine's list of best dressed women of 2007. Katie Holmes, Penelope Cruz, Jessica Biel, Cameron Diaz, Drew Barrymore, Reese Witherspoon and Ali Larter are other sharp dressers singled out in the magazine's "Best & Worst Dressed" double issue, on newsstands Friday. Don't forget the men. David Beckham, Terrence Howard, Johnny Depp, Brad Pitt and George Clooney meet People's standards for always stepping out in style, whether they're wearing tuxedos or T-shirts. Pitt and his partner, Angelina Jolie, are among the year's best dressed couples. Other fashionable duos: Stefani and her husband, Gavin Rossdale; Halle Berry and boyfriend Gabriel Aubry; and newlyweds Tony Parker and Eva Longoria. Among the fashion moments the magazine would like to forget: Sienna Miller's black hot pants and tights and Avril Lavigne's pairing of a frilly dress and combat boots. Janet Jackson and Kirsten Dunst are cited for wearing the "worst red carpet dresses" of the year.

--The days of Britney Spears as a 'Toxic' trainwreck may finally be over. While the world is screaming "Gimme Less"— Simon, Paula and Randy want the "reformed" rehabber to "Gimme More." The judges announced to FOX that they have decided to take the Britster on board and have issued an open call to the pop princess to manage her crumbling career. "We have decided we can bring Britney back," the normally caustic Cowell confirmed. "We are serious. We plan to buy her underpants, get her bigger shorts to perform in and get her away from her stupid friends."

--Heath Ledger isn't letting any grass grow under his feet. Just a week after announcing his split from Michelle Williams, Ledger has been squiring Danish modelHelena Christensen all over town. Tuesday night, the two were at Wakiya "making out throughout the dinner," our spy said. Acting like a good boyfriend, Ledger even "held her bag for her as she did interviews." The two then went to the after-party for the movie "Eastern Promises" at the Soho Grand, and ended up at the Spotted Pig.
Random Thought of the Day:
Has anyone watched Tim Gunn's new show, "Tim Gunn's Guide to Style" on Bravo? I'm loving it! He's so awesome! Click here to check it out.
Posted by: Lawrenkm at 05:57 AM | Comments (2) | Add Comment
Post contains 855 words, total size 6 kb.
1
At least if Eve is going to hit the bottle, she won't go broke doing it. Svedka is one of the best vodka's for the money. 1.75 ltr is about $18 at Costco.
Posted by: aeh at September 13, 2007 07:14 AM (V031o)
2
Don't be surprised to see 50 "somehow" come out on top when the results are released next week. I think it's more likely than not that he buys the difference this weekend and outsells Kanye ... remember when Mariah's ex bought 500,000 copies of her record or something to assure it opened at #1? Lame, but this kind of stuff happens. Plus, 50 is fresh off of a $35 million earnings year, which is just obscene, thanks to those Vitamin Water ads he does.
Posted by: Iceman at September 13, 2007 08:46 AM (JHKKE)
Comments are disabled. Post is locked.
20kb generated in CPU 1.1, elapsed 4.3731 seconds.
35 queries taking 4.3079 seconds, 130 records returned.
Powered by Minx 1.1.6c-pink.