June 23, 2008
Winehouse Has Emphysema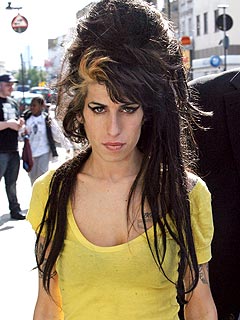 Amy Winehouse, who has been hospitalized and undergoing tests after collapsing, is suffering the early stages of emphysema, her father says.
"With smoking the crack cocaine and the cigarettes her lungs are all gunked up," Mitch Winehouse tells the Sunday Mirror in the U.K. "There are nodules around the chest and dark marks. She's got 70 percent lung capacity."
The troubled 24-year-old singer was rushed to the hospital June 16 after fainting in her London home. Tests so far have ruled out tuberculosis, but her father says his daughter has serious health problems. "When we got to the hospital a room was ready," Mitch Winehouse tells the newspaper. "Several doctors came in and checked to make sure she didn't need any emergency treatment. They put her on a drip straight away because she was dehydrated. She said, 'Don't worry about me, dad. I know I've got to stop taking drugs now.'"
Winehouse had been awake for 48 hours before going to the hospital, her father says. After she was admitted, she "curled up in bed" and slept for three straight days, he says.

Posted by: Lawrenkm at 05:33 AM | No Comments | Add Comment
Post contains 189 words, total size 1 kb.
Comments are disabled. Post is locked.
14kb generated in CPU 0.42, elapsed 0.6831 seconds.
33 queries taking 0.6476 seconds, 127 records returned.
Powered by Minx 1.1.6c-pink.