December 06, 2006
You Say Charles, I Say Gnarls...
--
Vaughniston
is
no more
.
--The iconic black dress Audrey Hepburn wore in the 1961 movie Breakfast At Tiffany's fetched $800,000 at auction in London yesterday. The lot was only expected to fetch $135,000, with all proceeds from the sale donated to the City Of Joy Aid, which helps Indians living in poverty. The film and entertainment sale, a fundraiser at Christie's auction house, featured 277 lots, including the Christmas jumper worn by Colin Firth in Bridget Jones's Diary and a selection of decommissioned guns used by James Bond. Bidding is currently ongoing on these items and Star Wars props, including a design for Obi Wan Kenobi's costume and a test mask C3-PO. (Here's to hoping I find that dress under my tree this year...)

--Is Rosie leaving The View and joining Nip/Tuck for a whole season?
--An American Airlines flight was brought to an unexpected stop Monday due to an excess of gas … and not the kind used for fuel. A woman on board a flight bound for Dallas/Fort Worth apparently struck several matches in an attempt to hide a flatulent faux pas, reported the Tennessean. The flight was brought in for an emergency landing after passengers reported a burning smell. After investigators began questioning people, the woman admitted to striking the matches while trying to hide her "body odor." She is from the Dallas area and reportedly has a medical condition. (Yeah, it's called Tex-Mexicitis). The flight took off again after the incident, but the woman was not allowed back on board. American Airlines has reportedly banned her for a long time.

--According to the NY Daily News, actor Joe Gannascoli - best known as Vito Spatafore, the gay mobster from The Sopranos - has launched his own line of pool cues. For those of you who don't watch the show, Vito was beaten to death with a pool cue, which his homophobic attackers then shoved into his, um, you know. Gannascoli goes on to explain his bizzare sense of humor: "It's great for 'Sopranos' fans who play billiards…It's going to be called 'A Cue to Die For.' The 'Badda-Breaker.' But I wanted to call it 'The Brown-Tip Special.'" (I bet these will fly off the shelves...)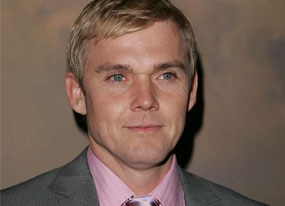 --The folks at 24 announced that NYPD Blue alum Rick Schroder is coming on board for the Emmy-winning series' sixth season. Schroder, 36, plays CTU operative Mike Doyle, Jack's go-to man in the field, when Day 6 begins Sunday, Jan. 14, on Fox in a two-hour season premiere, with the next two hours playing out Jan. 15 as part of a multinight "television event."

--Madonna's hubby, Guy Ritchie, is wishing she would spend less time thinking about adopting another Malawi baby, and more time focusing on mending their ailing relationship. MSNBC.com reports: "She drove the whole adoption process on from start to finish and Guy was left trailing in her slipstream just nodding and going along with things," a source told the U.K. publication, The People. "Guy doesn't want to go through all the media attention again which he hates. Although he loves little David [Banda, the African boy the couple adopted] as his own, he thinks they should be both concentrating on their own relationship at this time, not adding a new one."
--You can always count on mom...

--Andy Dick hasn't learned anything from the Michael Richards incident. According to sources, the hopped-up comedian hopped onstage Saturday at L.A.'s Improv comedy club and dropped the n-bomb on a room full of stunned clubgoers. Andy was heckling comedian Ian Bagg during his routine, when Dick allegedly got out of his seat, jumped onstage and began joking with Bagg. The subject of Michael Richards came up, but the two comics quickly moved past it. As Dick exited the stage, he suddenly grabbed the mic and shouted at the crowd, "You're all a bunch of n------!" The stunned crowd gasped and stared at each other. (Um, what the hell is wrong with people? No word is so far from funny as that one!)

--Models are not known for their brain power, but one catwalker showed amazing dim-wittedness at Tenjune the other night. Former NBA star Charles Barkley was relaxing at a table when a blond model approached him "seductively while the song 'Crazy' was playing," our spy giggled. The model "whispered in his ear, 'Get up and dance, baby - this is your song.' " The ditz thought he was Gnarls Barkley, a band comprised of two people - Danger Mouse and Cee-lo. Charles was not impressed. (HAHAHAHA! I love dumb people!)
--Wonder what L.Lo uses those for?

Posted by: Lawrenkm at 06:47 AM | Comments (2) | Add Comment
Post contains 771 words, total size 6 kb.
1
i never understood why they picked up rosia. nothing like a having an angry woman rant all day. too funny that she outed clay.
Posted by: at December 07, 2006 10:47 AM (ujVLJ)
2
Damn. I haven't started watching the last disc of season 6 yet! I love Vince Vaughn.
Posted by: lynne at December 07, 2006 06:47 PM (wYAAY)
Comments are disabled. Post is locked.
19kb generated in CPU 0.53, elapsed 2.1278 seconds.
35 queries taking 2.0405 seconds, 130 records returned.
Powered by Minx 1.1.6c-pink.